How to Delete Tinder Account

Updated on February 7, 2021: From now on, traffic filtering, malware protection, and suspicious DNS activity blocking are available as a part of the separate DNS Firewall app.
More often nowadays, we hear love stories from our friends, when they get acquainted with new people through dating apps. With over 9 billion matches made to date and 600 million swipes per day, Tinder has become one of the most popular services in the online dating world and changed the way many people find love. In spite of the fact that this platform is widely known and very popular, it poses a threat to your online security.
Why you might want to delete your Tinder account
A study in the UK shows that the cybercrime reporting center fixes more than 350 Tinder attacks every month. A similar situation is observed in other countries. Even though Tinder is created as a game of searching for an attractive person for you, the application, like any social network, collects more information about users than you suppose, such as:
Name, phone number, both email and physical addresses
Information from your Facebook profile as logging to Tinder is possible only through Facebook
Your location wherever you use the app
Downloaded photos and videos to Tinder
The security flaw associated with bots
Swipe right, start a conversation with a fake user, and your private data could be stolen. How is it possible? If you use Tinder, there are huge odds that you will run into annoying spambots. The point here is that they usually create an impression of real people, and it is really tough row to hoe to distinguish these impostors from legitimate persons.
They spread dangerous messages, which lure users to install malware on their devices or convince them to buy useless goods. Moreover, there are many cases when money is withdrawn from accounts without the cardholder's knowledge or when private data is collected and sold to third parties.
Should I deactivate or delete my Tinder account
Didn't find your soulmate and decided to say "goodbye" to the application? Then it's worth saying that just by removing Tinder from the device and canceling your Tinder Gold subscription, you will not get rid of your account. The profile, photos, and correspondence will continue to live. Actually, it's a good idea if you ever change your mind and want to start using it again. Then just download the app once more, try to remember your login and password, and, if successful, enjoy the communication with renewed vigor. But if you decide to delete your account once and for all and cancel your Tinder Gold subscription, follow the instruction that we described below.
How to deactivate Tinder account
If you want to stop using your Tinder account temporarily you can just deactivate it inside the app. This will hide your profile and makes any future matches impossible. You can easily do this following the next steps.
Firstly, you should run the Tinder application on your device.
Secondly, go to the main screen and tap your profile image at the top of your screen.
Then go to Settings and scroll down to the Discovery Settings heading.
Finally, tap the toggle button Show Me on Tinder
Great you've turned off your profile on Tinder. Any new people will not be able to see your profile, but the recent matches will still be able to start chatting with you.
How to delete Tinder account
Be sure, that deactivating your account is a much easier process than decision-making about this. If you are tired of the fact that the app stores your private data and shows you targeted ads, which is the least possible trouble, follow these few steps to delete your account:
1. Open the application and hit your Profile icon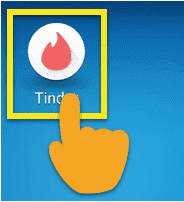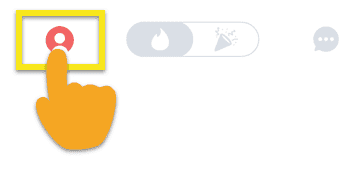 2. Select Settings and scroll down to Delete Account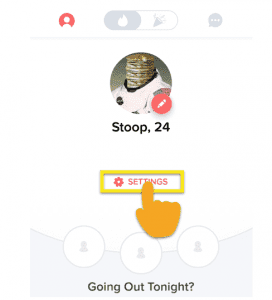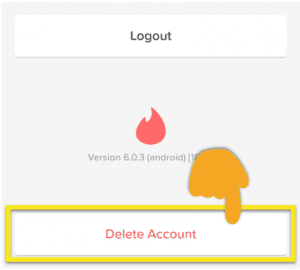 3. Give a reason for your decision to delete the account. Tap Delete and confirm this action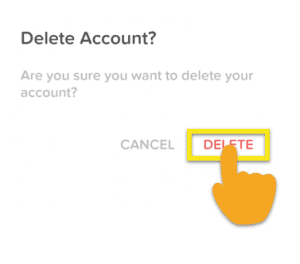 How to delete Tinder from Android and iPhone?
If you just want to delete the Tinder app from your device, you can just uninstall it like any other application. You will remove the app and will not receive any notifications sent on your phone. But if you delete the app without disabling your profile, your account, and personal data will be still available on Tinder servers and users will be able to find you in the service.
Deleting the app is quite simple on both platforms. Check out the steps you need to take to uninstall Tinder on your device.
How to delete Tinder on Android
If you are an Android user there are different ways to delete the app. You can do it from Google Play, the main screen of your phone, or the Settings menu.
Open the Settings application from the main screen or from the list of all applications on your phone.
Go to the Apps and Notifications menu.
Follow the list of all apps. Scroll down until you see the Tinder app.
Tap the Uninstall icon to delete the app.
Great! You've just removed Tinder from your device.
How to delete Tinder on iOS
The easiest way to remove any application on iOS is to manage the icons of the apps. To remove Tinder follow these steps:
Find the Tinder icon on your main screen.
Tap and hold it until the icon starts wiggling.
Then tap the cross in the upper corner of the icon.
Confirm the deleting of the app from your phone.
Pretty easy, isn't it? Don't remember to deactivate your account on Tinder if you are not going to return to the app soon.
How to Cancel Tinder Gold Subscription
Canceling your Tinder Gold Subscription may differ from different factors. Firstly, you should check out your receipt in the email and find your order number.
Follow the instructions below to cancel your Tinder Gold Subscription.
If you subscribed to Tinder Gold in Apple's App Store your order number will start with MK. To cancel subscription:
1. Open iTunes on your Mac and go to the Store tab.
2. Find the Account and sign-in menu.
3. Then scroll to Settings and press Manage next to the Subscriptions button.
4. Choose the subscription to cancel and tap Cancel Subscription.
If you bought your Tinder Gold subscription in Google Plat Store, your receipt number will start with GPA. Canceling it is pretty easy as well:
1. Find My subscriptions on the left.
2. Choose the Tinder Gold subscription you want to cancel.
3. Click Manage and Cancel Subscription.
Does your order number start with TNDR? This means that you bought the Tinder Gold subscription on Tinder.com with the direct credit card payment option. Follow the steps below to cancel the subscription:
1. Go to Tinder.com and log in to your account.
2. Go to your profile settings tapping the profile icon on the left.
3. Tap Manage Payment Account.
4. Choose Cancel Subscription.
If you have any questions concerning canceling the Tinder Gold subscription you can always ask their support service for help.
What happens with my data at Tinder after deletion
Let's imagine that you successfully canceled your Tinder Gold subscription and removed the Tinder app from your device. In this case, all likes, matches, messages, and photos related to your profile will be lost and can never be restored. Tinder retains your data for three months, to potentially be used for advertising purposes or shared with third parties.
Can I reopen the account at Tinder
When it comes to restoring your account, you have two options, you can restore your old account or you can reset your account for a fresh start.
If you just removed the app off of your device, you did not actually delete your profile. In this case, you can download the app again and log in with the credentials you were registered in the service.
But if you deleted your profile, you would have to create everything again from the very beginning. You will be able to use the same credentials and personal data, but you will need to fill it in manually again.
Final thoughts
Tinder is created to find the only one and meet new people. Just make sure you recognize the warning signs we have described in our article. And finally, get our prime solution, VPN Unlimited, to keep your web safety on the top level. This way, you will hide your online activity from snoopers, surf the web anonymously, and protect your sensitive information.
Download VPN Unlimited and explore the internet without having to worry about someone following or tracking you.