How to Create a VPN?

Updated on July 13, 2021: From now on, traffic filtering, malware protection, and suspicious DNS activity blocking are available as a part of the separate DNS Firewall app.
Is it the time when your startup is rapidly developing, number of employees is constantly increasing, and new offices around the world are opening? If the answer is yes, you should know how to keep this process under control, using a reliable way for safe remote work and sharing your private data on the web. Beside that, offsite workers who need to connect to their office networks from other locations must be sure in trustworthy of this communication. Have an idea how to get this? Sure, the right answer is a VPN. Now we have come up close to the issue when it is necessary to decide either to buy a ready-made service or create an own VPN. Catch a brief explanation about these two options to make a right choice that meets your company strategy.
How does a VPN work?
A VPN is like your private rest zone on the web where you can hang out without a handicap from other users. It allows you to access your home or corporate network even being at the other end of the world, bypass geo-restrictions, encrypt all your traffic, etc. Click here to learn more about other possibilities of a VPN.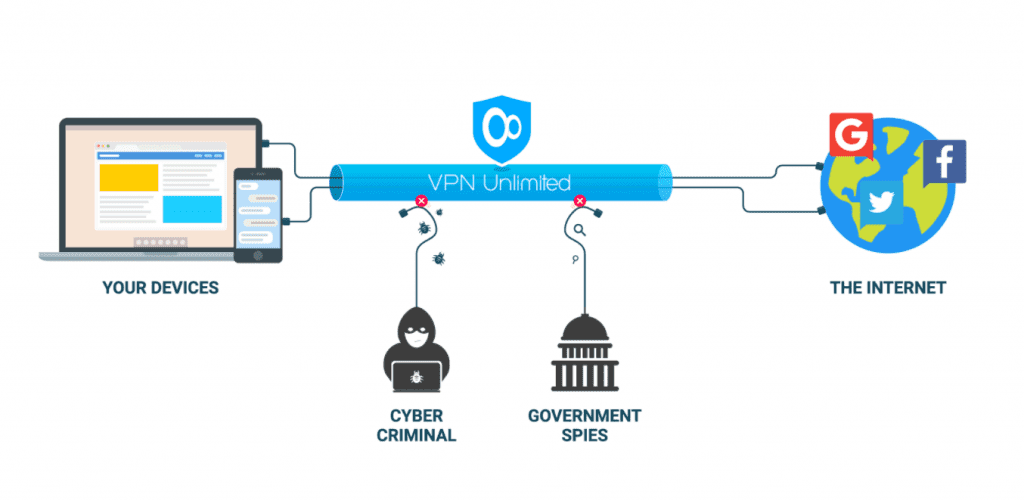 The magic behind a VPN is not that hard to understand, but kind of is. We can take as an example a free WiFi hotspot at the airport. When you are connected to such network your data is not secured and potentially available to anyone as this network is open. On the other hand, with a VPN, you are creating your own protected and locked network inside this open one. Thus, you are safe and covered anywhere you are.
So how to create a VPN?
If you want to create a full-featured service with a large number of servers and locations, this will require a lot of work, resources, and efforts. First of all, in order to get the desired result, you should hire a qualified staff, including developers, system administrators, QA engineers, etc. For instance, developers must connect each server with the application so that the service performance will be smooth. System administrators should buy new servers, fix them in case of the crash, look for their vendors, inspect the data center, communicate with technical support, and so on. Moreover, you, as the owner, must be ready to spend a lot of time to constantly keep an eye on efficiency of your employees and their workload.
However, creating a VPN app is only beginning, inasmuch as maintaining the infrastructure to support it is a very labor-intensive procedure. You may think about buying a cheap server, right? But in this case do not expect to get a high level of your online protection. Another example is a savings when choosing a hosting. It means that you depend on your provider and any moment when it is down you won't be able to connect to a VPN. Or, let's imagine that you are flying to China, for instance, where your IP address will be banned in a few days with a high probability. As a result, you will leave with the ruins and can't use a VPN.
When you create a VPN you should remember that strong specific skills is a must and there are the ins and outs of manual setting of a VPN in a specific operating system. Due to lack of technical support, the only one who can help you will be someone from the hoster's side. It means there is a chance it will take a lot of time to get answers to your questions or you even receive no response at all. Using a ready-made VPN service, you will be able to avoid such consequences as a professional support team will provide you with a competent advice as soon as possible.
Winding Up
Our hope with this article is that you make conscious choices, either to create a VPN or try a ready-made one. Yet, the fact speaks for itself and it is obvious that in order to create a VPN and continue to support it, you need to carry out an incredible amount of work, spend a lot of time researching, and hire a team of specialists who can provide the necessary level of online security. If you are ready, wish every success!
But, as always, our team swoops in to help you. We know how difficult it can be and therefore offer you a unique solution to make this process much easier. With our VPN Unlimited SDK, you can create your own VPN or implement it as a security function into your existing application. Try our top-notch service and get more profit from your app. Do not wipe out your valuable time!

Contact us at [email protected] to learn more details about our offers and ways of cooperation.