Get a safe access to the open Internet from any spot on the Earth
Updated on July 13, 2021: From now on, traffic filtering, malware protection, and suspicious DNS activity blocking are available as a part of the separate DNS Firewall app.
When it comes to leaving for a business trip or travelling for pleasure, a couple of reasonable questions keep arising, "Does a country you are going to allow access to all Internet content?" or "Will the valuable data be safe when you'll be using local networks?" In many cases, the answer is "No". However, it doesn't mean that you have to refuse Skype calls, stop tweeting or watching favorite movies on Amazon Prime back in your hotel room after a long day.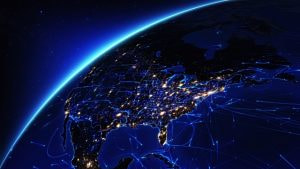 Our top-notch product, VPN Unlimited, is one of the best solutions on the market to protect your personal information and to offer full access to any of the web content you may need, no matter where you find yourself. We follow strict Privacy Policy and liberal file sharing laws, all of our servers conform our high standards of security, privacy, and anonymity. We offer you the best server locations to access any online content from all parts of the world with absolutely no restrictions. Our customers now have access to hundreds of solid servers in 54 locations and 40 countries around the world, including Australia, Germany, Turkey, Singapore, Mexico, Japan, Iceland, and many others. Our servers cover all continents, but Antarctica.
VPN Unlimited is a perfect choice to watch geo-restricted Sports channels, video and audio services, like YouTube, Amazon Prime, BBC iPlayer, and to access social networks, like Facebook or Twitter. Our service opens the door to gaming resources as well. This means you don't need to waste time on waiting till an anticipated game gets available in your area, you can purchase it from a country with an earlier launch date.
Just with a click of a button, you will get a strong security safeguard that offers an unlimited bandwidth and super-fast speeds through all of our servers worldwide, no matter whether you are using a trial version or the full one. VPN Unlimited is also an excellent choice to avoid any government surveillance. With military-level encryption, each server ensures your valuable data and traffic are safe from prying eyes.
You are free to connect to any of our servers that will suit your needs perfectly at any given time and in any given place. Our service allows you to switch between servers an unlimited number of times. This makes it possible to avoid any type of Internet restriction and censorship.
We are constantly expanding our VPN solution server presence, so that you have the best and most reliable VPN connections possible. We are also continually improving our service to offer more security and anonymity options for the smoothest online experience. While using VPN Unlimited, the safe web surfing is at your disposal anytime and anywhere.
More servers are on the way. Don't miss a welcome news on our blog.