Track Affiliate Marketing Performance without Using Spy-Tools

Updated on July 13, 2021: From now on, traffic filtering, malware protection, and suspicious DNS activity blocking are available as a part of the separate DNS Firewall app.
This article is written in association with AdMobiSpy – mobile ad analytics and monitoring service.
Today we're going to tell you about an interesting technique called affiliate marketing. According to Wikipedia, "affiliate marketing is a type of performance-based marketing in which a business rewards one or more affiliates for each visitor or customer brought by the affiliate's own marketing efforts". For businesses, it's an effective and attractive type of marketing, assuring that they only pay for effective ads. However, such a technique requires businesses to have specific instruments for evaluating the effectiveness of marketing. Some of them are called spy-tools.
Conventional ways of tracking
Spy-tools are an extremely important instrument for the affiliate marketer. It simplifies your work by automatically tracking ads performance and displaying information in real time. Once you buy access to such a service, you are able to see top-performing landing pages, see lists of redirects, data on demography and target countries. You can also find the best traffic sources and profitable offers there.
This is no doubts an extremely valuable source of information. Alas, such services are usually quite pricey, starting at $100-150 per month. Fear not though, we will help you figure out how to track affiliate marketing performance on your own, without using expensive spy-tools. It's actually quite simple!
Alternative ways of tracking
Browser + plugin Random Agent Spoofer

This combination allows you to change IP in order to see how sites and banners are displayed to users of a certain region. First, install the plugin. In the settings, you can put the desired IP (in this case IP is for Italy).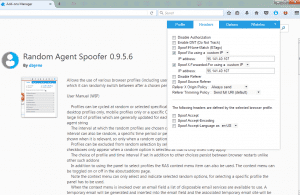 Then, in the "Profile," select the browser and the device (iOS, Android, etc.) you are ostensibly using to see whether the ads are displayed correctly.
After this, it's time to monitor placements – websites where the ads are showing up. There are multiple ways for you to find out which websites are showing you ad. The easiest way is, if possible, to get them from your affiliate network. Unfortunately, some of them do not disclose their placements. In this case, you can either find them via the tracker or just search manually. Whatever you choose, visit the placement now and you will be able to see the ads shown to the kind of person you've specified. For example, an Italian user visiting the website via desktop PC and Chrome browser 52.0.2743.82 (OS X 10_10_5) sees the website like this.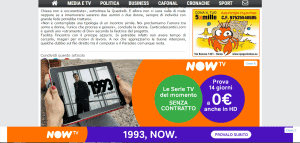 Browser + plugin User Agent Switcher + VPN

This is another, more comprehensive combination. It allows you to pretend to be a user from the other country using a certain device, and to see how yours or your competitors' ads work for the desired geo location under this disguise.
First, click the Import button to upload a list of user agents (the data your browser sends to the server). This will let you see how the site is displayed for different browsers and screen resolutions. Lists of user agents can be found freely available on the internet.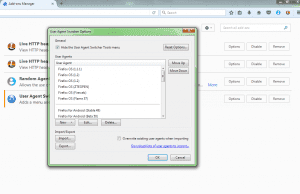 After that, launch VPN Unlimited to mask your real location and be able to visit the website with IP's of over 60 countries. For countries which block VPN services, you can enable the KeepSolid Wise protocol in the app, which bypasses any such restrictions. This combination works best if you require a stable and optimal performance. And there is also a 7 day trial, so that you have plenty of time to decide whether the service fits you.
So what are you waiting for? Download VPN Unlimited and see how easy it is to track affiliates' performance manualy!