The Latest VPN Service News
Updated on July 13, 2021: From now on, traffic filtering, malware protection, and suspicious DNS activity blocking are available as a part of the separate DNS Firewall app.
More users learn of the dangers that Internet holds. As the number of security conscious people multiplies day by day, they do their best to protect their right to anonymous surfing experience. These people choose VPN Unlimited as their primary safety tool. The most important fact that anyone should know about VPN – it secures the Internet connection. The use of VPN service guarantees that all data sent and received is encrypted. VPN app ensures complete protection and secured connection hidden from the prying eyes of cybercriminals.

We are happy to announce the growth of VPN Unlimited use that happened in the past 6 months.
The amount of users from the USA has grown by 2 times in the past 5 months.
Australia – amount of users have doubled in the past 3 months. The amount of users will continue to grow as new VPN server has been recently launched there.
China – amount of VPN service users has grown by 3 times in the past 3 months.
Russia – the number of users has tripled for the past 6 months. A new VPN server has been opened in Moscow. And more servers are planned to be opened real soon.
Kazakhstan – the number of VPN service users has grown by 2.5 times in the past 4 months.
As you can see, our company is witnessing an ever-growing demand for quality unlimited VPN service in the mentioned above countries. It is worth mentioning that the number of users steadily grows in other countries too.
Why Choose VPN Unlimited?
Unblock restricted web content
Protect your WiFi connection
Secure your online activity
Bypass some ISP restrictions
Unlimited VPN Service
Virtual Private Network is a group of computers networked together to build powerful online protection over the Internet. First, VPN was widely used by businesses in order to connect remote datacenters. Now, VPN service is available for anyone especially taking into consideration its completely affordable price that Keep Solid Inc. has to offer.
With 1.5 millions of customers worldwide, VPN Unlimited has proved to have a trustworthy reputation of the ultimate security tool. Our team of expert programmers has worked hard to build a technology that uses a set of powerful encryption methods and they continue to enhance the capabilities of our unlimited VPN service. Our company introduces new VPN server every week and the number of VPN servers continues to grow. Today, VPN Unlimited covers all continents and provides unlimited connection speed and bandwidth.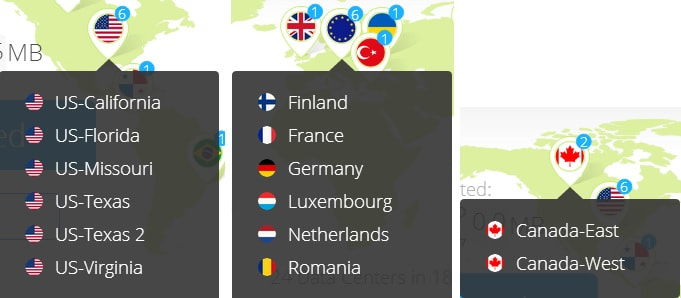 VPN app works on all major platforms including Mac OS X, MS Windows, Linux, iOS and Android. Another great benefit of VPN Unlimited is that single VPN account can offer protection on up to five electronic devices.