Make Your Mom's Day: Protect Her From Adversaries; We Knock $7 Off the VPN Unlimited
Updated on July 13, 2021: From now on, traffic filtering, malware protection, and suspicious DNS activity blocking are available as a part of the separate DNS Firewall app.
We bet you have a special place in your heart for Mother's Day. We believe that you have already come up with a few brilliant ideas on how to celebrate the woman who raised you this holiday. Though we prepared one more surprise for you and her.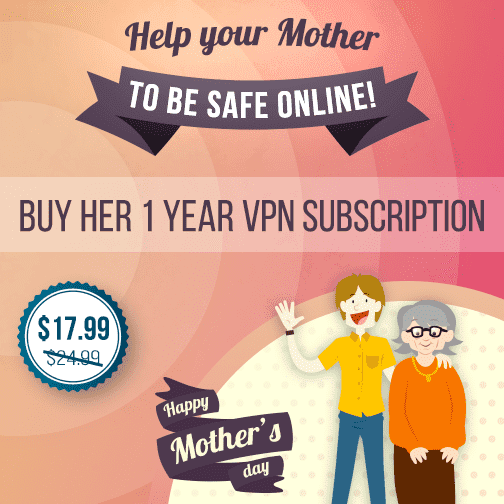 Starting today, May 3rd, through May 6th, 1-year subscription to VPN Unlimited is available for only $17.99. That's a saving of $7! Get your mom this security solution and be sure her bank account details, passwords and personal information are protected.
VPN Unlimited creates an encrypted tunnel, and all user activity travels through it. This means that all the data your mom sends or receives is hidden from hackers, sniffers, and spies because it is inside that tunnel. A tunnel is established between her device(s) and one of our reliable servers, located in 50+ regions around the globe. We offer a highly secure 128-bit and 256-bit encryption methods, depending on the protocol and operating system, to ensure the best security for our users' traffic.
Additional benefits
VPN Unlimited is a very easy to use app. No long explanations needed. Just install an app on your mom's devices, help her to create an account and then just show an On/Off button to her. Yes, it is as easy as this.
By the way, if you want to make sure nothing gets leaked when you visit her and use Wi-Fi, contact us at [email protected]. We will send you the settings to configure her router so that every device that connects to this network is under the VPN Unlimited protection.
So what are you waiting for? Catch the deal while it is good!