Romantic Tech Gift Ideas for Valentine's Day

Updated on July 13, 2021: From now on, traffic filtering, malware protection, and suspicious DNS activity blocking are available as a part of the separate DNS Firewall app.
Love is in the air everywhere we look around. And it's not only about a John Paul Young's song – it is the spirit of Valentine's Day. Just go outside: shops decorated with paper hearts; guys with flowers waiting for someone and checking their watch; girls dressed up in their best dress; lovebirds exchanging caresses and making goo-goo eyes at each other. It is said that the most beautiful eyes are those filled with love. Watching couples on this most romantic holiday of the year, it is impossible to deny. And if you are reading this article, you probably have a person who's looking at you in the same way.
However, from year to year one question is burning in the minds of all lovers: What presents to get for my significant other? According to Deloitte, in 2017 tech gadgets were among the top gifts (42%) people wanted to get in place of flowers, balloons, and chocolates. It's no wonder, considering we live in the era of technologies. But how to turn technologies into a romantic gift for your beloved? The VPN Unlimited team will try to answer this question with some charming tech gift ideas for real tech lovers.
Caring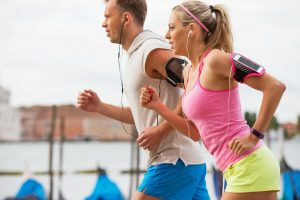 By this we mean buying something your dearest one dreams about. Since you probably know them better than anyone else, you should be aware what gadget is the most desired in their wishlist. Maybe your sweetheart is keen on sports and dreams about fitness tracker? It's a trendy, convenient, and practical tool for any sports fan. Fitness tracker won't let them sit still, and it will perfectly motivate for new sporting achievements. It also counts their steps and you will always have a reason for a nice walk together.
Another option is headphones. On the world market, there is a big variety of them for any purposes and desires. Wireless and waterproof are great for sports people, headsets are essential for gamers, and bass-heavy headphones is what hip hop music lovers need. It's all up to your partner's preference. Also, don't forget about the classics like power bank for travellers and hard drive or flash drive for business people.
Memories
How about something important for both of you? On this day of love, a gift to recall everything good that happened between you sounds pretty nice. It can be a digital picture frame full of your memorable photos. Moreover, you can buy an instant camera to take great pictures of your love story.
If you hold that the photos idea is not original enough, let's talk about music. Every couple is likely to have songs which evoke some special memories. If you too have some, why don't you create a playlist of your songs and upload it to a vintage player or a vinyl record? Or buy a music streaming service subscription and create the playlist there. The goosebumps and possibly even happy tears are guaranteed.
Security
Your partner's safety is probably one of your main concerns in your relationship. However, you can't be together 24/7. And even if you are together in any particular moment, you still can't protect your beloved online on your own. For instance, identity thefts made up 74% of the global data breach incidents in 2017. And since it is not the only example of risk on the internet, personal data protection becomes crucial. For this, the perfect gift would be a subscription to a highly secure virtual private network, like VPN Unlimited.
In order to protect your SO's personal data, our team implemented AES-128 and AES-256 encryption protocols. They encipher your traffic and don't let third parties decode it. Online dangers are absolutely real and can emerge at any moment. The sense of security in the internet is one of the best gifts you can present to your partner.
As a final touch, we wish you to love and be loved not only on Valentine's Day, but on every day of the year.