How VPN Unlimited Can Improve Your Minecraft Experience?

Updated on July 13, 2021: From now on, traffic filtering, malware protection, and suspicious DNS activity blocking are available as a part of the separate DNS Firewall app.
Gaming is a huge part of user's online life and its popularity continues to grow, transcending age and gender boundaries. Today we would like to focus on an extremely popular game which is often described as a 'sandbox game'. Guess what? Yes, it's Minecraft where you can build cities, different kinds of 3D blocks, and virtual landscape. Millions of people across the world spend hours every day to create own online world and experience. Just look at these amazing figures from the official Minecraft twitter to see how large the scale of this game is.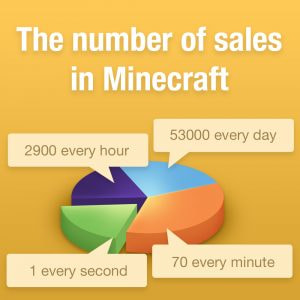 4 reasons why you need a VPN service for gaming
Roughly 1 million people are playing Minecraft at this moment, about 106000000 have already bought it. Mind blowing, eh? That is why we feel our duty to tell users how to dodge possible threats and make the gaming experience even more exciting.
1. Come back to the game even after you were banned
Getting banned on Minecraft is a painful experience. In all likelihood, it happens when other players report that you break the game's rules or terms and conditions. Therefore, in order to keep out of trouble, we strongly recommend each user to learn them. This advice may seem simple but, unfortunately, is often overlooked. In the case, if you were unjustly reported by other players and as a consequence you were banned, don't worry – you can fight the power! Just change your IP address by using VPN Unlimited and continue to enjoy this worldwide famous online game.
2. Take a break at work or while studying
In this high-tech time, WiFi connection in schools, universities, and offices is a dime a dozen. However, it doesn't mean you will have an open access to your favorite content, including Minecraft. In case of internet filters and firewalls, you will definitely need a solution to play the game without restrictions. The name of this solution is VPN Unlimited with its opportunity to circumvent harsh port rules, unblock Minecraft, and play through any network in a secure way.
3. Play with friends all over the world
This Swedish construction-based game has swept up a shocking number of players from pole to pole. Using solid VPN servers, you have a great possibility to create replicas of the Taj Mahal, Tower Bridge, or the Eiffel Tower on multiplayer with high connection speeds. VPN Unlimited offers the network of 1200+ servers spread across 70+ locations in 50+ countries.
4. Get extra security benefits
If you are not a single player and want to join other enthusiasts to enjoy the game together, you should connect to an online server in the multiplayer mode. But choosing this way, you become more vulnerable to online threats and attacks. As a result, hackers may access your private information and harm the device by installing malware. Once again, VPN Unlimited will help you to solve this problem with a next-generation KeepSolid DNS Firewall feature. It will block malicious websites, apps, which can damage your device and reduce the risk of interception of sensitive data every time when you connect to the gaming server.
Top it all off
For some people it is an opportunity to meet new gamers, and for others it's a chance to enjoy taking on the single-player campaign. Regardless of your preferences, there is something that unites all players. We mean the best gaming experience possible without threats to your online security. KeepSolid developers are ready to help you with their well-trusted solution. VPN Unlimited will help you to:
Avoid security problems and protect yourself from DDoS attacks
Greatly reduce your ping time and lags for better gaming experience
Bypass internet censorship and get open access to your favorite online services
Download VPN Unlimited to enjoy playing Minecraft and other games from any location bypassing geo-restrictions.