How to Delete Gmail Account?

Updated on February 4, 2021: From now on, traffic filtering, malware protection, and suspicious DNS activity blocking are available as a part of the separate DNS Firewall app.
Likely, you are one of the billion people who use Gmail service and, if you are reading this article, then something went wrong. This article will tell you:
Why you might want to delete your Gmail account?
Should I deactivate or delete my Gmail account?
How to delete a Gmail account?
How to delete the Gmail app from the phone (Android and iPhone)?
Can I reopen the account on Gmail?
What happens with my data at Gmail after deletion?
Why you might want to delete your Gmail account?
Scared by the story about scammers who can access all your accounts and remotely damage your sensitive information knowing just your email address? Or want to rid yourself of annoying spam which overfills your email? No matter what the reasons are that instigate you to quit Gmail, you have every right to do so.
Throughout our life removing an email account has been a thing we always tried to avoid. It's true that your correspondence may contain some important documents or proof that certain words were said. Below you will find reasons which should move you forward in this major step.
Somebody has hacked your account
There are good chances that you'll decide to delete your Gmail account right away after you found out about this problem. But don't be so hasty. First of all, you should change your password and report to Gmail about the penetration. Inform your friends and colleagues about a chance they may receive fraudulent letters from your compromised email.
You are constantly receiving tons of junk emails on your account
It could very well be that you filled out a lot of questionnaires and forms where the email address was a required field, haven't you? That is why you will receive a great number of unwanted messages after a while. It is a case when you face a real challenge to find a necessary letter among this mass.
Your user name isn't relevant anymore
If you are using Gmail for school years, there is a chance that your address contains a name of a hero who was popular in that period. But, sooner or later, you will have to add your mail to your CV. Every word in your message, including your account name, should make your future employer feel you are serious and ready to get to work, eh? Well, it's the right time to change your account and move on from the old one.
Definitely, there are a lot more other reasons to delete a Gmail account. Here are the instructions on how to do this.
Should I deactivate or delete my Instagram account?
It's no surprise that saying "goodbye" to your Gmail account will lead to some changes or even side effects. Below you will find a brief description of 3 difficult points you will more likely meet as a result:
The loss of the correspondence
Of course, it is the most predictable outcome. We highly recommend you move all the important letters to a different service before you delete your Gmail account. Be careful and better check it twice. If you miss something valuable, it will be impossible to retrieve the data.
The loss of the meaningful contacts
There is a possibility of losing connection with your customers, partners, and other important contacts who used to reach you via Gmail. No doubt, you may warn them before deleting your personal account, but there is a chance they can miss this letter among thousands of other messages.
The loss of the frequently used services
A number of services, such as food delivery, social networks, online banking, etc., are attached to a certain email. This approach gives you an opportunity to easily recover your password to any linked service in case you forgot it. Removing a particular email makes it more difficult to get a reset link.
These arguments may seem weighty enough to stop you from deleting your Gmail account. But next reasons support your decision to break with this service. Read further and make your final choice.
How to delete a Gmail account
First of all, backup all important messages which will be not available after you delete your account. The next step is to create a new email and notify your friends and colleagues about the changes. Now you are ready to remove your email, so let's start:
1. Sign in to your account and go to the My Account tab. Click Account Preferences, scroll down, and select the Delete products option.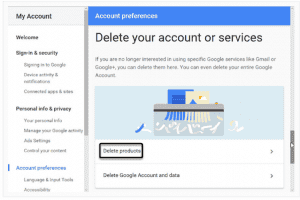 Note: Here, all your active Google accounts attached to this email will be displayed. If you want to save access to them, weigh up the pros and cons of the decision to delete your Gmail account once again.
2. Click Remove Gmail permanently and verify your choice. At this stage, you will be offered to enter a new email address to sign in to the other Google services, such as Google Drive or Calendar.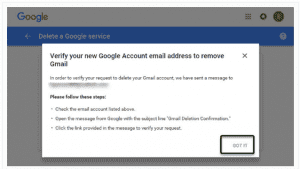 3. When you confirm your choice, you will get a letter from Gmail with the following subject: Security alert for your linked Google account or Gmail Deletion Confirmation.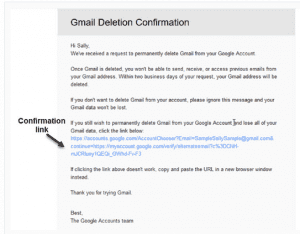 4. Follow the link in the letter and click Delete Gmail to confirm the removal. Your Gmail account will be deleted within 48 hours.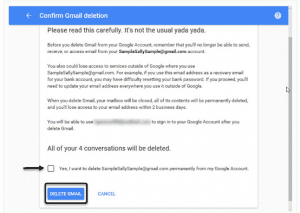 5. Click Done and close the Account Preferences screen.

That's all! Now you are free from a heap of spam and other inconveniences which we described above. At the same time, you lost some of the possibilities that Google offers you for a better online experience.
How to delete the Gmail app from your phone (Android and iPhone)?
When you use a third-party application for email messaging, you may think that you don't need a Gmail application anymore. You may delete it for many reasons, we have already discussed. So you may wonder, how to uninstall the Gmail app from your phone. The issue is that the process of uninstalling is different if you use iPhone or Android. Go on reading to learn, how to delete the Gmail application from your phone on both platforms.
How to delete the Gmail app from iPhone
Uninstalling the Gmail app from your iPhone is as easy as deleting any other app.
Step 1. On iPhone and iPad, touch and hold the Gmail app icon on the home screen.
Step 2. When the icons start shaking, tap on the cross icon on the app.
Step 3. Alternatively, if a menu shows up, select Delete app.
Great! You have successfully deleted the Gmail app from your iOS device.
How to delete the Gmail app from Android
If you are a happy Android user, sometimes you can face some inconveniences. One of them is that you can't completely delete some pre-installed apps. Gmail is one of them. Unluckily, you can only disable it as follows. This will make the Gmail app unusable and stopped from running in the background.
Step 1. Firstly, go to the Settings of your phone. You can do it from the main screen or open the app in the full list of applications on your phone.
Step 2. Then find the Apps and Notifications menu.
Step 3. Scroll the full list of the apps looking for Gmail service. Then tap on it.
Step 4. Tap Disable in the opened menu.
Wonderful! You have disabled your Gmail application and you will not receive any notifications from the service.
Can I reopen the account on Gmail?
If you deleted your Google Account, you may be able to get it back. If you recover your account, you'll be able to sign in as usual to Gmail, Google Play, and other Google services.
Act fast. After deleting a Gmail account, you only have a maximum of two business days to recover the account.
This is different than the recovery period for Google accounts, which is between two and three weeks.
1. Open the Google recovery page at accounts.google.com/signin/recovery in your browser.
2. Then enter your email address to the account that you deleted. Click Next.
Note: If you see a message here that says your email doesn't exist or has been deleted, you cannot recover your Gmail account.
3. Enter your password for your email address in the text field. Click Next. It's below the text field.
4. Then click Continue and follow the account creation page.
5. Check your account information. There should be your old email address with your phone number and your recovery email. Then proceed.
6. Click Submit. and enter your phone number at which you can receive a text message. You will receive a verification code in your SMS.
7. Enter the verification code into the text field. Then press Continue and you will be allowed to open your Gmail account.
Great! Now you can visit your email service and check out the inbox with all your messages.
What happens with my data at Gmail after deletion?
The most valuable data in your Gmail is certainly your emails and messages. If you delete your account or uninstall the Gmail app your messages will not be deleted. If you restore access to your account and enter your inbox, you will see all the lists, received before. All this data is securely kept on Google servers and not your phone. But if you decide to delete all the messages manually from the inbox you will not be able to recover them on any device.
Wrap up
As you can see, in order to delete your Gmail account, you should perform a few easy steps. But if you still have doubts and the main reason for your distrust is a question of privacy, VPN Unlimited is an excellent tool to resolve the uncertainty. This well-trusted security app will provide you with a right to be free and protected from online threats. Now your correspondence is under the strong shield and you can continue using your Gmail account.
Surf the web without a trace. Download VPN Unlimited to strongly encrypt all the data you send and receive over your email. You can try it for 7 days for free to explore all the benefits before buying VPN subscription to your liking. Check it out!