KeepSolid VPN Unlimited: How to Buy VPN with Credit Card
While getting our KeepSolid VPN Unlimited subscription, you can complete your purchase via any payment method convenient for you. Our team strives to offer you the widest selection of payment options. You can buy VPN online with a credit card, pay for a VPN plan with cryptocurrency or PayPal, use Apple/Amazon/Google/Microsoft pay to get your perfect VPN plan, or even purchase VPN Unlimited with a Paymentwall system. Select the option that suits your needs best, pay for a VPN client, and enjoy online security.
As you can see, among the available payments, you can find a credit card. That is what we are going to talk about today. To buy our VPN subscription, you can use credit cards of the following multinational financial corporations:
Visa
MasterCard
American Express
Union Pay
JCB
Diners Club International

Note: VPN Unlimited is also available as a part of the MonoDefense® security bundle.

This manual contains step-by-step instructions on how to buy VPN online with a credit card in two different ways:

Let's get to it!
How to buy VPN Unlimited with a credit card on our official website
1. Go to our KeepSolid VPN Unlimited official website and navigate to the Pricing page.
2. Choose your perfect VPN subscription.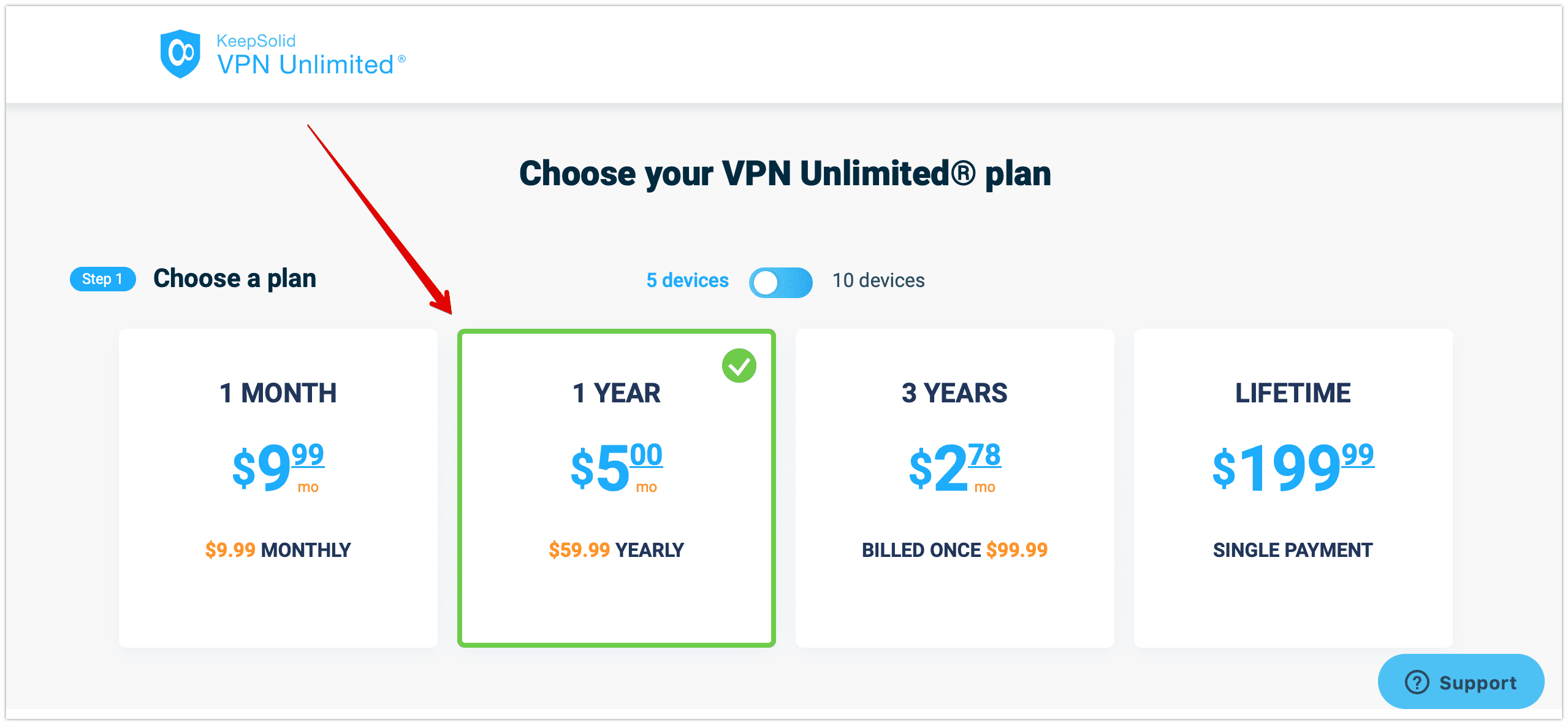 3. Enter your email address to create a new KeepSolid account.
If you already have a KeepSolid ID, all you need to do is print the email used to register your account.
Check out this page to learn more about the KeepSolid account, its features, and functions.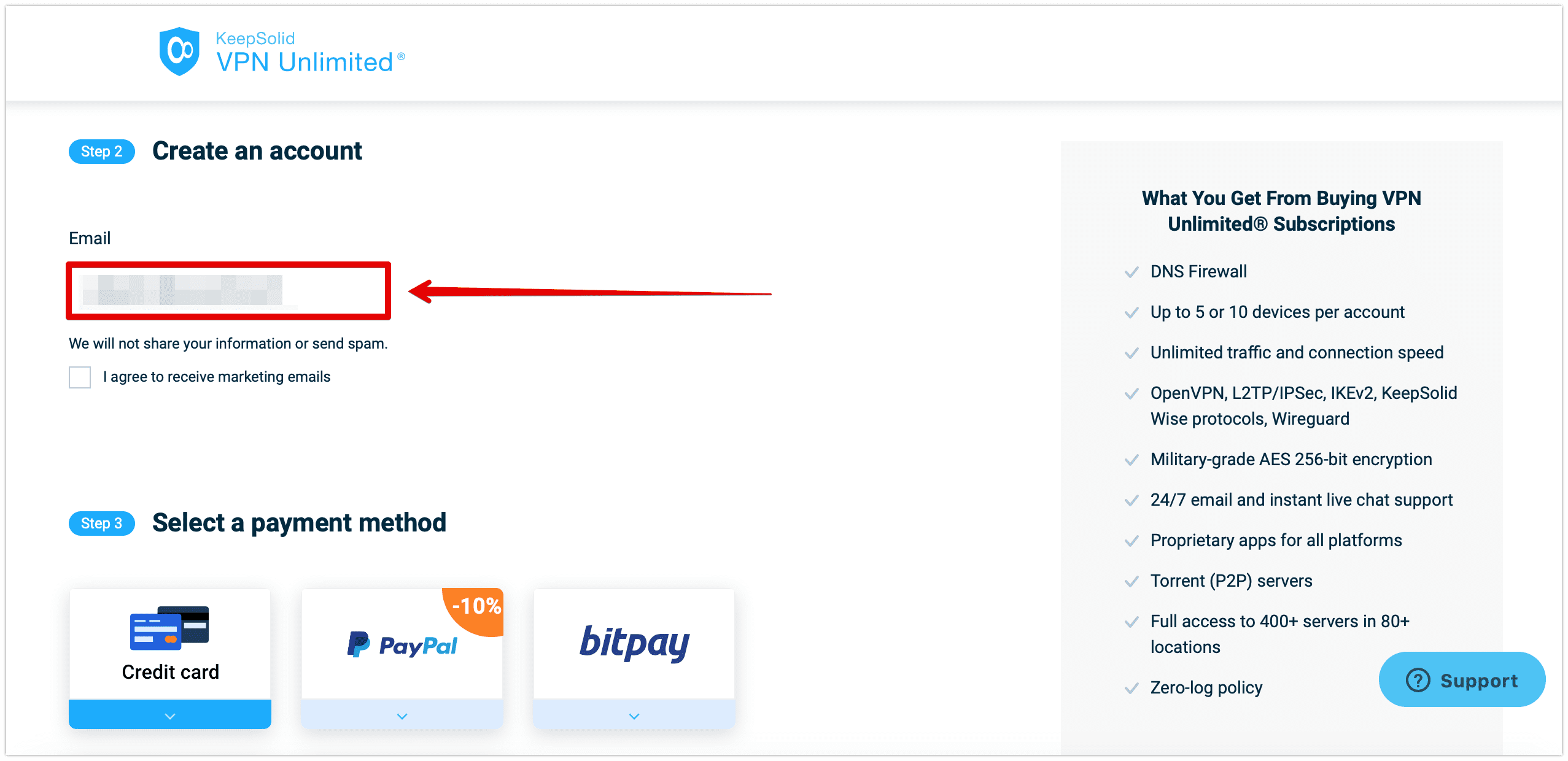 4. In the Payment method section, click on the Credit card to buy a selected VPN subscription.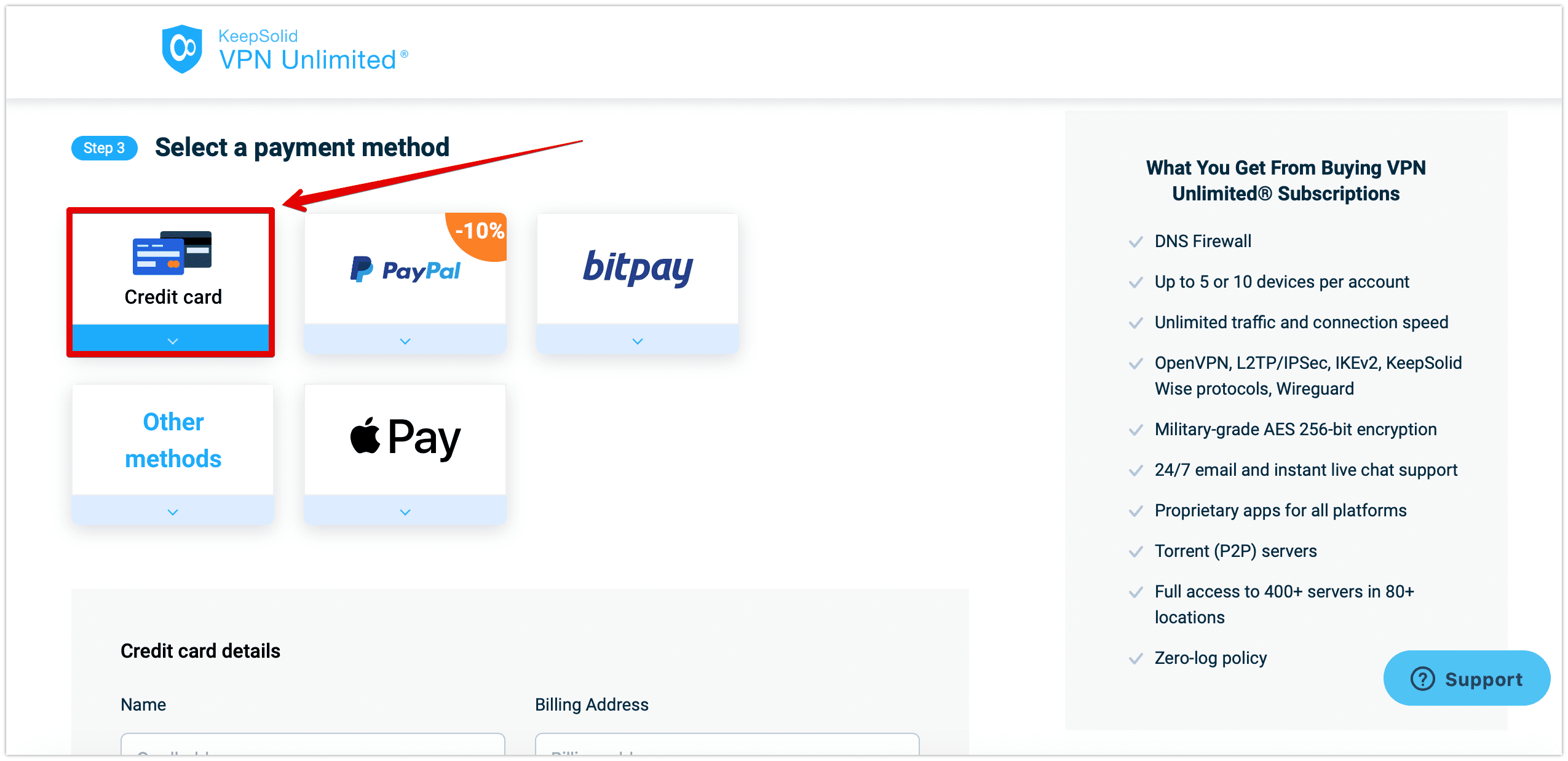 5. Fill in your credit card details: name, billing address, card number, CVC, and expiration date.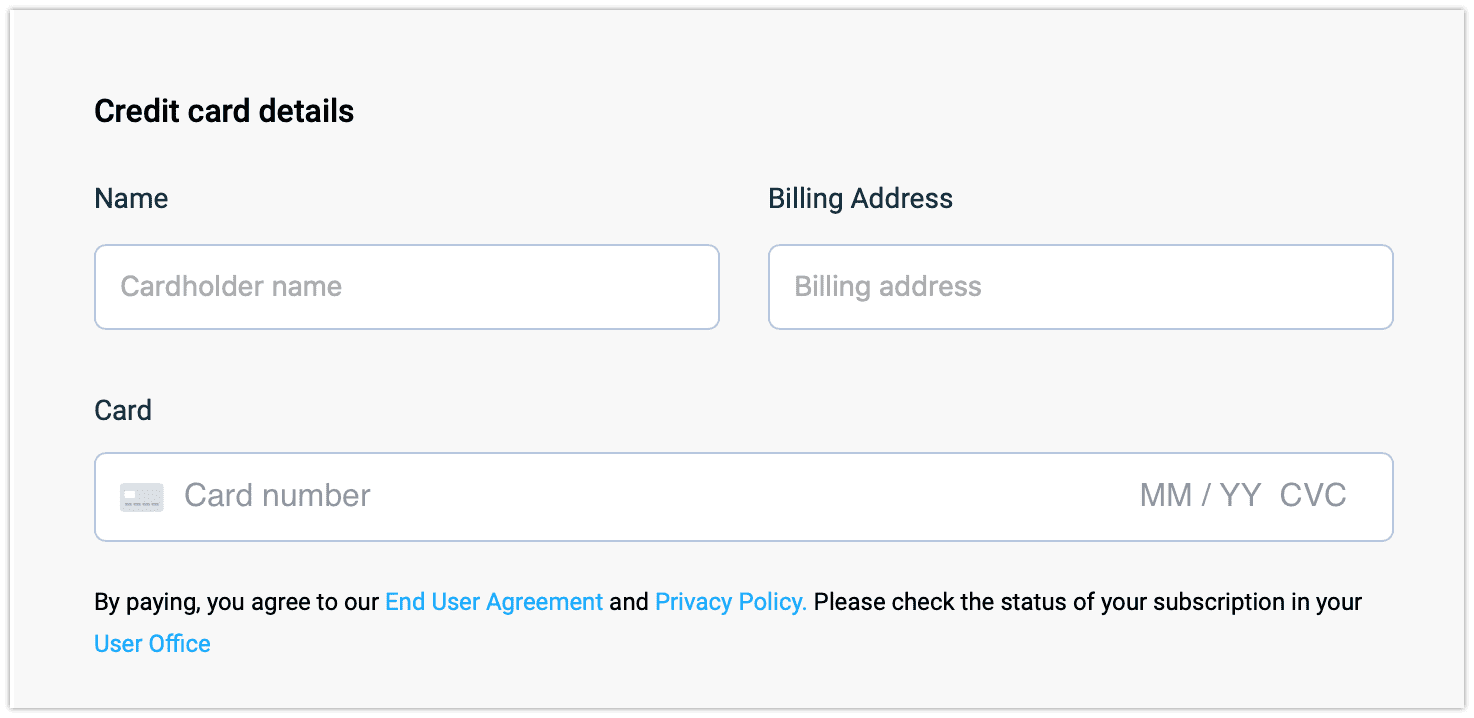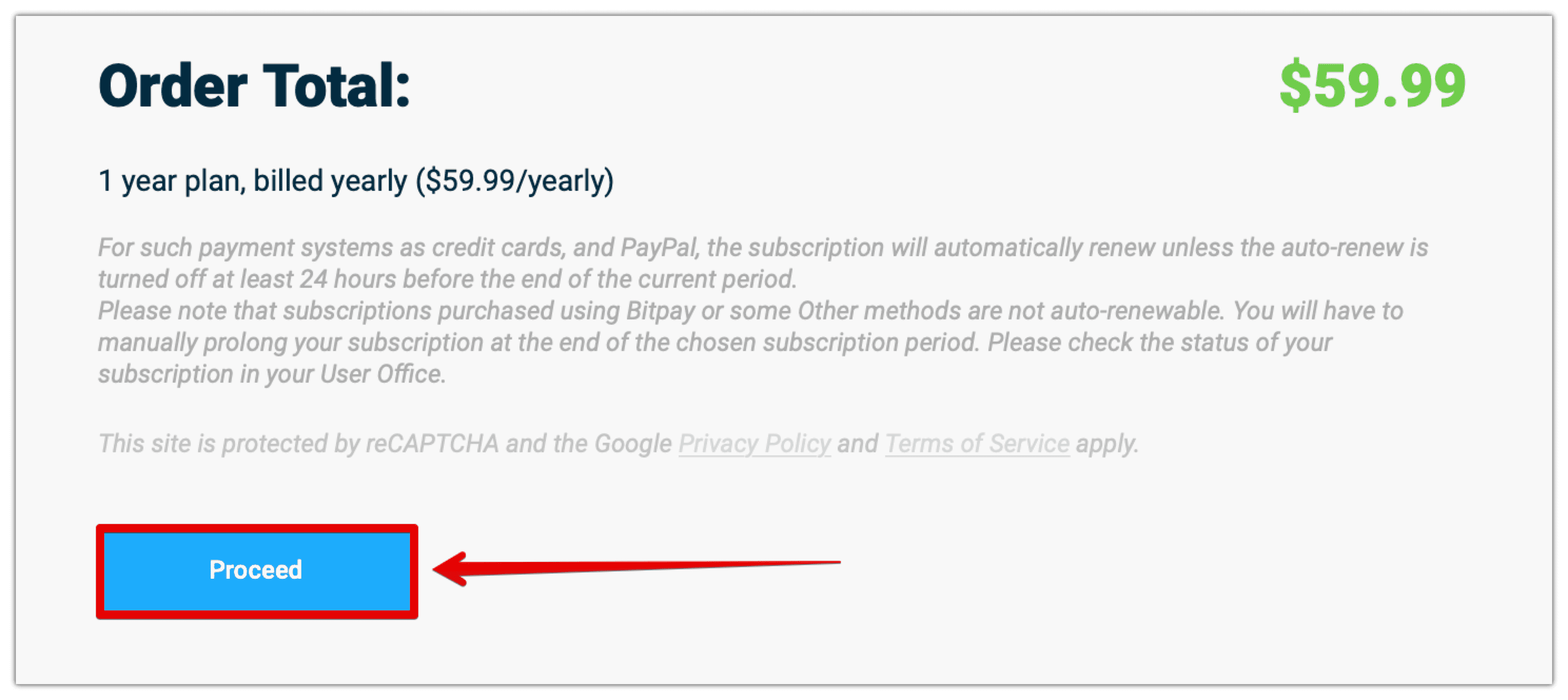 7. Great! Now you are ready to start enjoying our security solution.
Note: If you create a new VPN account, it's highly recommended to secure it via creating a strong password. Want to use a system-generated password? Click Use this password and that's all. If you want to create a password by yourself, click Create another password.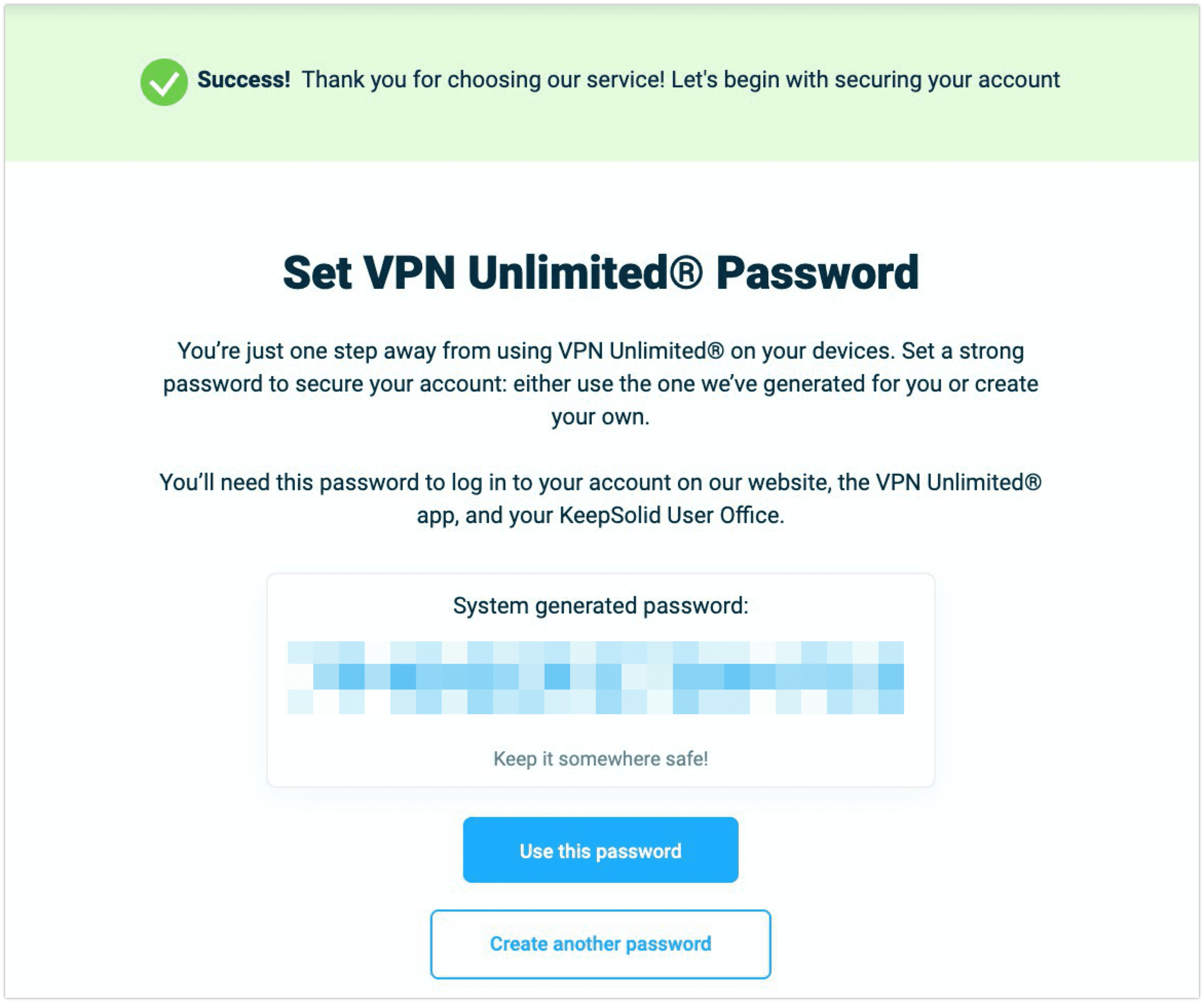 8. After creating a strong password, click Set password.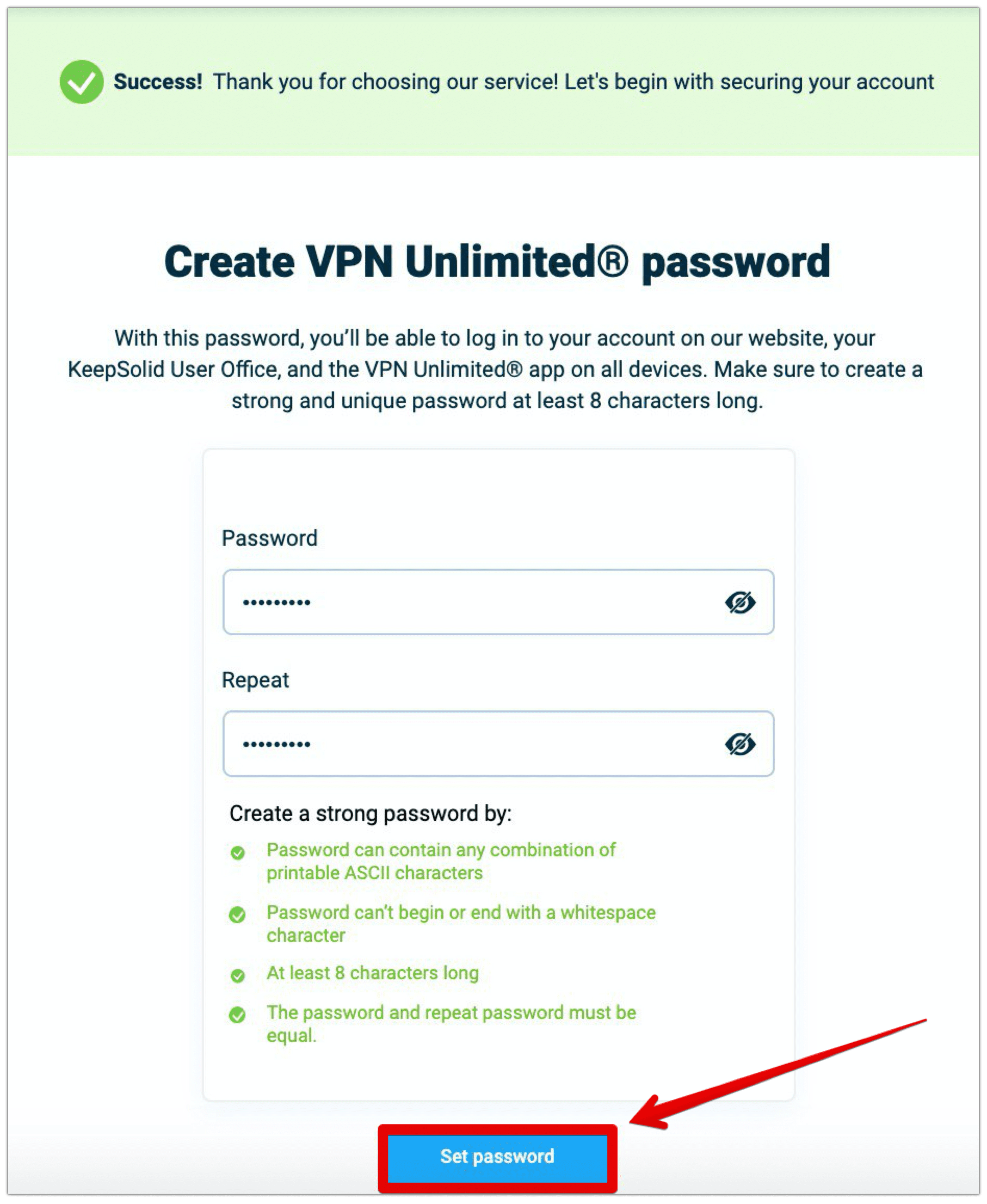 9. Download KeepSolid VPN Unlimited app on your device (if you still haven't done this) and benefit from our VPN client to the fullest!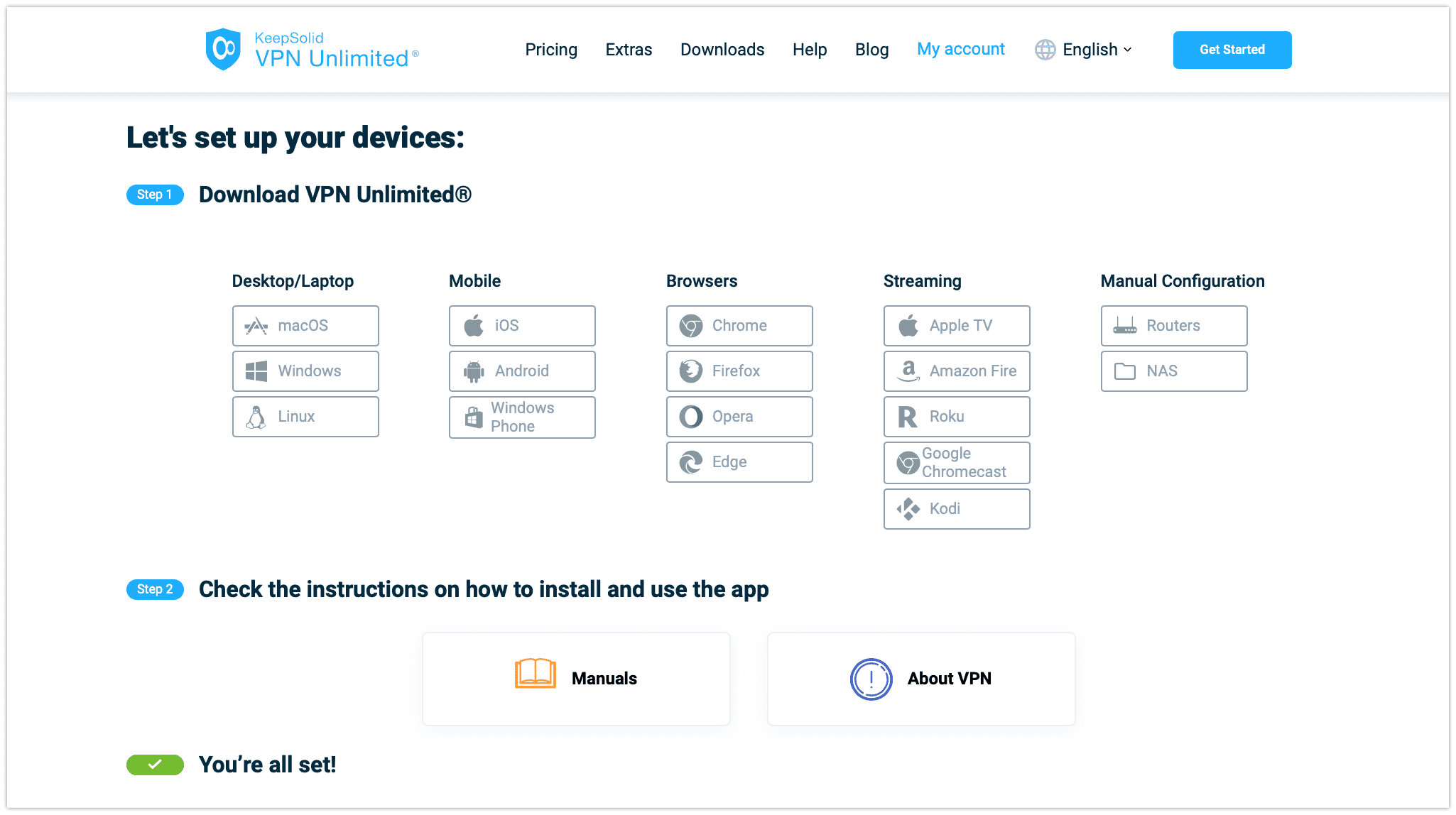 Protect Your Online Life by Paying for VPN with a Credit Card
Select your perfect KeepSolid subscription, buy a VPN with a credit card, and explore all VPN Unlimited benefits!
How to pay for VPN with a credit card in your KeepSolid User Office
1. Navigate to the KeepSolid User Office > https://my.keepsolid.com/.
2. Create your KeepSolid ID by entering your email address and password and clicking Sign Up.
If you already have a KeepSolid account, click Log in using existing KeepSolid ID, enter your email and password, and click Sign In.
More information about KeepSolid ID you can find on this page.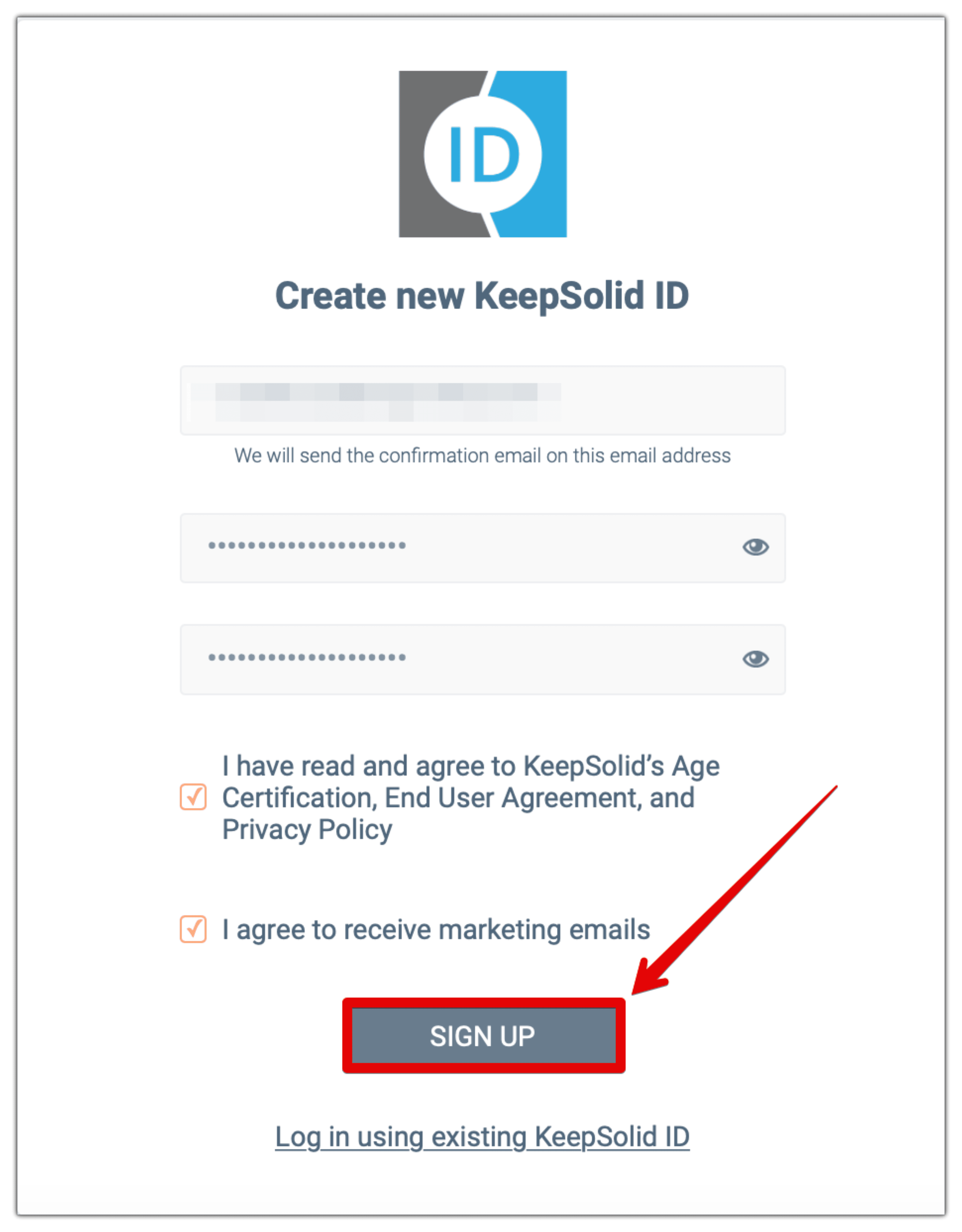 3. Find KeepSolid VPN Unlimited in the Our products section and click Buy now.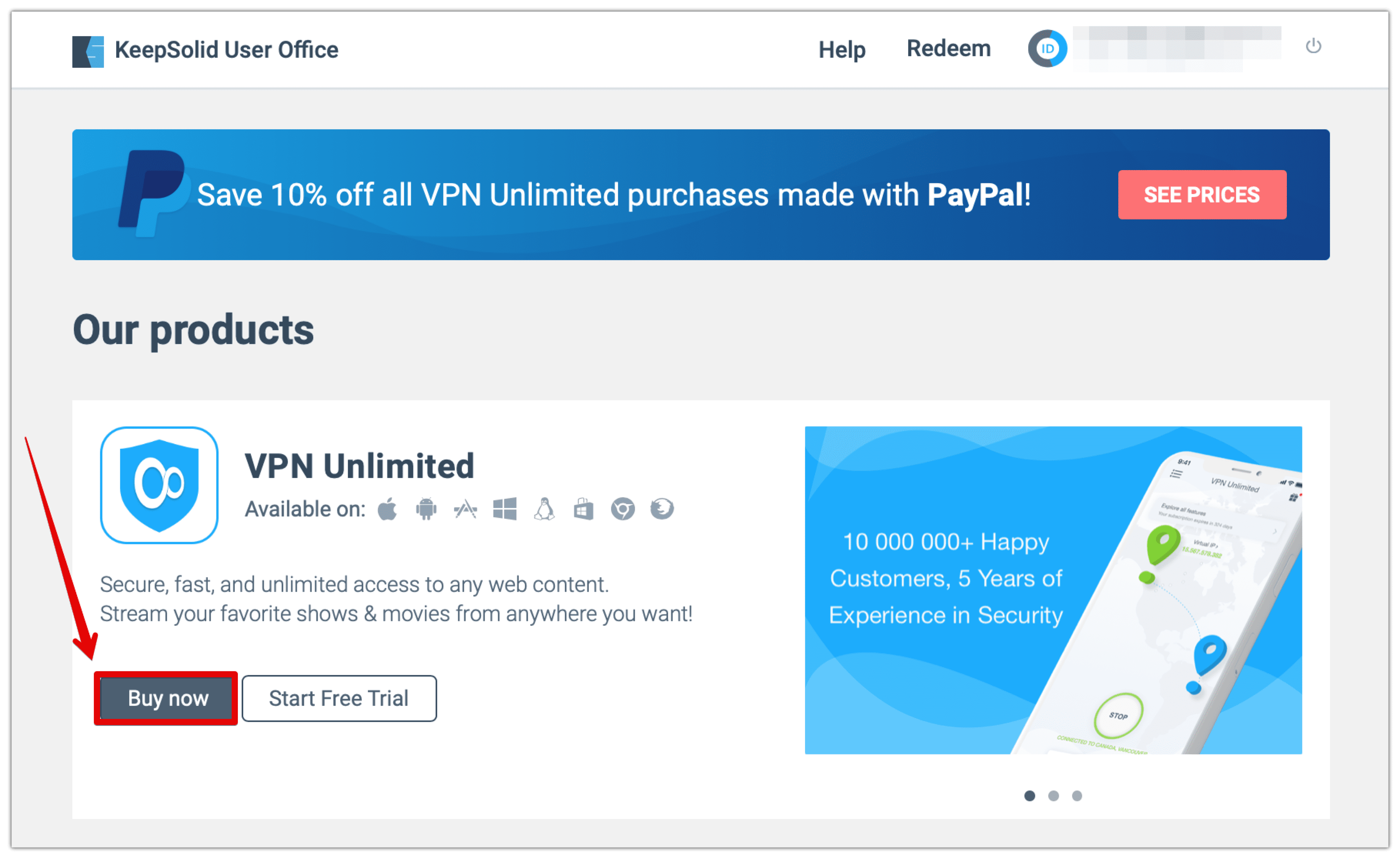 4. Select your perfect VPN subscription to buy with a credit card.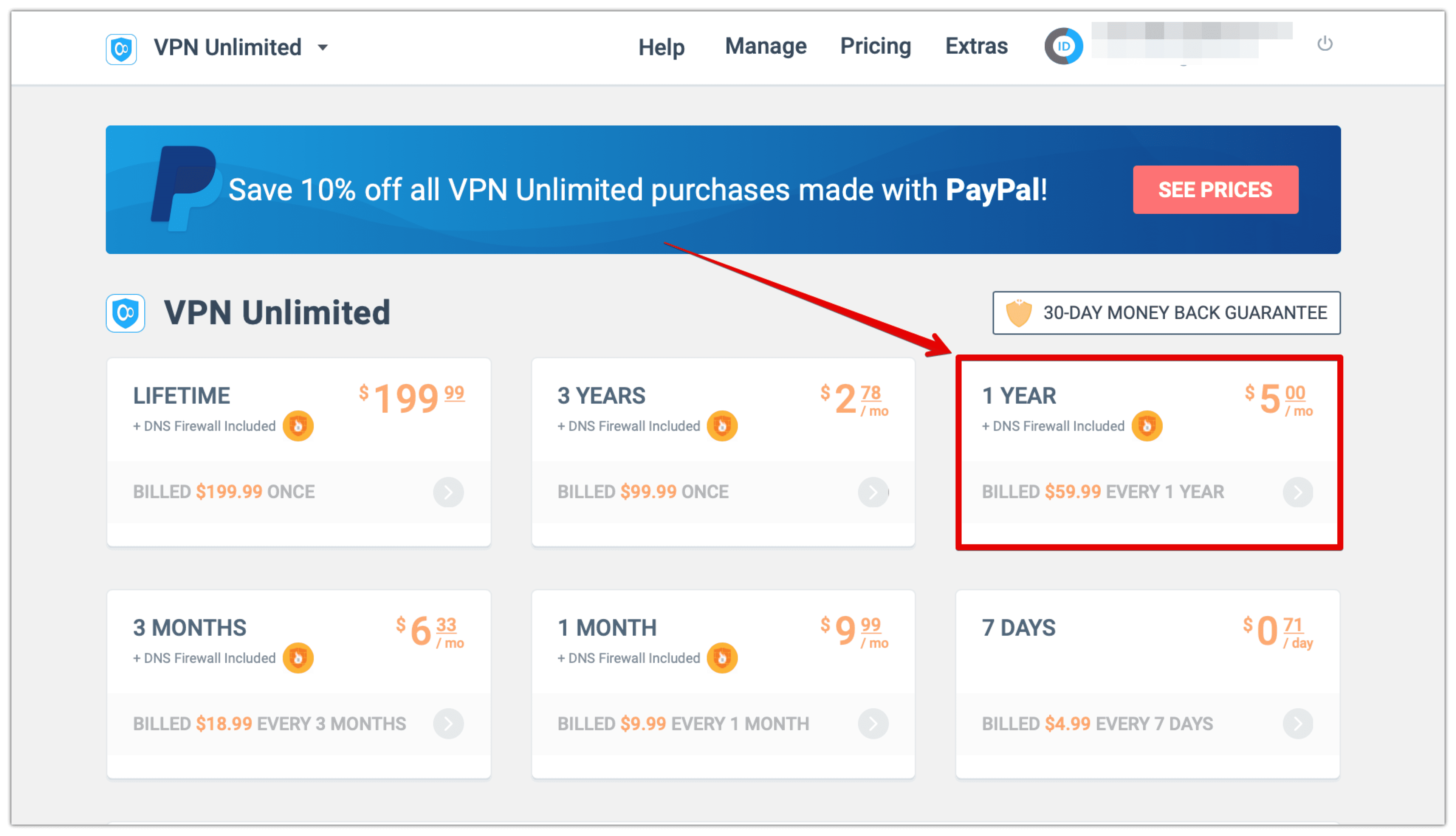 5. Go to the Payment method section and click on the Credit card option to buy a VPN subscription.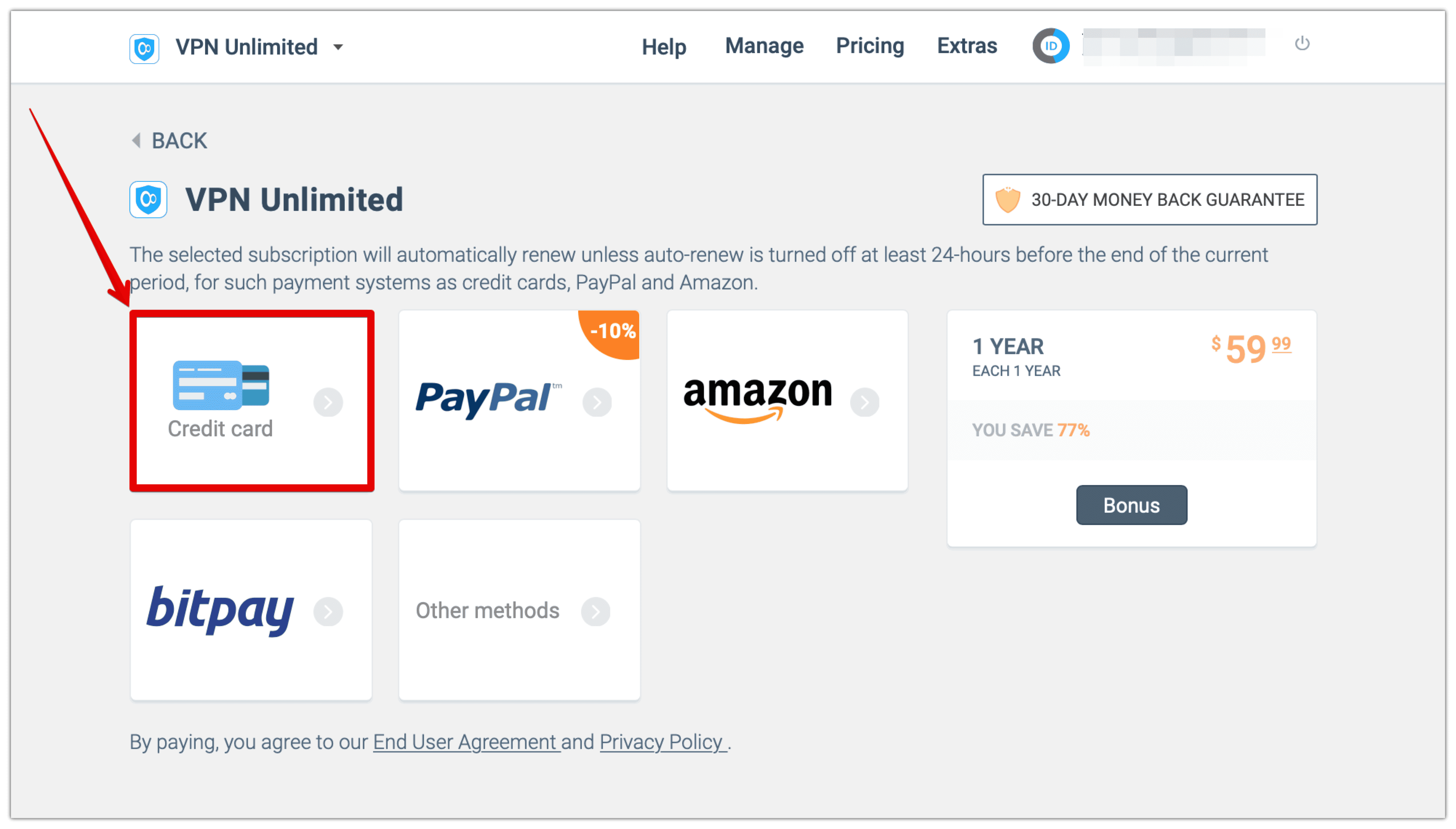 6. Fill in your credit card details and click Pay with Credit card.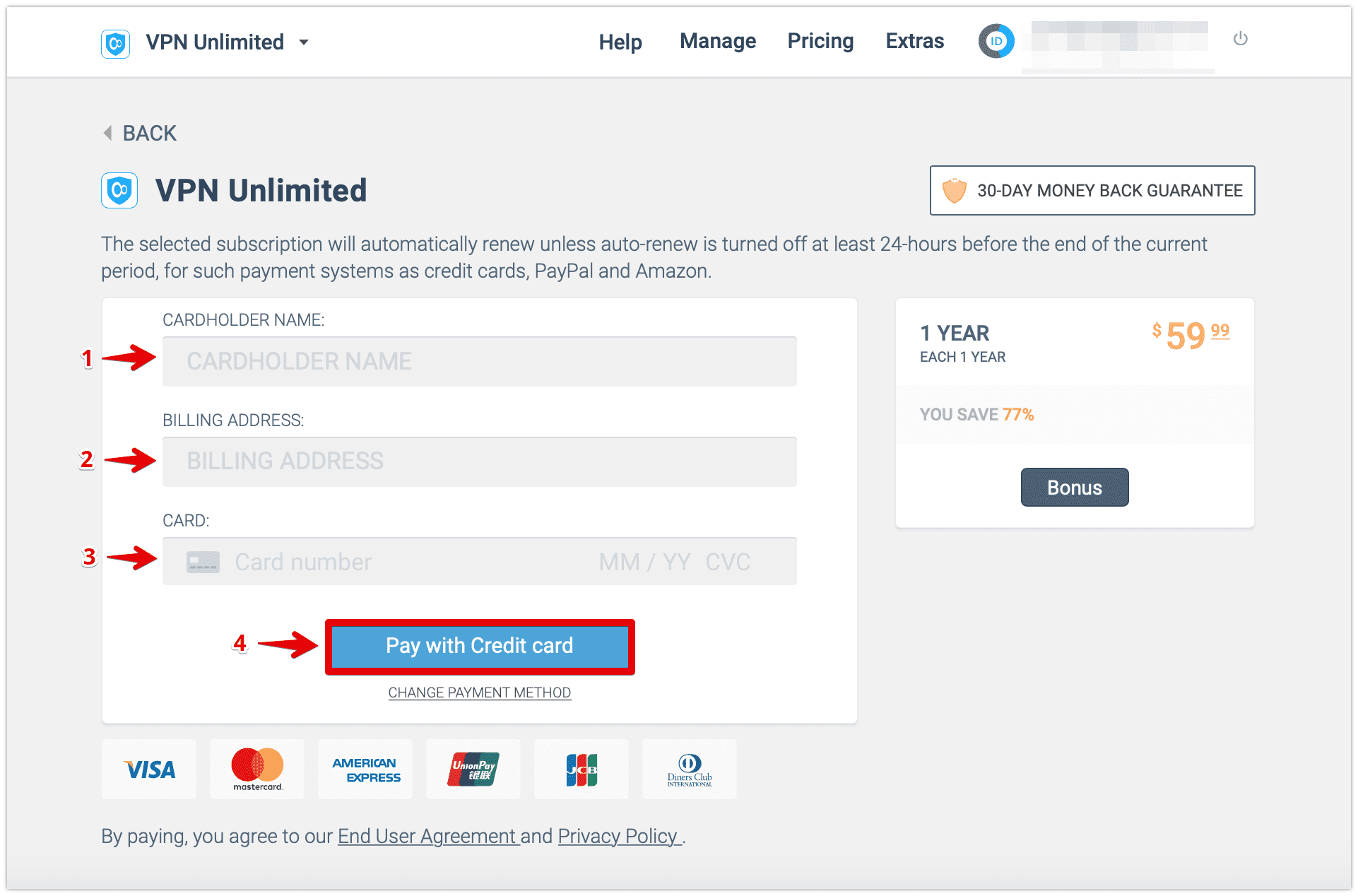 7. That's it! You've bought a VPN with a credit card.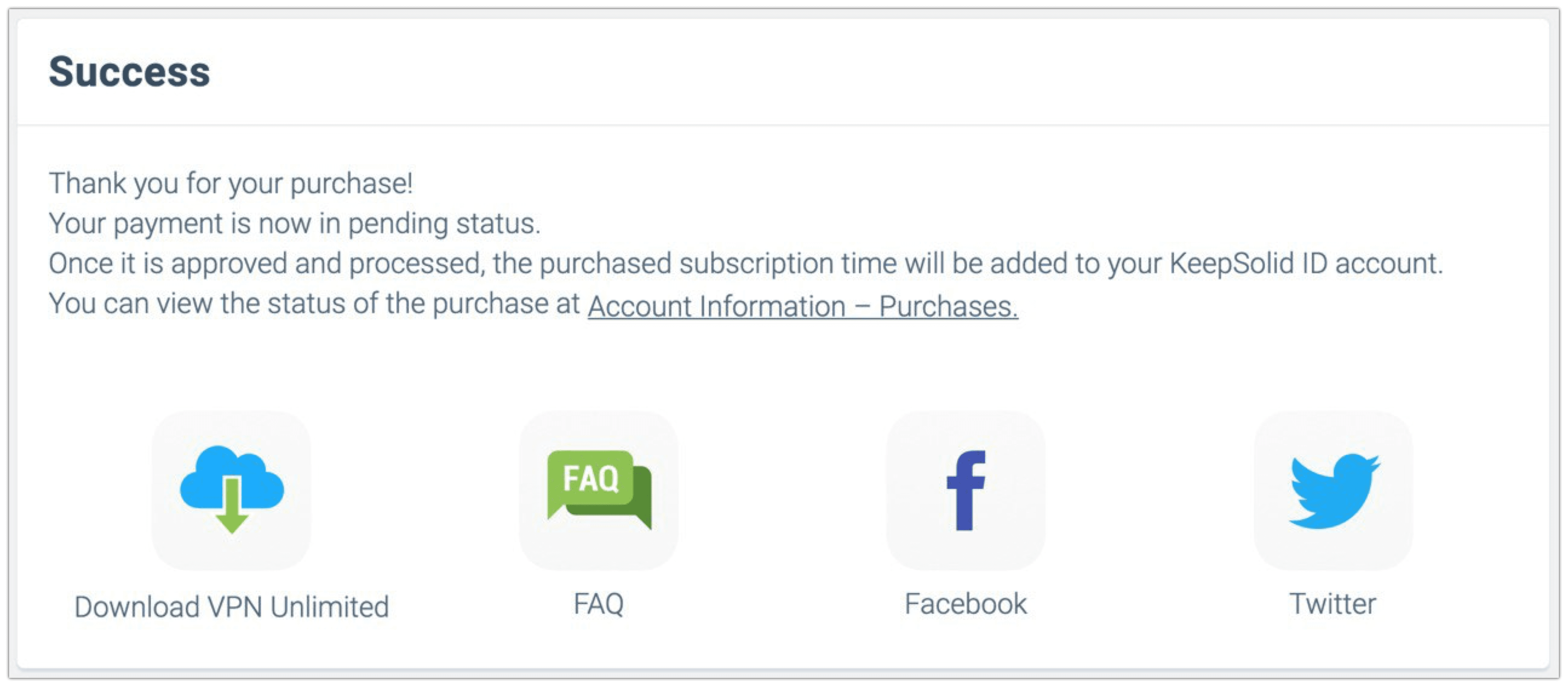 Bottom Line on Paying for VPN with Credit Card
Now you can easily buy VPN online with a credit card on our official website and in your KeepSolid User Office. If you still have any questions about VPN payments, do not hesitate to drop an email to [email protected]. Our customer service is available for you 24/7!
Buy VPN with Credit Card and Start Surfing the Web like a Pro
Protect your internet traffic, safeguard sensitive data, and be sure any third parties couldn't access your online activities!
How to Buy VPN with Other Payment Methods
Top Features of KeepSolid VPN Unlimited

Part of the cybersecurity bundle
KeepSolid VPN Unlimited is a part of the MonoDefense® bundle that aims to protect your internet life, keep your data away from prying eyes, and defend against any online threats. Apart from the VPN application, this bundle includes other security and productivity solutions. Make sure to check them out!

Set of reliable VPN protocols
Our reliable VPN client offers about 5 advanced VPN protocols: OpenVPN®, WireGuard®, IKEv2, KeepSolid Wise, L2TP, and TLS. By switching between them, you can obtain the highest possible performance, connection speed, and reliability. Also, you can choose the Optimal option that automatically picks protocol due to your current connection conditions.
3000+ VPN servers worldwide
Striving to provide you with the best and most reliable VPN connections, we offer more than 3000 lightning-fast virtual servers in more than 80 locations all over the world. To top it off, we are constantly expanding the list of available servers so that you have high connection speed and the ability to access any geo-blocked content.

Top-notch encryption algorithm
Buy VPN online with a credit card and keep your internet traffic encrypted and safe from third-party observation. Thanks to the AES 256-bit encryption, all data is ciphered such that only authorized users can decrypt and read it. Thus, you have no reason to worry about online privacy and how to stay safe.
7-day trial to check everything out
Well, testing of VPN premium features with a 7-day free trial is followed closely by choosing the appropriate subscription and paying for a VPN with a credit card. Start your free 7 days right now, explore VPN Unlimited benefits, and learn how its features work for your online integrity. Furthermore, you can get a VPN free trial with no credit card.
One-time payment for Lifetime protection
Our secure Virtual Private Network offers a Lifetime subscription that lets you enjoy online freedom and lasts forever. Ultimate privacy, unmatched security, lightning-fast connection speed, IP masking option, zero-log policy, and other security features are included. Choose this plan, buy a VPN online with a credit card, and see for yourself!
Try Out KeepSolid VPN Unlimited Right Now
Сhoose your perfect subscription plan, buy VPN online with a credit card, and start an anonymous internet journey with our anonymity solution!