How to Cancel PIA (Private Internet Access) VPN Subscription
Canceling your subscription shouldn't be a long and tedious process that puts you off, it should carry the same level of ease and pleasure just as the time you signed up. Most subscription services don't have an easy-to-find tab to click on that directly leads you to cancel your subscription with them. We are here to help you navigate your way to canceling your PIA Virtual Private Network subscription without any hassles. Read on to get a step-by-step guide.
How to Cancel PIA VPN Subscription
So you have subscribed to PIA VPN and you have enjoyed the service and all that came with it, however, you have reached a point you feel it's time to leave and cut your ties with them. Let's get into the steps that you should take when canceling your subscription.
Steps to follow when canceling recurring payments:
Step 1: Sign in to your Client Control Panel. Follow the usual log-in process that involves using your username and password.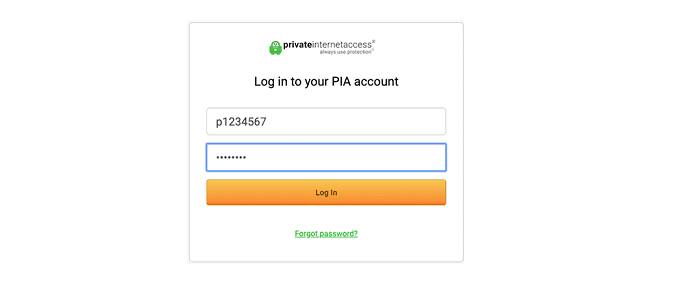 Step 2: Cancel Subscription
After signing in, click the tab below Subscription Overview.
Your Subscription Information will be shown on this page. Next to Subscription, you will see an options tab. Click on it and tap on Turn off Auto-Renewal, this will cancel any future payments.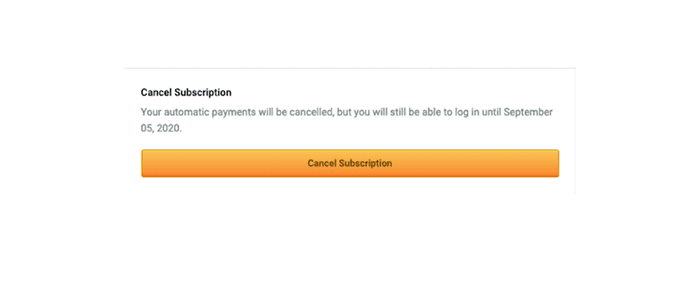 Step 3: Confirm your cancelation.
You will be asked to confirm the cancelation of your auto-renewal. Following this, you will be requested to give a reason for canceling recurring payments. You will be asked to verify your decision or to keep the recurring payments turned on.
You will be returned to the Client Control Panel, a green button labeled "Turn on auto-renewal" will pop up. This will confirm that the subscription's automatic payments have been successfully turned off.
And lastly, a confirmation email from PIA VPN's support system will be sent to you, indicating that they have received your request to cancel your account.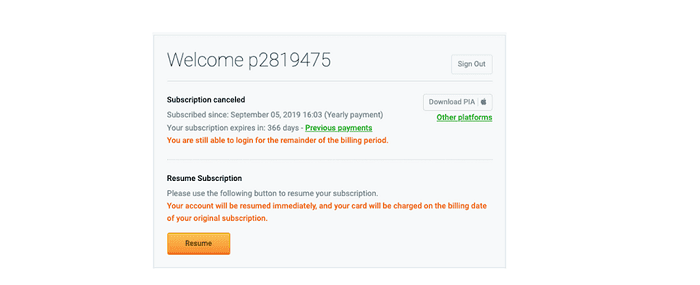 These 3 easy to follow steps will help you get your PIA VPN subscription canceled. If for some reason, you are unable to cancel your subscription yourself, you should contact the support team for this product.
We trust that we have delivered in our promise to provide an accurate guide on how to cancel your subscription. We have also found it important to show why you need to have a VPN and how it protects you from any potential cybercrime attacks on your private data and information.
There are very few things in life that we can keep for a lifetime, and VPN Unlimited is one of the few that you can do with their lifetime membership. Get started now!
Note: VPN Unlimited is a part of the MonoDefense security bundle.
Switching to VPN Unlimited
VPN Unlimited is a trusted VPN that delivers sterling internet security. It employs industry state-of-the-art encryption protocols to provide extra superior security for your personal information and internet traffic data.
Unlike PIA, VPN Unlimited allows you to have your own personal server, which increases your online privacy and connection speed. Using a personal server will provide you with better ​​control, flexibility, and boosted performance. You can add a Personal Static IP for your use only as an optional extra to fully protect yourself from being blocked or denied any access while using the internet.
The benefit of being able to change your IP address is that you can access content that is restricted from anyone outside a certain region or country. This is especially beneficial for people who want to have freedom from internet censorship and stream services that are not available to anyone with an IP address that is outside the US, such as Hulu, HBO Go, Amazon instant video, and OWN to name just a few.
To top it off, just a once-off payment will get you a LIFETIME ACCESS subscription with VPN Unlimited, that's five devices for life! You will enjoy a lifetime of 24/7 client support, access to high-speed VPN servers, and Geo-restrictions-free online streaming.
VPN Unlimited prioritizes the security and privacy of its users' personal information and internet data without making them compromise on the speed, reliability, or the number of connected devices.
VPN Unlimited keeps no logs of your online activity. Try it today!
The whole idea of using a VPN is to keep your internet activity private and securely encrypted.