Dallas VPN Server Plus Bonus Sightseeing Tips & Fun Facts

Updated on July 13, 2021: From now on, traffic filtering, malware protection, and suspicious DNS activity blocking are available as a part of the separate DNS Firewall app.
Dallas, Texas is known to be the fourth-largest metropolitan area in the United States, as well as a popular spot for conferences and vacations. Planning to visit Dallas? Lucky you! Its attractions and surrounding cities can let travellers enjoy everything from Old West heritage to high-brow culture.
Also, as a traveller what you shouldn't forget is your online security. A reliable VPN solution like VPN Unlimited will protect you on unsecured free WiFi at cafés, airports, hotels, etc., and help to bypass geo-restrictions and keep up with all your favorite series and TV shows.
If travelling is not the case and you just need to get Dallas IP address, VPN Unlimited can help you with this, too. VPN Unlimited has an advanced global server network which includes North America region with Dallas VPN servers. Why use Dallas VPN? How to get Dallas IP address? We've prepared all answers below. To top it all off, we've also gathered a few amazing sightseeing places in Dallas and some fun facts about Dallas you may wish to explore. Let's dive in right now!
Why Use Dallas VPN Server
Using a top-notch VPN app like VPN Unlimited comes with a number of benefits. Similar to other VPN locations, when connecting to Dallas VPN you can:
Stay private online
Protect your data on public WiFi hotspots
Get Dallas IP address to access websites as if you were in Dallas

How to Get Dallas, Texas IP Address
It's as easy as 123! To get Dallas, Texas IP address, follow just a few simple steps below:
Create your KeepSolid ID or log in with the existing one, if you already have an account.
Navigate to the Servers screen and type in Dallas in the Search field.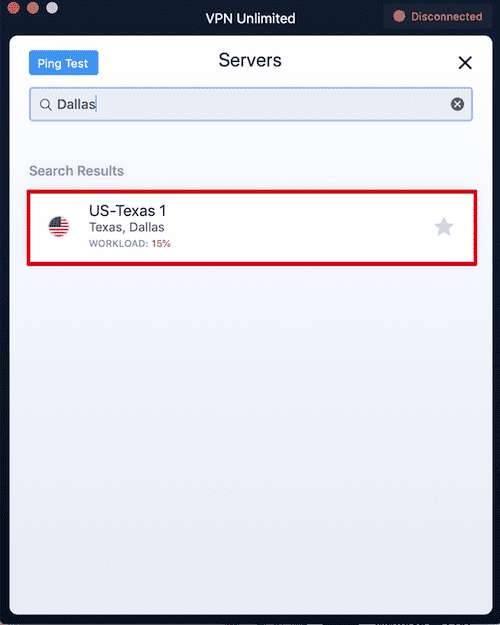 Connect to the US-Texas 1 VPN server that appears in the search results.
That's it! As soon as you establish the VPN connection, you obtain Dallas Texas IP address and your real IP gets hidden. So with VPN Unlimited, you can take a virtual trip to Dallas anytime you want! And if you set off on a real journey to Dallas, we've prepared for you some useful tips and fun facts. Check them out below!
Places to Visit in Dallas
Six Flags Over Texas is an amazing place to visit. You will find the roller coaster rides for the bravest with such great thrills including Brave the Texas Giant, Shock Wave, Superman Tower of Power, Titan, Runaway Mountain and the Gunslinger. Also, there are sky diving, bowling, hot air ballooning, horseback riding, catamaran sailing, go karts and race car driving. Also, you can visit the flashy Sandy Lake Amusement Park and Zero Gravity Thrill Amusement Park.

The Old Red Courthouse Museum of Dallas Country where history meets culture in the heart of the city.
Pioneer Plaza Cattle Drive – the 70 bronze steers and three bronze trail riders created by the artist Robert Summers. Located on the actual Shawnee Trail drive in front of the Kay Bailey Hutchison Convention Center. In the spring of 1866, about 260,000 cattle passed through Dallas on their way then to be traded to farmers of the north.
Public ArtWalk Dallas where over 30 pieces of art and architecture are presented. Beautiful classic architecture meets the contemporary sculptures in a free self-guided tour of 3.3-mile route.

Dallas Fun Facts
Dallas is the 9th largest city in the USA.
If you like the automated frozen margaritas, then you should know that the machine was invented in Dallas.
First integrated circuit computer chip was invented in Dallas (then it became a microchip).
The highest buildings in the city include the 72-story Bank of America Plaza, the 50-story Reunion tower and the Dallas Convention Center.
The population of Dallas tripled by the 1970s and now it is over a million people.
Known as a marketing center, trade continues to be the core of the Dallas economy.
Dallasite, Don Wetzel got frustrated to stand in line to the bank, so he invented the first automated teller machine in 1968.
The Dallas Arts District is known to be the largest in the US.
Highland Park Village Shopping Center developed and built back in 1931 is the first planned shopping center.
When completed, the Trinity River Corridor Project will be 10 times bigger than the size of New York's Central Park.
Bottom Line on Dallas, Texas VPN
Whatever journey you plan to Dallas, a real or a virtual one, we've got you covered! Get prepared for the trip with our sightseeing tips and fun facts, and make sure to get VPN Unlimited for your guaranteed online protection in Dallas and wherever you are!