How to Watch NBA and Champions League from Anywhere in the World

Updated on July 13, 2021: From now on, traffic filtering, malware protection, and suspicious DNS activity blocking are available as a part of the separate DNS Firewall app.
Ah, magnificent Autumn… For some, it is a gentle season, perfect for dreamers loving "damn good coffee," cherry pies, mists, and forests. For others, it is the time when summer vacations tail off, and normal everyday activity begins. The latter is certainly true for most major sport leagues, like NBA or Champions League. Thereby, it's a hot season for all sports lovers, supporting their favorite teams and spiritedly discussing games' results.
Will Real Madrid claim the big prize again? What will this season add to Cleveland Cavaliers vs Golden State Warriors rivalry? We're so excited to see that!
Alas, there are certain obstacles that sport fans might encounter on their path. For example, prices for cable service subscription from some countries can be awfully high. Sometimes, it's impossible to watch events in certain locations due to geo-restrictions. Or you may fall victim to coverage blackouts of local teams' matches due to certain broadcasting agreements. Would be a shame to miss qualifications or other key games because of such oafish reasons, don't you think?
So, what's the best way to ensure that you'll be able to watch every play of your favorite team? Well, there are plenty of them actually. For instance:
Broadcasting channels
Sling TV
League Pass (such as NBA League Pass or Fox Soccer Match Pass)
Now let's dive into these options together.
Broadcasting Channels
Similar to cable TV subscriptions, you can choose from a number of live streaming offers by various official broadcasters. This can help you avoid blackouts – what you pay for is what you get. Unfortunately, the channels they offer are often exclusive to specific locations, so the problem of geo-restrictions is still there. A bit further in the article we'll be discussing how to bypass this barrier.
However, if you happen to live in one of the covered countries, and blackouts were your only problem, subscribing to a broadcasting channel is certainly your best option. Examples of such channels for the US region are: ESPN, ESPN 2, ESPN 3, ABC, or TNT.
Sling TV
Sling TV is a first-string cable alternative. It provides live streaming of leading and popular channels. Basically, it is like broadcasting channels 2.0, you get all of them within a single subscription. Convenient if you are a fan of multiple sports, or if you prefer to have access to a wide array of alternatives. The only downside? Sling TV is solely accessible from the US, making it extremely geo-restricted. Again, read on to learn how to solve this problem.
League Pass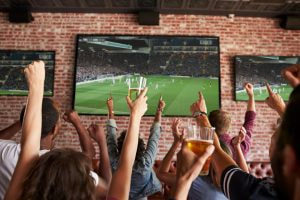 The third option is turning to a specific League Pass provided by League right holders. Examples of such are NBA League Pass or Fox Soccer Match Pass. This way, you gain access to live games, scores, latest updates, real-time stats, and much more. Moreover, such services are usually available cross-platform and at premium video quality.
Offering all these great benefits, it's quite fair that a League Pass comes with its share of pain points as well. Each league has its own limitations. For instance, the Fox' Pass is restricted to the US residents, whereas the NBA's Pass blacks out some of the games, and its prices vary by regions.
The silver bullet
So, no matter which of the aforementioned options you've chosen, you'll still be susceptible to either blackouts or geo-restrictions. The solution? Use a well-trusted VPN service, such as VPN Unlimited. It will allow you to mask your actual IP and pretend to be in any location of your choice. Some content is restricted in your country? Choose the one where it isn't. Your favorite team's games are blacked out? Time to choose a location in their neighborhood.
Also, as a little bonus, we suggest you take a look at our Personal IP feature. You see, with hundreds of thousands of clients using VPN servers every day, some of them may occasionally break certain websites' rules. Which, in turn, might result in the server's IP getting banned on the website. To prevent this, you can purchase a Personal IP with a clean reputation and ascertain you won't suddenly get banned in the heat of a match.
No time to waste! Download VPN Unlimited to get a 7-day free trial (no CC required) and never miss an important match again!