Why You Need VPN Unlimited for Teams and How to Get It for Your Business
Updated on July 13, 2021: From now on, traffic filtering, malware protection, and suspicious DNS activity blocking are available as a part of the separate DNS Firewall app.
Protecting your own data, identity, and freedom on the internet is already challenging. It requires using a plethora of various tools such as VPNs and antiviruses, along with precautions like avoiding free public WiFi and malicious websites. Now take that and multiply it by 5, 10, 50, 100 or whatever the size of your team is. You're looking at an overwhelmingly massive scope of work / insatiable sink for your money.
So what to do if you actually have to ensure the cybersecurity of a whole business? How to make this process a bit easier? Luckily, there are solutions designed to tackle this issue and streamline the creation of your own security network. VPN Unlimited for Teams is one such solution. Let's take a closer look at this app and see what problems it solves.
Problem 1. Corporate network / data security
This is the issue that is likely to come to your mind first. Corporate information security is no joke in the business landscape filled with cyberattacks and data breaches! So how to protect your team's online info, traffic, and internet network from cybercriminals, spyware, and other perils?
For this, VPN Unlimited for Teams deploys a highly secure AES-256 encryption protocol. It renders all your corporate traffic and sensitive data completely unreadable to any unauthorized parties. You won't have to worry about the malefactors getting their hands on your information or corporate secrets.
Problem 2. Careless / remote employees
This problem is twofold. The first aspect is the "Bring your own device" policy. BYOD undoubtedly benefits your team's spirit and improves employee morale. The flipside, however, is that you can't control the security of each separate worker's device. You have no way to ensure your people follow the safety rules. To put it plainly, BYOD can result in the biggest damage the human factor can deal.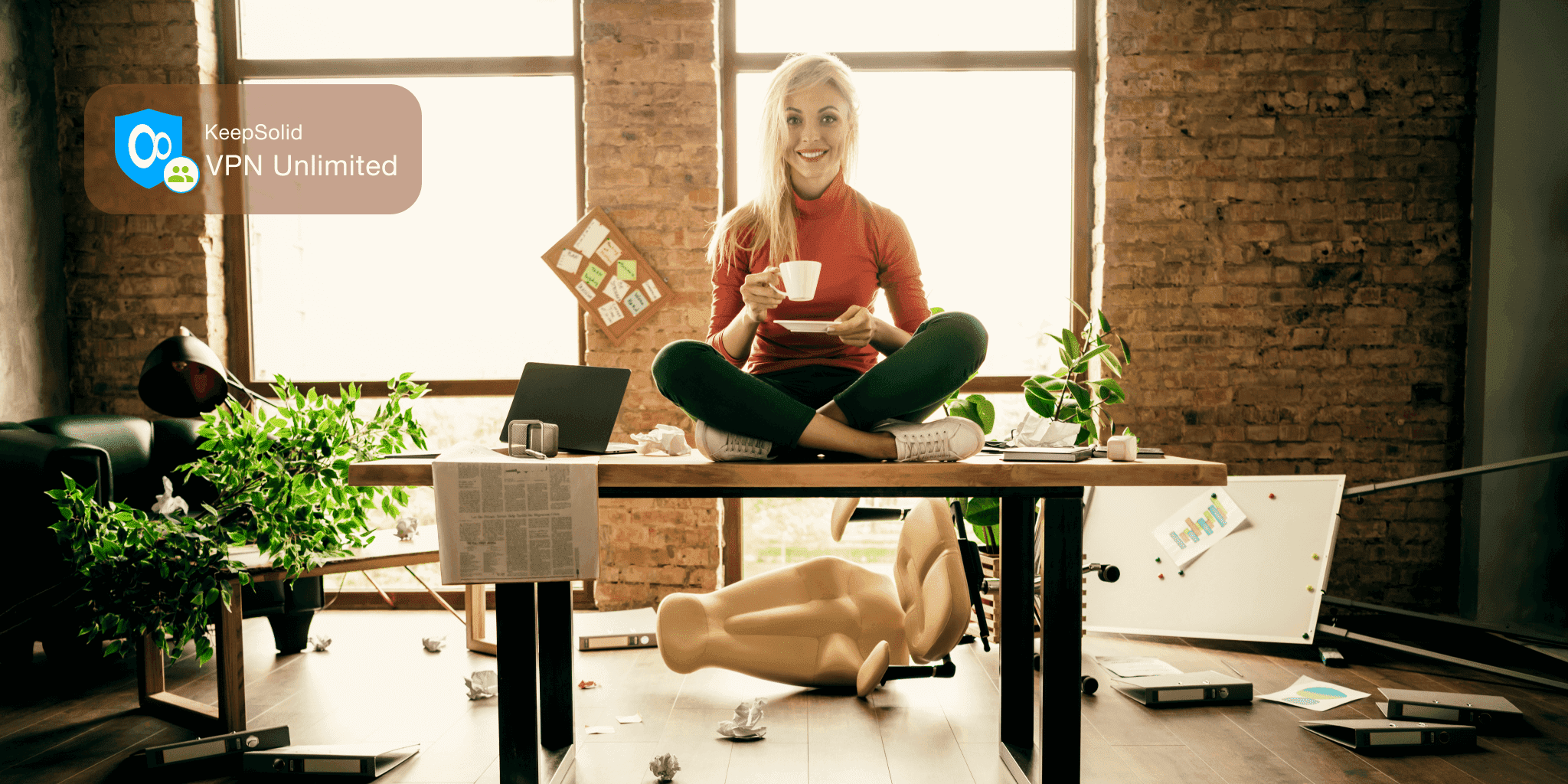 Adding to the injury, preying upon careless employees' devices is a common line of attack on businesses. The basic scenario looks like this. A malefactor hacks a public WiFi hotspot (they're often pathetically secured) or sets up a so-called evil twin (malicious copy of a genuine WiFi network). When an employee connects to such a network, their device traffic gets compromised, potentially leaking your corporate data.
Developed with these issues in mind, VPN Unlimited for Teams kills two hackers with one rock. Its subscription plans – Small Team / Big Team – allow you to protect up to 5 / 20 accounts respectively. At 5 devices per account, that's up to 25 / 100 devices secured simultaneously! Whatever personal devices your employees use for work, they will be reliably safeguarded with this VPN for small business.
Problem 3. Business trips / vacations
When travelling to a different state, there are a few possible complications to keep in mind. First, some countries have much lenient internet security standards. We've already explored the dangers of free WiFi, but sometimes even a seemingly secured network can pose unique threats that you, a foreigner, might be unaware of. Once again, AES-256 encryption to the rescue!
Second, geoblocking and content restrictions. This can screw up your plans for the trip big time. Not only may you or an employee end up on a vacation without access to your favorite websites, services, social media, streaming content, etc. You can also find yourself on a business trip unable to use some of the critical corporate tools. Alternatively, certain services, e.g. online banking, might ban you from accessing your account from an unknown IP address, resulting in the loss of time and money.
To avoid this, VPN Unlimited for Teams routes all the internet traffic of all the connected devices via a dedicated VPN server. This substitutes the real IP address with that of the server, hiding your internet activities and allowing you to access any online resources as usual. And since this virtual IP address stays the same wherever you physically are at the moment, your business will face no issues with online banking, emailing, and other stringent institutions.
Problem 4. Complexity of team management
The bigger your team gets, the more of a hassle it is to manage. All the planning, project management, reporting, financial solutions… You absolutely DO NOT want to add extra complexity to this list in the form of an unintuitive, overly complicated security tool.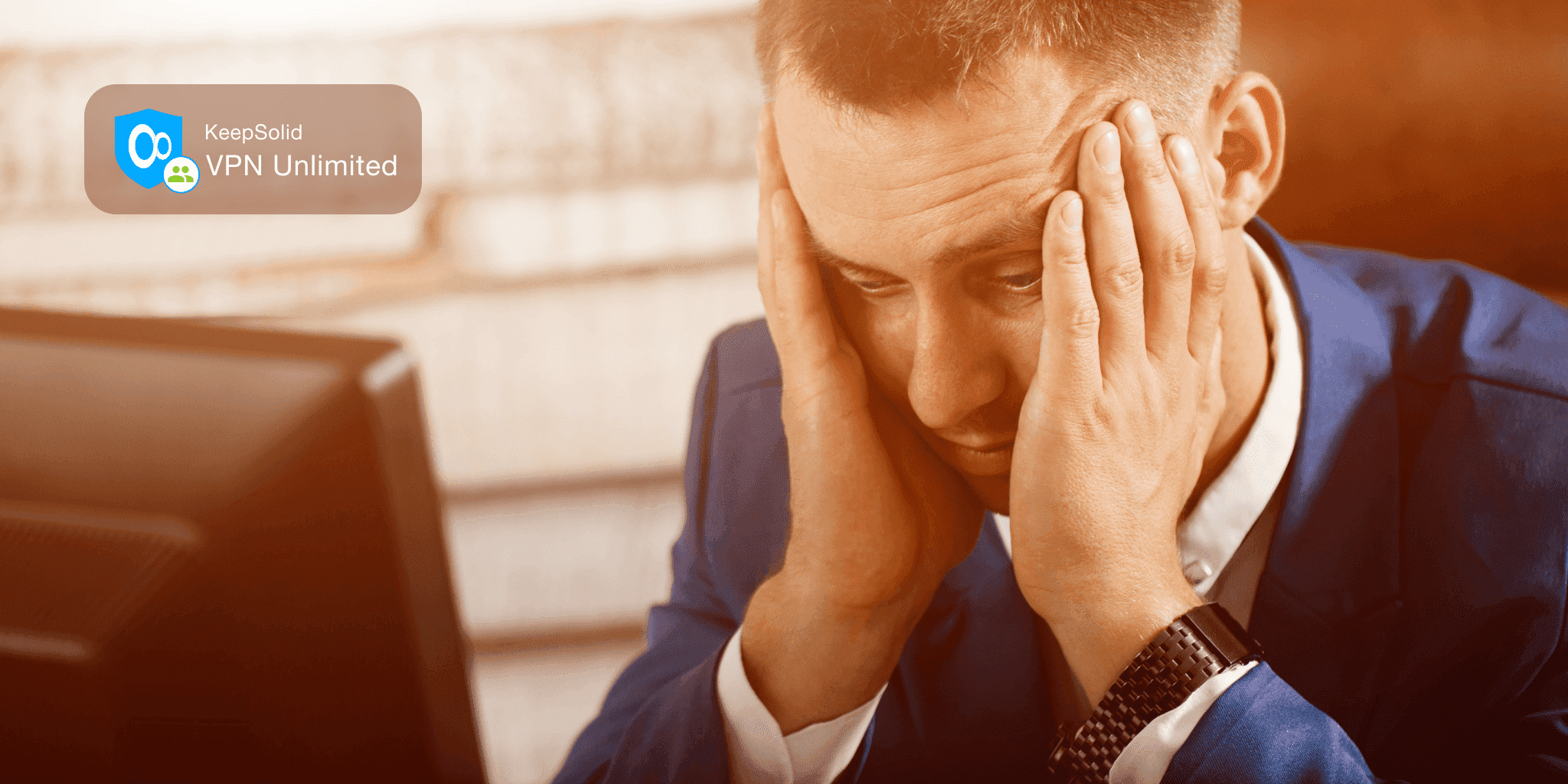 Once again, VPN Unlimited for Teams has got you covered. User Office of this VPN for business is rocking a neat, simple interface intended to grant you easy control over the key activities:
Create and manage teams

Add new users to the teams

Keep track of device slots in use

Purchase additional Personal Servers or IPs to share with the team
How to get VPN Unlimited for Teams?
Protecting your business with our VPN app is super easy! You can check out the detailed manual on using VPN Unlimited for Teams, but here's the general flow:
Get VPN Unlimited for Teams

. Choose the size of the account (Small team or Big team) and the subscription length (Month, Year, or Lifetime)

Configure your Team and invite new members within

KeepSolid User Office

Members of your team can now

download VPN Unlimited

for their devices (they must log in with the same email you used to add them).