Pay what you want & get VPN Unlimited to enjoy Euro 2016 to the fullest
Updated on July 13, 2021: From now on, traffic filtering, malware protection, and suspicious DNS activity blocking are available as a part of the separate DNS Firewall app.
The 2016 UEFA European Championship is fast approaching and to help you to celebrate the month, KeepSolid prepared a special offer. Get 1-month subscription to VPN Unlimited at your own price. Yes, you heard it – pay whatever you want and get VPN Unlimited for 5 devices to protect personal data on a stadium, share your joy on Twitter & watch live streams from home. 10% of the sum you choose to pay will be donated to Soccer Aid 2016 for UNICEF.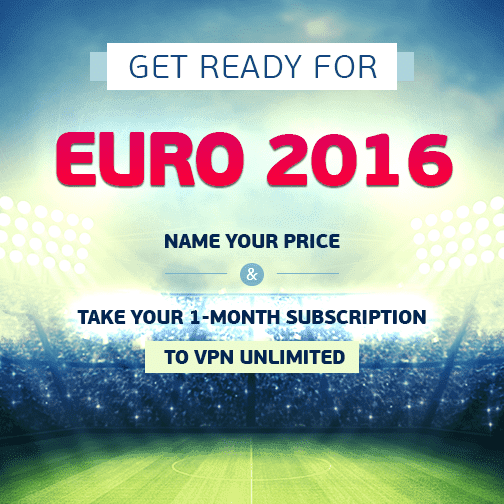 Whether you are among the lucky tens of thousands, who attends all 10 venues for live games, or among those, who attends one of the stadiums and watch all other games online, or if you are watching all plays in the nearest pub or on your couch at home, you need a VPN. In public places, turn on VPN to make sure other hundreds and thousands of people in the same network don't sniff your sensitive data.
We bet you will be twitting, posting and sharing with the world that your favorite team scored a goal, make sure you do have access to social networks with VPN. If you want to spend this time with your TV or laptop, go ahead. For non-French residents, there is an option to watch a live broadcast on BBC, ITV or on beIN Sports Connect website. Change your location to the UK for access to BBC iPlayer and ITV, or to France for free access to beIN Sports Connect, and enjoy best soccer games without paying extra.
Hurry offer ends soon!