Protecting your traffic for two years. VPN Unlimited is celebrating its anniversary with a huge sale!
Updated on July 13, 2021: From now on, traffic filtering, malware protection, and suspicious DNS activity blocking are available as a part of the separate DNS Firewall app.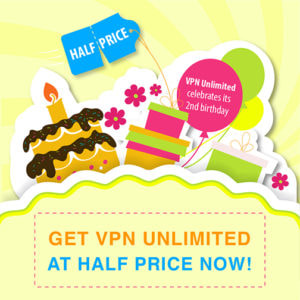 Two years have passed since we presented the launch of our safety and security solution, VPN Unlimited. Back in 2013, VPN Unlimited was released on one platform – iOS, with only two servers in the USA and The Netherlands. Now the app is available on iOS, Mac, Android, Windows (desktop client), Windows Phone and Linux. It has 230 servers and 44 data centers on all continents, but Antarctica. We have just reached a milestone of 2.5 million users!
These years were great ones. We want to thank you, our users, for your support, your kind words, and your feedback. To celebrate the VPN Unlimited 2nd anniversary, we slash the prices on all subscription plans in half.
Now you can get an Infinity subscription for only $249.99 (regular price is $499.99), a 3-year plan for $31.99 (regular price is $64,99), one year subscription for $11.99 (regular price is $23.99), a 3-month plan for $3.99 (regular price is $7.99), one month plan for $1.99 (regular price is $3.99) and a 10-day subscription for $0.99 (regular price is $1.99). Save big on this ultimate security and safety solution!