How to Cancel Subscriptions on Twitch
Nowadays teenagers or even adults always search for a way to connect with people online, to make new friends, or just enjoy their free time playing video games. Twitch is an application that provides all of that for you in a safe and fun way with a variety of streamers. It even gives you the chance to be a streamer yourself and have a platform.
Twitch is a video streaming service that offers an entertaining way to watch people play video games. Through the Twitch app, gamers that live-stream their matches, play their favorite games while having running comments on their actions in the game. Twitch can also feature talk shows, sports, podcasts covering music, food, travel, etc. streamers also have the possibility of earning money through subscriptions and Twitch cooperation.
Subscriptions are monthly expenses that, unless otherwise indicated, will automatically renew. You might be wondering how you can cancel subscriptions on Twitch once you decide you don't want to be subscribed anymore. Now we're gonna talk about the steps on how to cancel subscriptions on Twitch.
How to Cancel a Twitch Subscription on your PC or Mac
Step 1: Go to the Twitch database and sign in, then click your profile image in the upper right corner.
Step 2: Select "Subscriptions" from the drop-down option that displays.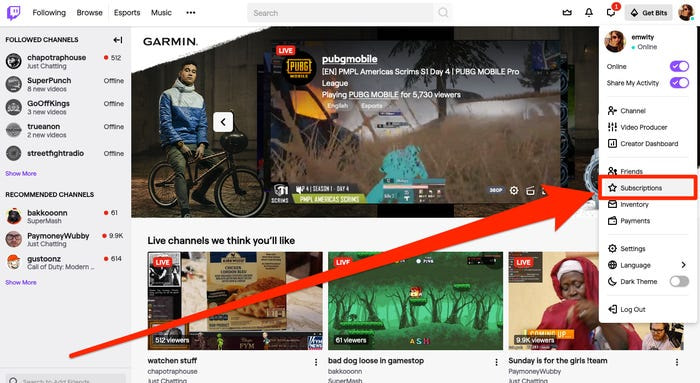 Step 3: This should open the Your Subscriptions menu by default. If it doesn't, click the Your Subscriptions tab at the top of the page, which is right behind the enormous Subscriptions headline.
Step 4: Tap Cancel Paid Subscription or Don't Renew Subscription after clicking the cog symbol on the subscription you wish to cancel. If you've only recently subscribed to that channel, you may be able to choose Cancel and Refund.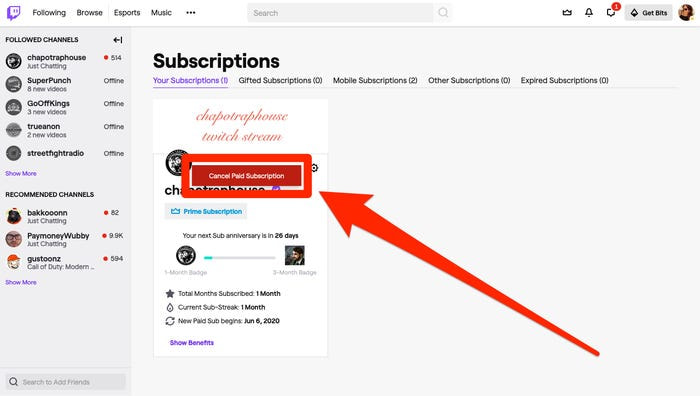 Download VPN Unlimited and stay safe
Note: VPN Unlimited is a part of the MonoDefense security bundle.
How to Cancel a Twitch Subscription on your Android device
Step 1: Log into your account using the Twitch app for Android to access the channels you're subscribing to. Then hit the Subscribed button.
Step 2: Tap Cancel subscription.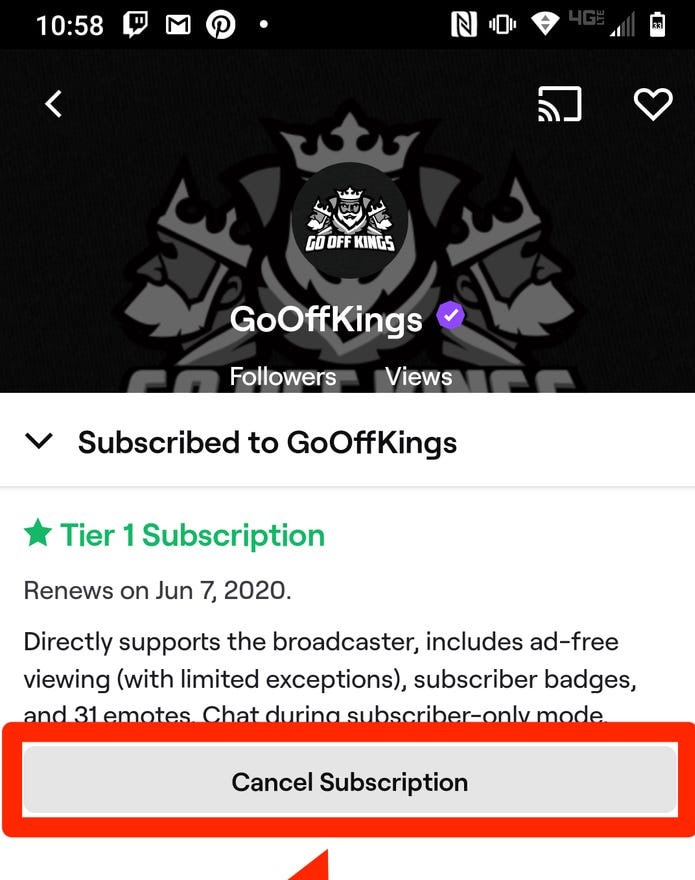 Step 3: Confirm by clicking Cancel subscription again.
How to cancel a Twitch subscription on mobile devices
The method is different if you started your Subscription using a mobile device You must cancel the Subscription using the Twitch Application on your mobile, the platform-specific app store, or the platform-specific website, depending on your device.
Owners of iOS devices may access the Apple website or the Apple App Store.
Android users may access the Google Play website when logged in to their Google account, or the Google Play subscription center on their Android smartphone.
Twitch Subscription Features
Subscriptions allow your community to support you on a regular basis while also receiving exclusive benefits. Aside from the positive sentiments, subscribers get bespoke global emotes that can be used across Twitch, subscriber badges, and ad-free viewing, among other things.
Types of Twitch Subscriptions
Subscriptions: A Subscription allows a viewer to support your channel by paying a minimum of $4.99 per month, either on a recurring or one-time basis. Subscribers gain access to your emotes as well as other benefits that you can specify. Subscribers who want to provide additional levels of support can upgrade to a higher tier by paying $9.99 or $24.99 per month.
Gifted subscriptions: Subscriptions that have been given to you are a manner for visitors to offer some other consumer a one-month contribution on your channel. This subscription allows your channel withinside the equal manner that a normal subscription does, and receivers have the selection to resume their subscription after their first month expires. Gift subscriptions are an exquisite manner for your largest enthusiasts that will help you develop your network as your channel grows.
Prime gaming: Prime Gaming is part of Amazon Prime and offers subscribers many great benefits, including monthly free channel subscriptions. PrimeGaming members who support it with a free subscription are set up once, so it's a good idea to notify your PrimeGaming subscribers to renew monthly.
Sub-only perks: All types of subscriptions are eligible for unique features such as emotes, tenure-based chat badges, sub-only VODs, commercial-free streaming (with some restrictions), and sub-only conversation. As the owner of your channel, you have the authority to decide what is best for your community.
Use VPN Unlimited and protect your data