KeepSolid team has developed a special technology called KeepSolid Wise that provides extended online freedom. It allows users to get past any VPN blocks and use VPN Unlimited even when it would normally be blocked in your school, work, or hotel network. Thanks to using TCP, UDP, and TLS protocols, with OpenVPN® forming its backbone, our stealth technology is extremely difficult to detect, allowing to reliably bypass VPN blocks. Now, your VPN traffic looks like an innocent HTTPS traffic instead.
KeepSolid Wise is available for iOS 11 or later, Android, Windows, macOS, and Linux devices at no additional cost to you. You can find this protocol, along with other available VPN protocols, in VPN Unlimited settings.
Please note that we suggest you use KeepSolid Wise only if your VPN connection is getting blocked. If you don't need to bypass VPN blocks, you'd be better off with other VPN Unlimited protocols - they provide better speeds (we recommend WireGuard®).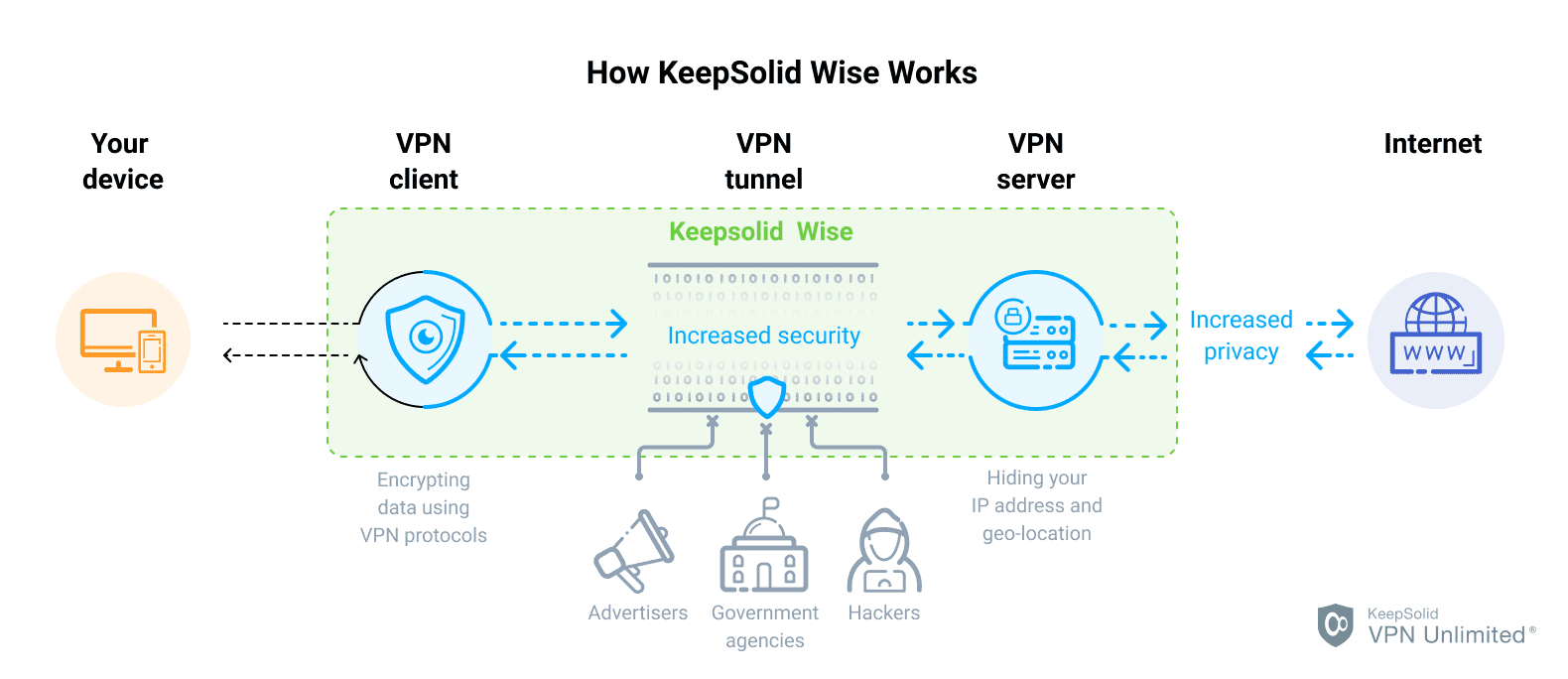 Difference between UDP / TCP / TLS
Okay, now let's figure the difference between KeepSolid Wise UDP, KeepSolid Wise TCP, and KeepSolid Wise TLS. Long story short, of the three we always recommend using KeepSolid Wise TLS to get past VPN blocks. It's the newest version that combines exceptional speed with strong protection. But if your VPN connection is still getting blocked even KeepSolid Wise TLS, switching to UDP or TCP may fix the problem.
User Datagram Protocol (UDP)
UDP, or User Datagram Protocol, is the default layer in many applications because of its excellent delivery speeds. It can rapidly and efficiently move data packets between hosts. UDP is good for speed and efficiency. In KeepSolid Wise, we added our own encryption so UDP is almost as strong as TCP while remaining a bit faster.
Learn more at https://en.wikipedia.org/wiki/User_Datagram_Protocol
Transport Control Protocol (TCP)
TCP, or Transport Control Protocol (a.k.a. Transmission Control Protocol), provides users with reliable data delivery across the internet. This protocol ensures that the packets are delivered in a specific order, regardless of how long it takes. TCP is great for reliable packet delivery. KeepSolid Wise TCP boasts enhanced security, although it may work slower than UDP in some cases.
Learn more at https://en.wikipedia.org/wiki/Transmission_Control_Protocol
Transport Layer Security (TLS)
TLS, or Transport Layer Security, is built upon TCP but uses cryptographic encryption to provide end-to-end security. TLS is best for encryption, authentication, data integrity, and security. This protocol is the most powerful, secure, and fast of the three. KeepSolid Wise TLS will also be able to bypass more VPN blocks than UDP or TCP.
Learn more at https://en.wikipedia.org/wiki/Transport_Layer_Security