People often wish to use VPNs at school, at work, or in a hotel, what with being extremely useful for protecting their data and identity. Unfortunately, sometimes public institutions, and occasionally even whole countries, block VPNs as part of their network restrictions. To bypass such restrictions, unblock VPNs, and regain your access to the internet, check out KeepSolid Wise - our proprietary protocol for getting around VPN blocking.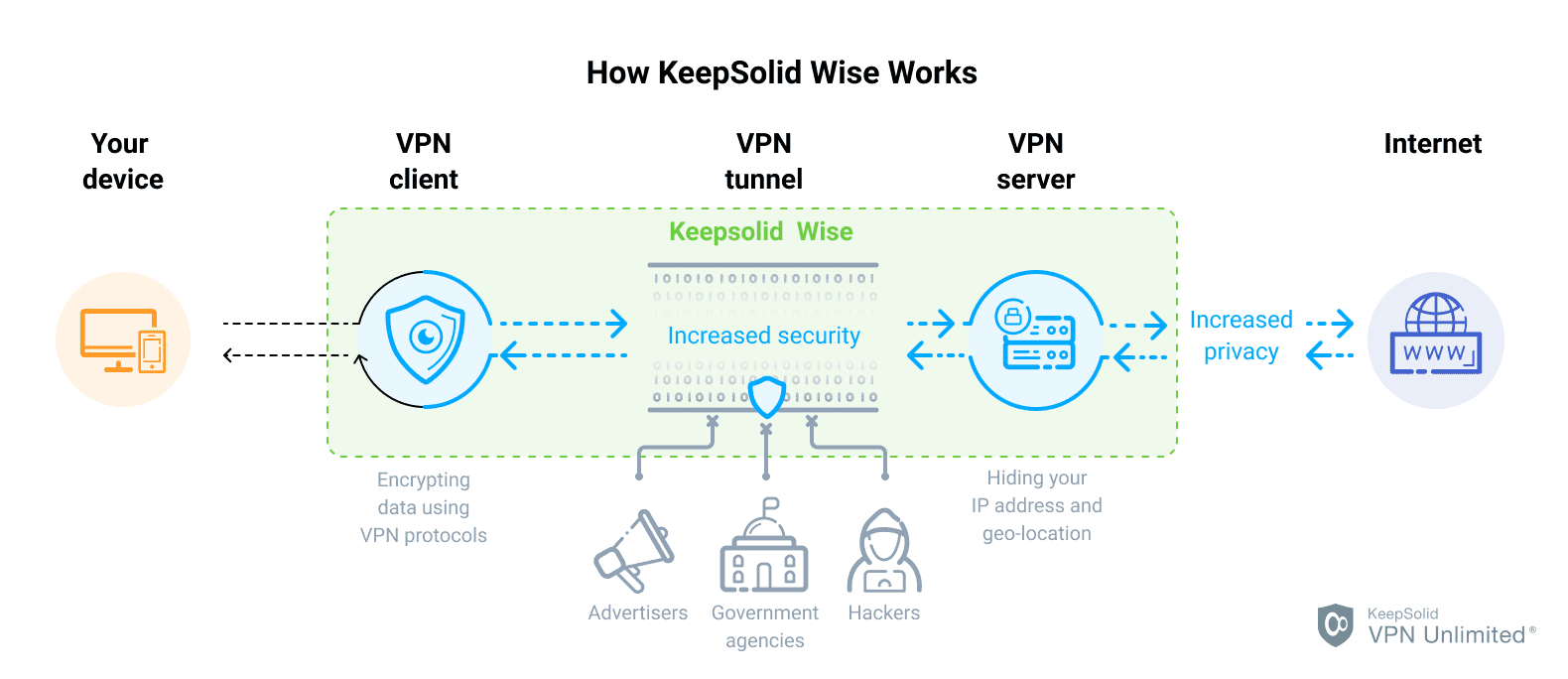 How KeepSolid Wise works
KeepSolid team has developed a special technology called KeepSolid Wise that provides extended online freedom. It allows users to get past any VPN blocks and use VPN Unlimited® even when it would normally be blocked in your school, work, or hotel network. Thanks to using the TCP 443 and UDP 443 ports, and with OpenVPN® protocol forming its backbone, our new stealth technology becomes extremely difficult to detect and block. Now, your VPN traffic looks like an innocent HTTPS traffic instead.
KeepSolid Wise is available for iOS 11 or later, Android, Windows, macOS, and Linux devices at no additional cost to you. You can find this protocol, along with other available VPN protocols, in VPN Unlimited settings.
Countries that block VPNs
Do you know what's common between such countries as Egypt, UAE, Iran, China, etc.? They all block VPNs, in one form or another. States that have a complicated history with virtual private networks, and where you may have issues with accessing your VPN, include, but are not limited to:
China
UAE
Iran
Egypt
Saudi Arabia
Russia
Indonesia
India
Turkey
Syria
An extensive list of countries that block VPNs is nigh impossible to compile. It's always highly recommended that you check if VPN is blocked or available in a location that you're planning to visit. And you definitely don't want the government and local networks to know you are using a VPN there. We suggest that you keep KeepSolid Wise running at all times while visiting such countries.
KeepSolid Wise pros and cons
Pros
Helps bypass VPN block
Stable connection
Extremely secure
Goes through firewalls
Cons
Can cause minor speed and performance drops
VPN Unlimited® and KeepSolid Wise
KeepSolid Wise is a protocol exclusive to KeepSolid VPN Unlimited®. It is available in the VPN Unlimited® app on the following platforms:
Android
Windows
iOS
macOS
Linux
"OpenVPN" is a registered trademark of OpenVPN Inc.