Should I turn on a secure VPN?
It's important to use a VPN for security and online privacy. As such, you should be using a secure VPN whenever you're using a public network to log into the internet. Those are where most of the security risks lie if you're without a Virtual Private Network.
All in all, VPNs offer the best online security. That's why it's important to leave your Virtual Private Network on if you wish to stay safe from data leaks and cyberattacks. Also, whenever you're using a VPN for purposes other than security (e.g. to unblock content or mask your IP address) be sure you keep your VPN on at all times.
What does a secure VPN actually do?
The most secure VPNs, like VPN Unlimited, encrypt your internet connection and shield your online activities from cyberspies. With them, even your ISP and the government won't have access to your sensitive information. Another facet of VPN security is their ability to hide your real IP address. This prevents third parties from learning your actual location and identity. Instead, all they will learn is the IP address of a random server you're connected to.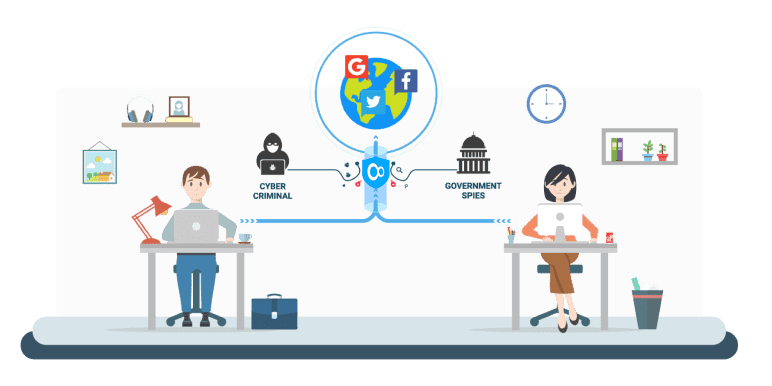 Are there situations when you shouldn't use a VPN?
There are few specific cases when you may want to keep your Virtual Private Network disabled for a time. Firstly, when you're using a speed-sensitive service, for instance, high-quality video streaming, VPNs may slow down your connection and make your experience less immersive. Secondly, certain sites and services, such as online banking, may consider it suspicious if your IP address changes as a result of connecting to a Virtual Private Network.
Is VPN safe for online banking?
As mentioned, if your bank doesn't approve accessing your account from different IPs, you may want to skip using your VPN. Other than that, VPN security will always be a great asset when doing online banking. With VPN Unlimited, your transactions and sensitive information (bank details, names) will stay out of hackers' hands. It will encrypt your traffic and keep your transactions secure and safe.
Can VPNs be traced?
VPN traffic can be identified as such (unless you employ dedicated secure VPN protocols like KeepSolid Wise). However, that's all that anybody can track about you - the bare fact that you're using a Virtual Private Network. Your real IP address will still be safely hidden behind that of the VPN server, your online activities will remain encrypted. So even if your ISP or websites you visit find out that you're using such a service, they won't see what you're doing with it.
Now, if certain authorities or police have a court order, they can demand that your Virtual Private Network provider discloses your connection or usage logs. This is why the most secure VPNs, like VPN Unlimited, adhere to a no-log policy, keeping no records of their users' activity. Nothing stored - nothing to disclose!
Does a VPN protect passwords?
Best secure VPNs encrypt all the internet traffic of your device. This includes your logins, media, and yes, passwords too. Unless you have some sort of key-logging software or another spyware on your device that is capturing your data before it gets encrypted by your VPN.