Thanks to VPN Unlimited safety and anonymity features, police can not monitor online activities, view browsing history, or track which websites you interact with. Now, let's take a closer look at the security measures our Virtual Private Network app provides.
Bulletproof VPN protocols
As we are on the same page, VPN protocol is a set of processes that ensure a secure and fast virtual connection. In other words, it is a method which your device uses to connect to a VPN server.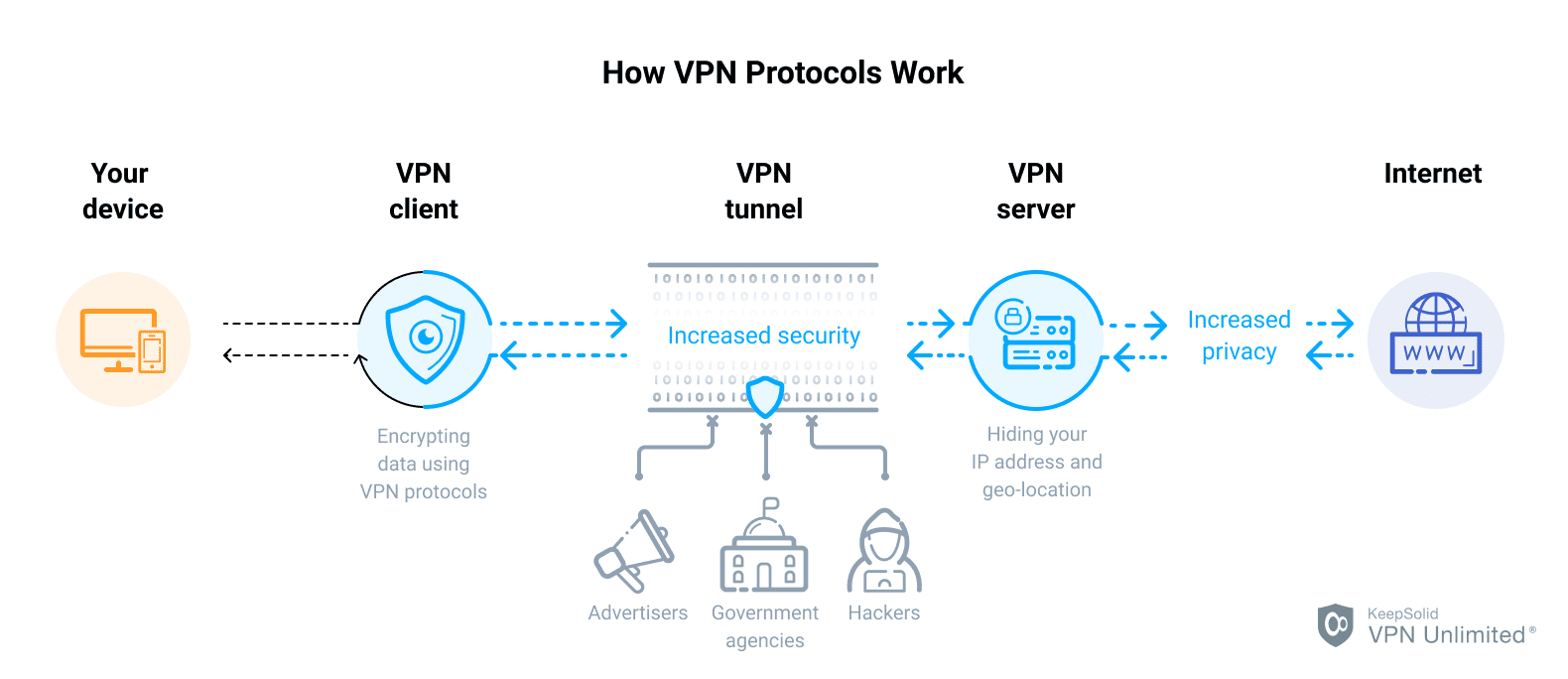 Our app offers a set of different protocols, each with its unique strengths:
WireGuard® protocol ensures rock-solid data protection and high performance
OpenVPN® offers high-level security and allows users to bypass VPN blocks
IKEv2 implements top-notch encryption and provides a fast and stable connection
KeepSolid Wise ensures ultimate security and does not throttle our internet speeds
If you are not sure which protocol suits your needs best, select the Optimal one in the VPN Unlimited settings and our app automatically picks protocol based on your current connection conditions and chosen virtual server.
Strong data encryption
AES 265-bit encryption algorithm is one of the most credible ways to prevent any unauthorized parties from accessing your internet traffic and sensitive data. This encryption is highly efficient on a wide variety of hardware and is considered to be impenetrable to brute force attacks.
If the police or any other party intercept your online traffic, the only thing they get is a bunch of encoded symbols that look like gibberish. Moreover, intercepting this traffic, police couldn't figure out your actual IP address or geo-location, as well as they couldn't be sure whether you're using VPN or not.
More about encryption strength
Reliable Kill Switch feature
Kill Switch is a must-have VPN option that ensures your traffic and data protection in case your virtual connection suddenly drops. Enable this feature and do not worry about accidental IP, DNS, or WebRCT leaks!
Kill Switch constantly monitors the status of your VPN connection and instantly restricts access to the internet if there are any disruptions or failures. As a result, police or any other third party cannot find out your actual IP address.
More about the Kill Switch option
Strict no-log policy
Can police track VPN Unlimited users? Well, the police can only track VPN if it keeps logs or leaks any information, such as actual IP address or browsing history.
Our team supposes that the online privacy of our customers is a key priority. Therefore, we do not track any information that is transferred through our virtual network, monitor users' online activities, or else.
By choosing a VPN app that enforces a strict no-log policy, you can be sure that no one, including police, government, or even your VPN provider encroaches on your online privacy.