How to Mirror Android to TV & Why Do You Need a VPN for This

Updated on July 13, 2021: From now on, traffic filtering, malware protection, and suspicious DNS activity blocking are available as a part of the separate DNS Firewall app.
The idea of mirroring the screen of your smartphone to a TV seemed impossible or rather silly just a decade ago. Today, our mobile devices, Android phones in particular, contain so much quality content that it is close to obligatory to hook them up on a large scale TV screen. Additionally, you can get secure access to even more content, including blocked and geo-restricted. Simply connect to our unlimited VPN service and enjoy your streaming adventures!
How to mirror Android to TV? How to set up MHL connection to TV or configure screen mirroring via HDMI? What are other ways to display Android screen on TV? Find all the answers below!
1. Mirror Android to TV Wirelessly
There are multiple approaches to display Android screen on TV, from built-in features to third-party apps. To mirror your smartphone wirelessly, you can use Chromecast or Miracast. If you have a TV with Chromecast support, check if the app you plan to watch on your TV supports casting. If positive, you can send content from your smartphone to the TV in just a few taps.
For this method to work out, your phone should be on the same WiFi network as your Chromecast or TV. You'll need to tap the cast icon in the app and select the device for casting.
And to stream content without any restrictions, check out this guide on setting up VPN Unlimited on Google Chromecast.
2. Use Wired Connection to Mirror Android to TV
Though wired technologies are quite convenient, they may produce unstable screen mirroring effects. The best possible quality can be ensured by the wired connection, namely through the HDMI port. This way, you will evade such issues as low latency and unwanted dropouts, and will get quality sound reproduction and maximum convenience of use.
If HDMI port is missing on your Android phone, then you should use MHL instead. Keep in mind that the MHL support is far from being a standard feature on Android, but luckily the MHL integration is pretty big. For example, it is present in the Samsung Galaxy (S and Note series), Sony Xperia, LG Optimus, and HTC lines.
Important: Do not confuse micro HDMI with MHL. If we recall, several years ago Android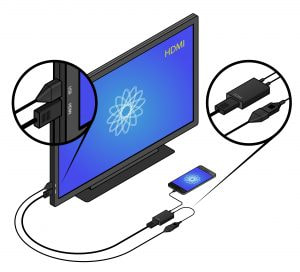 devices used to have a tiny micro HDMI port that looked similar to micro USB. Collocated with the data/charging ports, micro HDMI ports are easy to use in accordance with a general outline, yet it requires purchasing a micro HDMI-to-HDMI cable.
If you have confirmed that your Android phone supports MHL, all you need is an appropriate cable to ensure the smooth sailing. Buying the wrong type of cable will cause you a headache. There are several MHL cables on the market, including the standard micro-USB-to-HDMI adapter and the Samsung micro-USB-to-HDMI adapter. Also, there is a passive MHL cable that does not initiate an active signal adaptation but it still can be used for the job.
Note: Make sure to pair the MHL cable with a suitable USB Charger.
Connect Android to TV via HDMI
It is worth mentioning that MHL and HDMI do the rest of the connecting process extremely easy like plug and play. Luckily, there is no need for additional updates, software upload, drivers, or playing around with numerous applications and file permissions. There are also no advanced Android tricks or rooting involved, just a few simple steps:
1. Plug the male HDMI cable into the television or other selected display system
2. Plug the male micro USB cable into the Android device
3. Connect the male USB cable with a USB charger
Note: If you use a passive cable, the setup is identical.
As soon as the connection is established, the screen will show whatever is on your mirrored Android device. But now you will view it with a greater pleasure on the large, pleasing to the eye external display.
Benefits of VPN Unlimited for Mirroring Android to TV
If you are connected to KeepSolid VPN Unlimited, the very same same procedure is applicable. But as a significant benefit, you'll be able to digitally select your location, opening up the door to the territory-restricted content.
In addition, our unlimited VPN service encrypts all your internet traffic, making it absolutely unreachable for anyone else. Turn on your VPN app, connect to the desired location, and enjoy your favorite shows available in different time zones.
By the way, our VPN service allows you to go further in streaming geo-restricted content. You can install it on most streaming devices and platforms, like Android TV, and watch whatever and whenever you want!