How to Deactivate and Permanently Delete Your Instagram Account?

Updated on February 4, 2022: From now on, traffic filtering, malware protection, and suspicious DNS activity blocking are available as a part of the separate DNS Firewall app.
Post every single moment of your existence in the morning and late at night? Add to your pictures different filters to get more likes and shares? Scroll down your news feed hundred times a day? In this case, you're likely one of 300 million users who have an Instagram account. And indeed, it's an easy way to keep up to date with your friends, vivid events, different trends in the market, etc.
But, recently, a number of web search queries like "How to deactivate an Instagram account", has rapidly increased. Let's make out why such a popular social network becomes less interesting for users and what forces them to think about its deletion. In this article we are going to cover the following issues:
Why you might want to delete your Instagram account?
Should I deactivate or delete my Instagram account?
How to deactivate an Instagram account?
How to delete an Instagram account?
How to delete the app from the phone (Android and iPhone)?
Can I reopen the account on Instagram?
Why you might want to delete your Instagram account?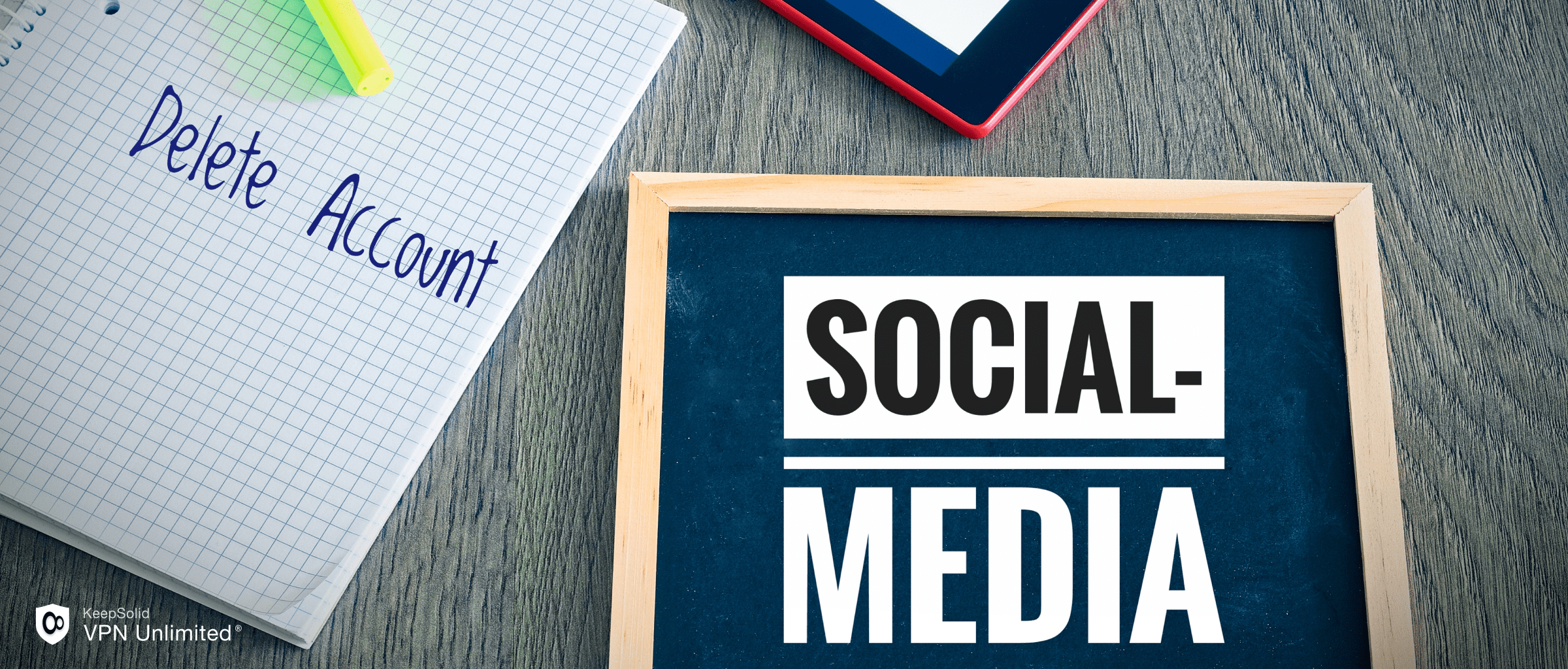 It is considered that active online life seriously threatens users with unhealthy thinking. Moreover, the excessive and uncontrolled devotion to Instagram can do real harm. That's why we decided to describe the main reasons why it would be prudent to delete Instagram account:
1. It's a black hole where the time goes faster
It is possible to spend hours on end scrolling other people's profiles. This endless process leads you from one account to another and ten more soon after.
2. Life flows behind a screen
We take our smartphones with us to the dinner table, bedroom, and even the bathroom. Probably, this is a reason why the British check their phones 200 times a day and spend more time online than they sleep. It doesn't seem to surprise anyone these days when friends silently sit in a cafe with faces buried in their devices.
3. Usage rights, privacy, and security are non-existent
Instagram opens the door to your private life as wide as possible and only deleting the account can stop this invisible collection of your data. You deliberately invite people to follow each step. And sometimes it seems that users regard it as a duty to add more photos, write more information, and put more geo-marks.
If you are more concerned about the latest item, find out who can use your personal data for your own gain.
How does Instagram use your personal information?
Advertising. The app uses the data gathered from your profile in order to sell them to marketers and advertisers can track your habits.
Sharing with third parties. For instance, your private data can be passed over to Instagram partner companies or legal authorities to provide data for the investigation.
Product testing. Instagram uses information collected from your account to help developers create new products and services.
Are these arguments powerful enough for you to think about your online privacy? Are you tired of sharing your private life and getting frustrated with Instagram? If so, it's high time to deactivate your Instagram account, following these steps.
Should I deactivate or delete my Instagram Account?
When at some point you realized that it is necessary to stop using a social networking profile or website for any reason, it is a good idea to deactivate or delete your account. This will make your content no longer available online and nobody will be able to find it online. When you delete your account you automatically remove any risk of these accounts being exploited by others or hacked without you knowing.
Reading our blog you receive comprehensive guidance about how not to allow any data leaks and keep your data safe. You will learn how to deactivate or delete your accounts if you finally decided to back off on Instagram.
In this case, you have two options. You can either temporarily disable your account or permanently delete it. Let's have a look at what happens to your account in each of the cases.
If you temporarily disable your account:
Your profile, photos, comments, and likes will be hidden.
You can reactivate your account by logging back in finding all your content right back in the account.
Your account will not be shown under any search with your nickname until you log in and reactivate it again.
If you delete your account:
Your account with your profile and all the content, including photos, videos, comments, likes, and followers will be permanently deleted.
You will not be able to sign up again with the same username or add that username to another account.
Your account will not be able to be traced back. And you will not be able to restore it.
How to deactivate your Instagram account?
To temporarily disable your account:
1. Log in to instagram.com from your PC or laptop. You need a desktop device to deactivate your Instagram account. Unfortunately, this option is not available in the mobile app.
2. Go to your profile settings, following Profile > Edit profile in the upper right corner of the screen.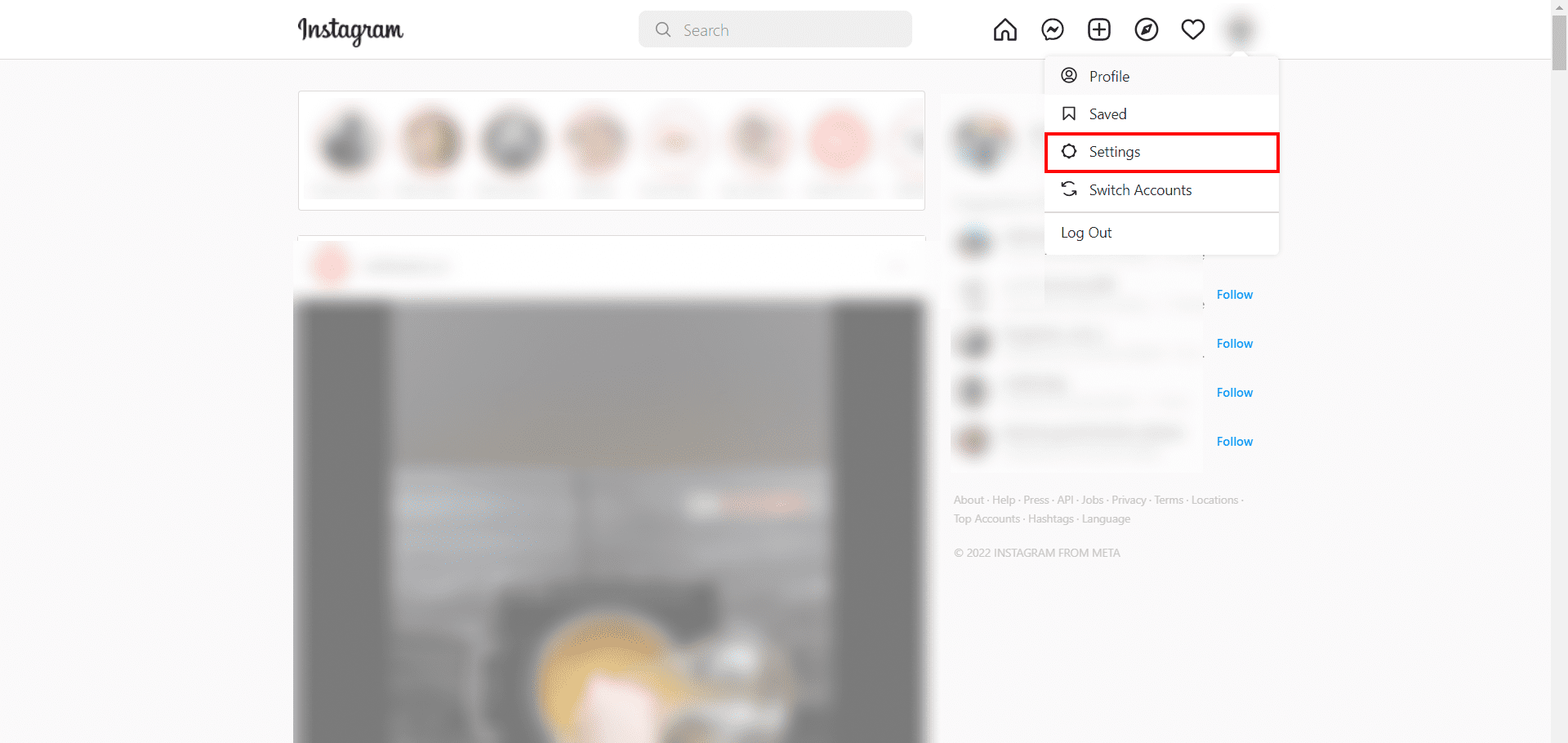 3. Scroll down to find the Temporarily disable my account button.
4. You will be able to disable your account after choosing a reason from the Why are you disabling your account? menu.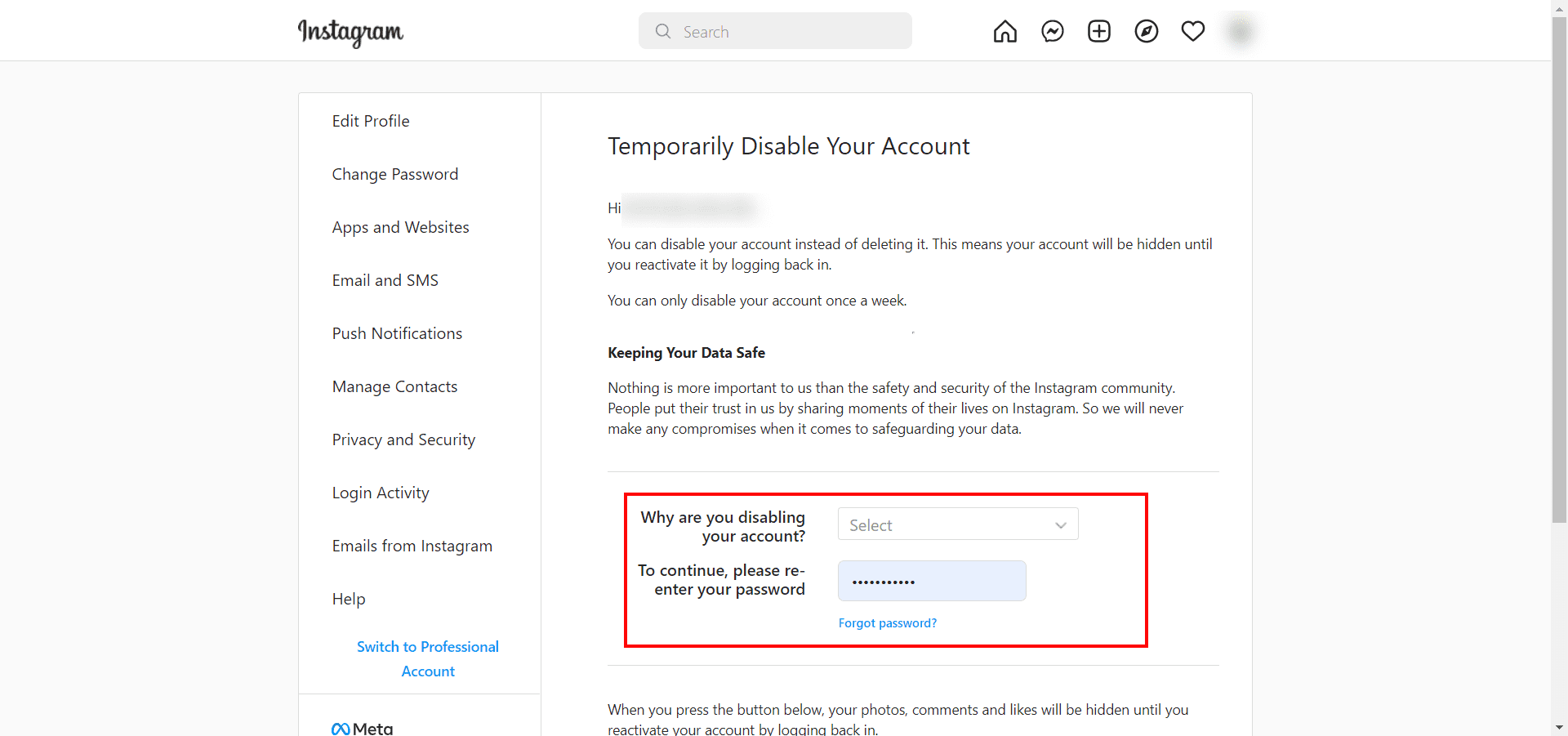 5. Then click on Temporarily disable account button.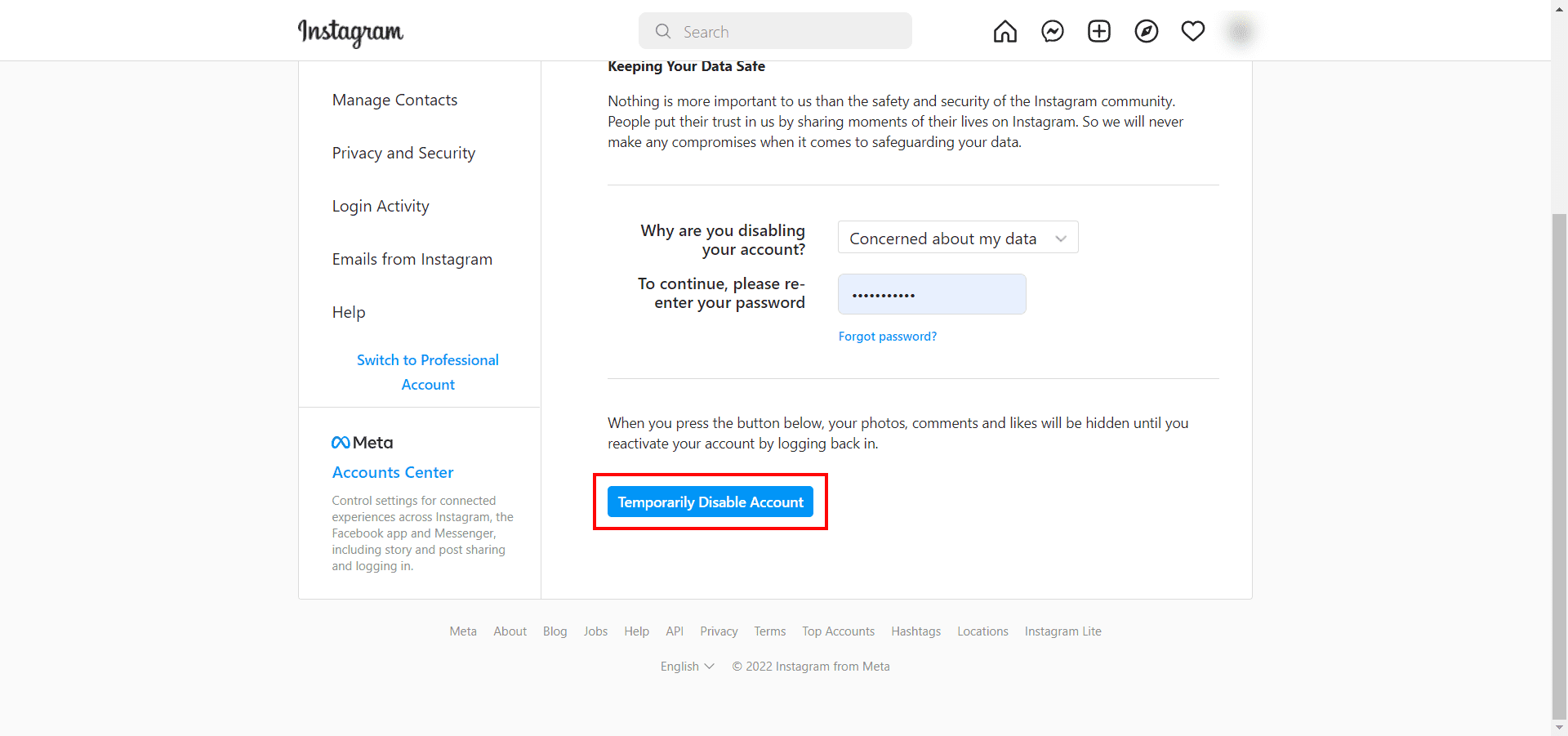 Note: To deactivate your account you need to log in to it. If you can't remember your login credentials follow the tips to recover your password first.
How to delete my Instagram account?
Another option to deactivate your account is complete deleting. Compared to the first alternative "Temporarily disable account" which allows users to which gives users an opportunity to restore the app in case they change their minds in the future.
The second option is permanently deleting the account. It means that the entire archive of photos, videos, comments, likes, and followers will be wiped. If you're completely done with Instagram and ready to permanently deactivate it, follow this simple instruction:
1. Log in to your Instagram account via the web and not the app.
2. Then follow the page www.instagram.com/accounts/remove/request/permanent/.
3. Next to the "Why are you deleting your account?" question, select a reason from the pull-down menu. Re-enter your password and hit Delete my account.
How to delete the app from your phone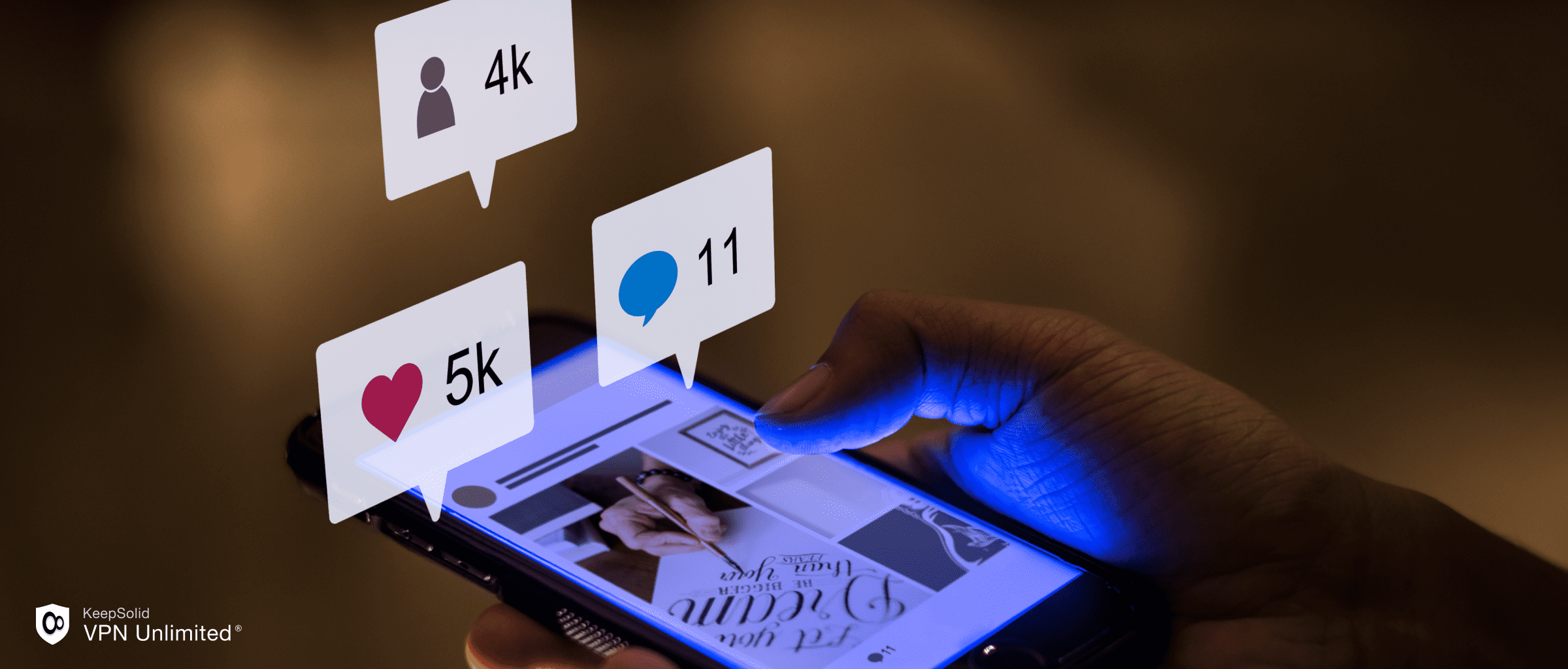 Deleting the Instagram application on your device is pretty easy, both on iOS and Android. Check out the short instruction about how to delete the app from your phone.
How to delete the Instagram app off your iOS device
You need only two clicks to uninstall the Instagram app on your iPhone:
Step 1. Push and hold the icon of the Instagram application on the main screen of your device. When the icon starts shaking that means that the iPhone is in the mode allowing you to move or delete apps.
Step 2. Tap the 'x' in the top left corner of the Instagram app icon.
Step 3. Tap Delete to confirm the process of deleting.
How to uninstall the Instagram app on your Android device
Uninstalling the Instagram app from stock Android is simple:
Step 1. Select the Settings app from your app drawer or home screen.
Step 2. Tap Apps and Notifications, then tap See all apps.
Step 3. Scroll down the list until you find the Instagram application and tap it.
Step 4. There you can find the Uninstall icon. Tap Uninstall to completely remove the application from your device.
Can I reopen the account on Instagram
If trying to stop using Instagram you chose the way of temporary deactivation of your account you still have an option to reactivate it. You will get access to all your content on the account and retain all your photos and other sensitive information.
If you are willing to reactivate your Instagram profile and return to the platform, the service provides the feature of quick reactivation. You need to do just a few steps.
Step 1. Download and run the Instagram application on any platform.
Step 2. Then enter your Instagram login and password on the login screen.
Step 3. After you tap 'Login' you will enter your account and restore all your data, including photos, videos, messages, and others.
After you log in to your account Instagram may offer you some instructions and the Terms of Use update. You will have to verify your phone number before entering your profile.
So, if you suppose that you will need to restore your account, choose deactivation instead of complete deleting. This will keep your sensitive data safe and ready to use.
What happens with my data at Instagram after deletion?
After you delete an account your data is retained in storage for a while. There may be legal reasons why Instagram may need to keep archives of deleted content. But anyway your account will not be searchable and nobody will get access to it anytime soon though.
30 days after your account deletion request, your account and all of your information will be permanently erased, and you will not be able to retrieve it. The material remains subject to Instagram's Terms of Use and Data Policy for the next 30 days, at which point it is no longer available to other users. Though, law enforcement bodies can have the right to recover previously deleted photos and messages.
What is the end like?
Regardless of whether you have an Instagram account or not, you should care about your internet freedom without violation of privacy rights. That is why we strongly recommend you to use a well-trusted VPN service, such as VPN Unlimited. This top-notch security app prevents third parties from snooping and phishing your data. Don't let hackers track what you do online and potentially share your private information with governments and advertisers.
Clawback your internet safety! Download VPN Unlimited to get an easy and secure way to surf the web anonymously and privately.