Everything You Need to Know About the Features of VPN Unlimited

Updated on July 13, 2021: From now on, traffic filtering, malware protection, and suspicious DNS activity blocking are available as a part of the separate DNS Firewall app.
VPN Unlimited is deemed by many as the best VPN, and not for nothing! It offers a number of great benefits to its users – privacy, data security, anonymity, access to blocked online content, etc. For the majority of common netizens, this is more than enough to be completely satisfied with the service.
However, these are the obvious VPN features, resting on the surface. This isn't what makes VPN Unlimited the premium online app that it is. There's plenty more going on under the hood, so let's not waste any time! Here are some of the more sophisticated security features of VPN Unlimited, which can be of interest to advanced users.
Security features of VPN Unlimited
The penultimate security feature of good VPN products is the protection of users' personal information. No wonder, considering the amount of digital threats we're facing on a daily basis (even though we're not always aware of them). Cyber criminals, hackers, spyware, corporate/government surveillance, oh my!
As it is, the security of data in VPN Unlimited is ensured by the AES-256 encryption protocol. This is a top-notch technology – so much so that the US Government deemed it secure enough to protect classified information. This means that the data and sensitive info of the users of VPN Unlimited is secured with the top-of-the-game encryption protocol.
Selection of the best VPN protocols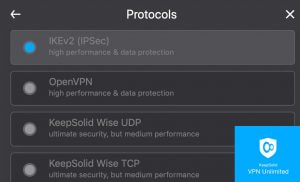 VPN protocol is a collection of technologies that are core to any VPN's functionality. They are what allows these services to establish a secure tunnel between a user and a website, and to route the traffic via an additional node – VPN server.
Now, different VPN tunneling protocols are used for different reasons. Some are easier to set up, others are more commonplace, or suit a specific network environment. VPN Unlimited offers its user two best VPN protocols to choose from: IKEv2 and OpenVPN®. In layman's terms, the former is faster and more flexible, whereas the latter is more secure. If you wish to learn more, check out our comparison of VPN tunneling protocols.
KeepSolid Wise for extra reliability
When discussing VPN protocols, it shouldn't go without mention that VPN Unlimited also offers a unique feature – protocol of our own creation. KeepSolid Wise is designed to come to your aid where other VPN protocols fail. More specifically, it allows to use VPN Unlimited even in networks that normally block VPNs. So if you'd like to stay under the radar, our stealthy KeepSolid Wise is your best option!
Internet Kill Switch feature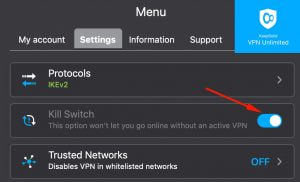 For some, the name of this security feature might sound weird. Why would you want your internet connection NOT to work?? Well, there actually is a good reason – to preserve your privacy.
You see, no VPN connection is totally infallible. Over long periods of time, a micro-disruption or two are inevitable. And though you would likely not even notice them, such drops can leak some of your data to the web. The easiest and most bulletproof way to tackle this issue is using VPN Kill Switch feature to disable internet connection for as long as VPN connection is off.
VPN Unlimited for browsers
A VPN app works great as long as you wish to protect all the traffic of your device. But what if you only needed a VPN for browser on your Windows PC, Mac, or what have you? For instance, you might want to secure your private data transferred via browser, while not hindering the connection speed of other apps and programs. Then, it is VPN Unlimited browser extension that you need.
It is available on the world's most popular web browsers – Google Chrome, Mozilla Firefox, and Opera. VPN Unlimited extension will grant you all the benefits of the standalone version, all the while only affecting your browser's traffic.
VPN servers for streaming and torrenting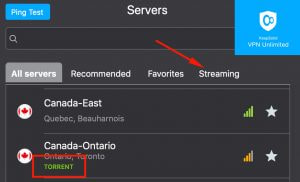 It's not uncommon for some of the basic VPN apps to provide servers with pretty basic functionality. On the other hand, with VPN Unlimited you can rest assured that you will get the most out of every feature we provide, VPN servers being no exception. Not only is there quite a few to choose from (400+ servers in over 80 locations), but also you get access to VPN servers for streaming and torrenting VPN servers.
Streaming servers feature
Occasionally, you may stumble upon a curious situation: a great streaming service you'd like to subscribe to turns out to be unavailable in your country. Isn't it a bummer! Luckily, whatever the case for such geo-blocking may be, with VPN Unlimited you can easily get access to the world's best streaming services:
Hulu
HBO Now
BBC iPlayer
Popcornflix
Rai.tv
Sony Crackle
Torrenting servers feature
Oftentimes, VPN services forbid torrenting on their servers. The reasons vary – from the fact that it results in increased bandwidth load per user, to the prohibition of torrenting in the states where the servers are located. That's not the case with VPN Unlimited, though. Our service provides a number of VPN torrenting servers all around the world, so you'll always be able to find the one that suits your needs best.
Other premium features of VPN Unlimited
There's much more to see in VPN Unlimited. Alas, this piece would grow to a full-scale longread if we were to cover all our VPN features, so let's just do a quick skim:
Find the server that's best for you considering your current location and other parametres with the Optimal server feature
Save the servers that you like the most with Favorite Servers feature
Run Ping Test to see your ping with every server


Run DNS Leak Test to see if your VPN protection is intact
Enjoy Dark Mode and get the best VPN experience, day or night
Enable Run on Startup feature in the Settings to ensure that you're always protected
Select your Trusted Networks where VPN Unlimited will be disabled automatically
Choose App Exceptions on Android device to exclude apps that will not be subject to the VPN's coverage
Bottom line on security features of VPN Unlimited
Given the numerous security features, VPN Unlimited makes a really sophisticated VPN software, which lets you the best online experience possible. Download the app now and see for yourself!
"OpenVPN" is a registered trademark of OpenVPN Inc.