Hey, It's the VPN Unlimited 3rd Birthday! Let's Get the Party Started
Updated on July 13, 2021: From now on, traffic filtering, malware protection, and suspicious DNS activity blocking are available as a part of the separate DNS Firewall app.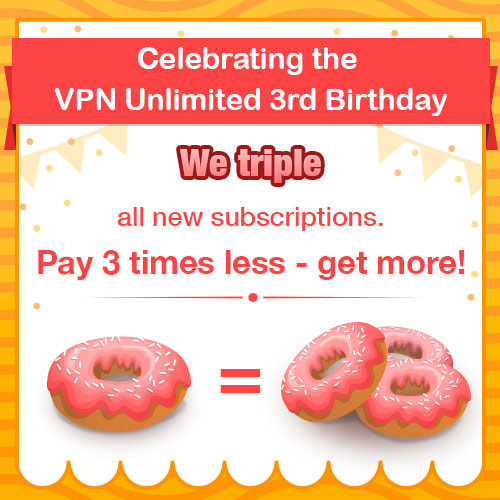 Today, we celebrate the 3rd birthday of VPN Unlimited, and we are thrilled about the accomplishments that we have achieved for the last year. This milestone was reached thanks to your constant support, and due to the ability of VPN Unlimited to steadily move towards its goals, which are:
1. Maintain the environment where online security and anonymous web surfing is set to the highest priority.
2. Stand for the internet without censorship and for the right to be private online.
3. Make our security solution easy so anyone, including digital-savvy and non-technical users, can protect their online identities without effort.
Huge "Thank you" goes to all our customers, many of whom have faithfully been with us during these years.
3 is a lucky number today
Join our birthday party, and get a mind-blowing deal we prepared for you. Starting today, October 10th through October 11th, all new subscription purchases will be tripled (except Infinity plan). This means that for the next 48 hours, you will get 3 weeks, 3 months and 3 years of the service at the price of 1-week, 1-month and 1-year plans respectively. If you choose a 3-year plan, you'll get 9 years of the service at no extra cost to you!
This is a limited time offer so make sure you don't miss it.
A brief recall of our achievements
We worked hard and listed carefully to you thus VPN Unlimited witnessed a lot of accomplishments over the last year. Let's take a quick trip down the memory lane:
– A Special technology KeepSolid Wise that offers a better reliability and unthrottled bandwidth was developed for iOS, Android, Windows, and Linux devices.
– Browser Extensions for Google Chrome and Mozilla Firefox were released.
– Personal IP and Personal Server solutions were launched to boost your level of online protection and the connection speed, as well as to bypass the internet censorship.
– Over 10 locations with solid servers were added for your convenience.
– The opportunity to extend the number of slots for additional devices became available. Now you can add up to 15 devices and simultaneously protect them from one account.
– Absolutely new UI for iOS, macOS, and Android platforms.
Our further plans
This is just the beginning. We have tons of ideas how we can make our security solution even better. For instance, we are constantly adding new servers in new regions, and adding new features to keep our service up to date.
In the nearest future, we are going to add team subscription plans that will make the use of VPN Unlimited in offices easier.
Also, we offer our unique solution SDK to third-party developers in order to integrate VPN Unlimited with more services to strengthen each other and provide a higher level of protection to end user.
Get VPN Unlimited and be absolutely free online, without any invented restrictions or limits. Don't miss out our deal: get by 3 times more service at a lower price.