How to Choose Best VPN Server Location with VPN Unlimited

Updated on July 13, 2021: From now on, traffic filtering, malware protection, and suspicious DNS activity blocking are available as a part of the separate DNS Firewall app.
The history of VPN software began in the far 1996. Twenty two years have passed, yet numerous questions about proper usage of VPN apps still rise. Among them is the question in our title, on choosing optimal VPN servers. A user downloads the app, opens the Servers tab, and sees an enormous list with dozens of server locations. But which of them to choose?
Well to start with, you can simply choose any location from this list. But depending on your current location and your reasons for using the app, not every server will be perfect for you. That's why today our team decided to set the record straight and provide you with a detailed guide on how to choose your ideal server location, using VPN Unlimited as an example. Subscribe to our newsletter to get our monthly digest with the tastiest articles!
What is a VPN server location?
In a nutshell, it is a virtual location which is granted by your VPN app. When you connect to a VPN server, your traffic automatically routes through its IP address. VPN Unlimited, in turn, provides you with over 400 servers across 70 locations all over the world. Such amount of server locations ensures that you can choose the most secure and fastest connection for your needs.
What to look for when choosing VPN server location?
Our team prepared a different set of advices on how to choose the best server, according to possible goals of using VPN software. So, you get VPN Unlimited with a 7-day free trial or buy it right away, create your KeepSolid ID, log into our app, and go to the Servers tab. What are your goals?
High speed. In this case, you don't have any special goals, you just want to encrypt your private data and browse comfortably. In order to get the optimal speed, you should choose the server location that is as close to you as possible. You also can choose to utilize the Optimal server button as shown below. This feature allows our app to identify the best server for you, drawing on the information about your current conditions.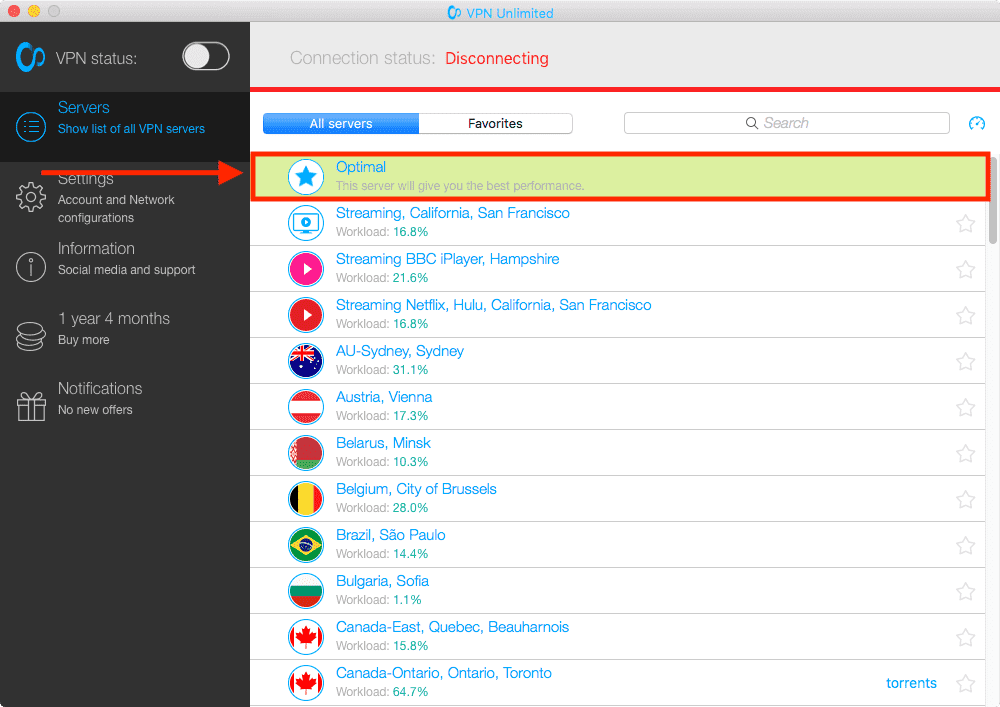 Accessing geo-restricted content or bypassing censorship. When you want to access a geo-restricted website, you should choose a server in the same country as the said site. Alternatively, if you want to bypass censorship in your own state, you should choose a VPN Unlimited server in the country where this site is not blocked. In this case, Optimal server can play tricks on you and choose the server location where this site cannot be accessed.

That's why we offer you to run a ping test. It will estimate the distance between your location and our VPN server locations. After that you can compare ping numbers of all the servers that otherwise suit your requirements, and choose the one with the best connection speed.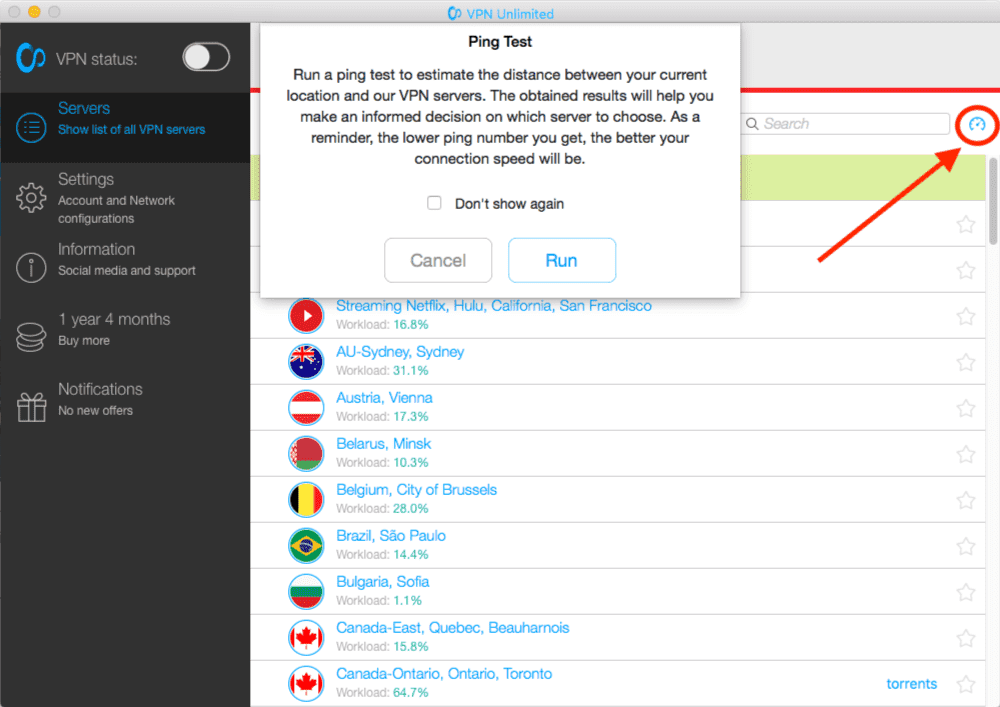 Torrenting. If you want to download torrents safely, you should choose server locations where this is allowed. In VPN Unlimited, such services are marked with "torrents".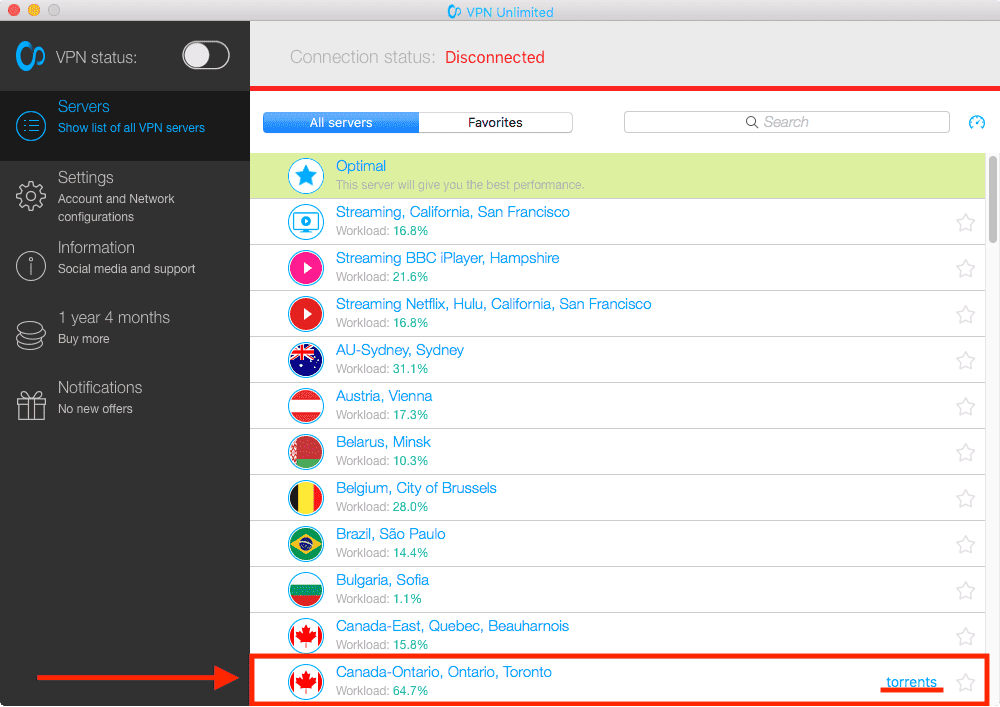 Streaming. Unfortunately, you normally can't watch streaming websites like the ESPN+ and the US Hulu outside of the United States. The same is true for BBC iPlayer, which is available in the UK only. Well, if you are not a resident of the aforementioned countries, you still can access them with our VPN Unlimited app. Choose the servers marked as Streaming and get unlimited access to your favorite streaming services anywhere in the world.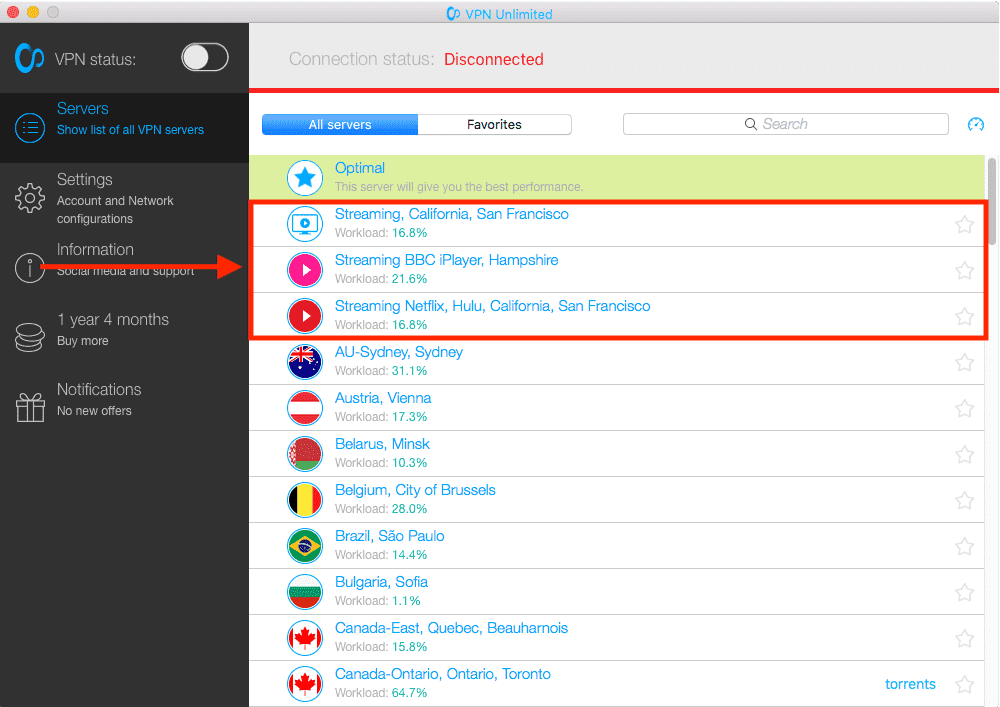 Gaming. When it comes to online gaming, the highest connection speed that won't let you down at the most important moment is a must. If even a few milliseconds lag matters for you, we offer the Personal VPN server solution – a server that will be used only by you. Personal VPN Server ensures that you and your gamepad are the only factors in the tournament.