Torrenting in 2020: How to Download Torrents Anonymously and Safely
Updated on July 13, 2021: From now on, traffic filtering, malware protection, and suspicious DNS activity blocking are available as a part of the separate DNS Firewall app.
Contents
Have you ever been engaged in an illegal activity? Your common sense answer might be no, but you'd better think twice. Perhaps you did download torrents, at least once. In many countries, it is equal to piracy and is punished by law.
Why is downloading torrents illegal?
Well, to be clear, torrent download itself is legal. What is actually illegal is downloading and sharing copyrighted content. However, there's a pitfall. It's usually difficult, if not impossible, to determine which torrent files contain copyrighted material. So, governments tend to take "one size fits all" approach and consider any kind of torrenting illegal.
Unintentionally, you may end up involved in this illegal activity, with unpleasant consequences. These consequences may include copyright infringement notices from your ISP, fines, and even imprisonment (if you happen to be in the country with strict anti-torrenting laws). But no worries! Check out our article and learn how to download torrents anonymously and hide your torrenting from ISP with KeepSolid VPN Unlimited 😉
VPN – the tool for hiding your IP address while torrenting
Your gateway to anonymous torrent download is a reliable VPN service like KeepSolid VPN Unlimited. Masking IP while torrenting as well as encrypting internet traffic, the VPN technology doesn't let your ISP and other parties monitor your activities. So, if you happen to be in the country forbidding torrents download, just enable VPN and download all the legal content you want.
Besides, with VPN on, you no longer expose your real IP to other torrent users. How do they get this info? Quite easy in fact. When you connect to a torrent swarm, other peers that share this file can see IP addresses of other computers in the swarm, as shown on the screenshot below. All IP addresses publicly visible. Not an appealing perspective, agree?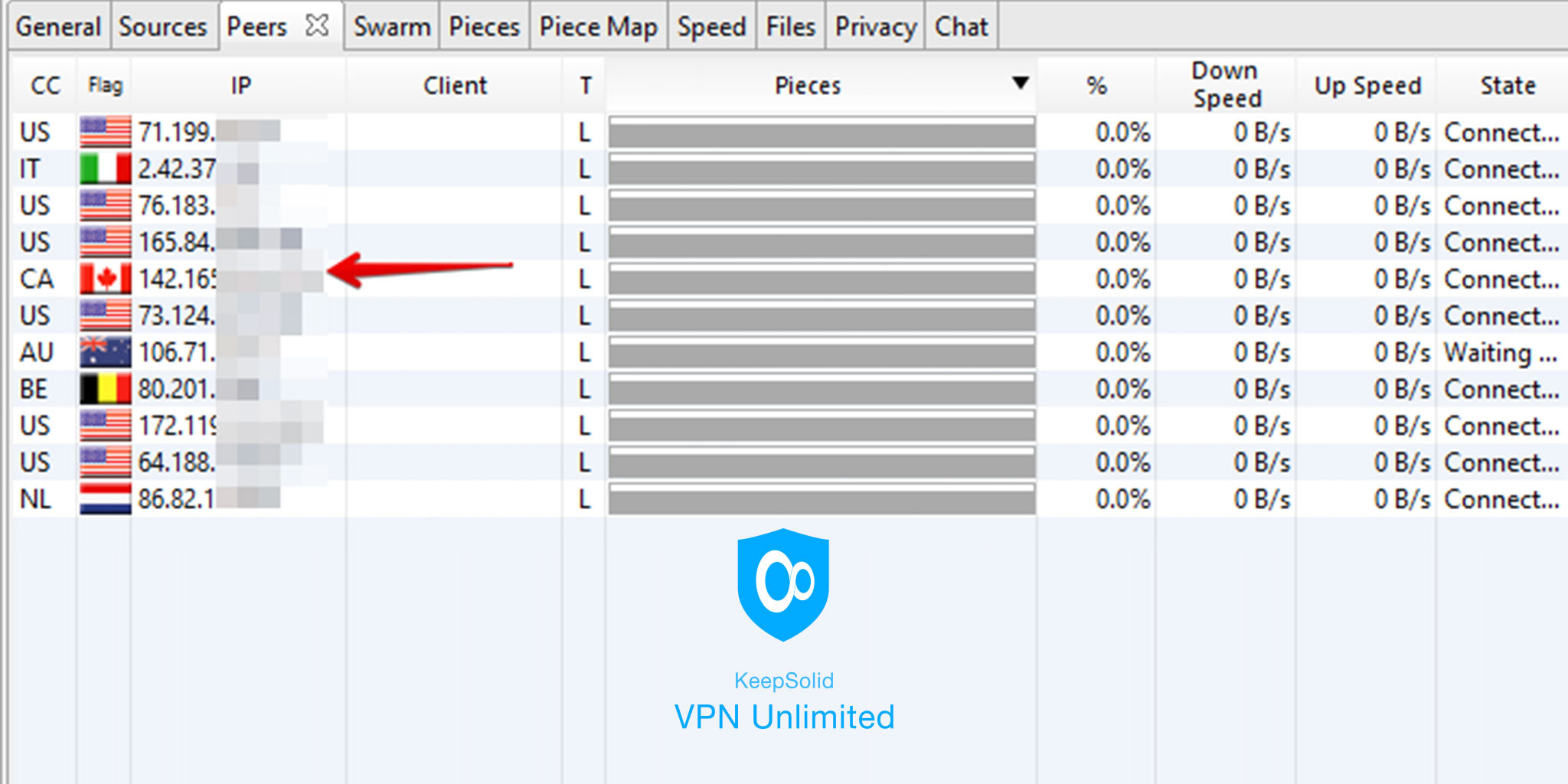 Peer list from Vuze Bittorrent client
Tips for choosing the best torrent VPN

When deciding on a VPN provider, you primarily need to pay attention to the following features:
VPN servers that support torrent download
Note that not all VPN services actually support torrenting, so it's essential to ensure they do have torrent-friendly servers. KeepSolid VPN Unlimited will not leave you alone with the question how to download torrented movies and other content without any risk. We do provide special VPN servers for anonymous and secure torrent download.
Kill Switch feature for better protection of your identity online
Kill Switch is the technology that immediately stops internet traffic on your device if VPN connection suddenly drops. Allow us to explain why the feature is so crucial for downloading torrents anonymously.
Imagine your VPN connection dropping for some reason while your torrent file download is still in process. All the traffic interaction will now be directed at your real IP. You are no longer anonymous, your IP is exposed, and your ISP sees what you're actually doing… But not if Kill Switch is enabled 😉
Other qualities of a good VPN software
What's also important for smooth torrenting are good speeds, unlimited traffic, and no bandwidth throttling. Enjoy secure and anonymous torrenting with KeepSolid VPN Unlimited!
How to torrent anonymously using KeepSolid VPN Unlimited
Download KeepSolid VPN Unlimited

for the platform you need. It's available for Windows, Mac, Linux, iOS, Android, and also has browser extensions for Google Chrome, Opera, and Mozilla Firefox. So, you'll definitely

find the required version for

the most convenient torrenting!

Create a KeepSolid ID, or log in to the app with an existing one.

Make sure Kill Switch is enabled in the app Menu > Settings: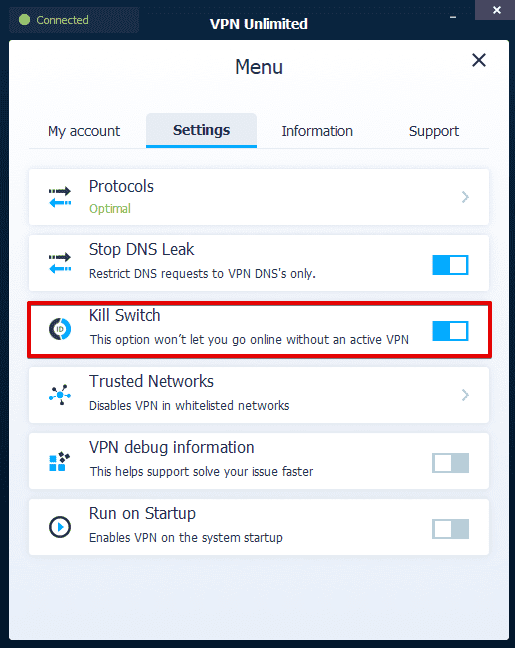 Note: Kill Switch is currently available for Windows, iOS, and Android versions of the app.
Go to the Servers screen and connect to one of the VPN servers for torrenting: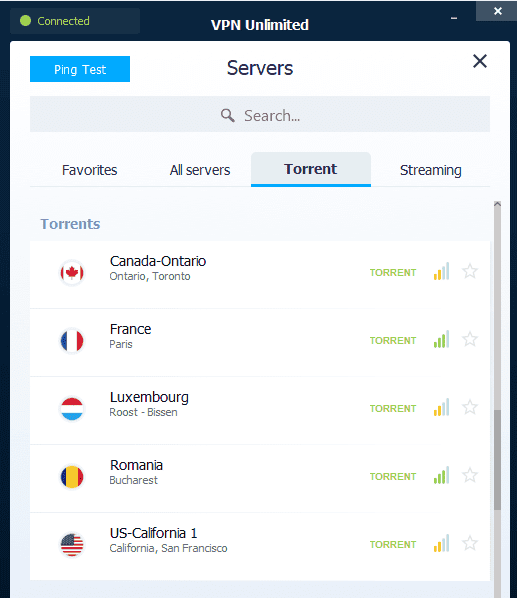 The screenshot was taken on Windows. The same torrent-friendly servers are available on all other platforms.
Open your torrent client and start your safe and anonymous torrenting!
By the way, if you want to download torrents on your iPhone, check out the list of best apps for torrenting. Got an iPad? Here's our step-by-step guide on how to download torrents on iPad, where you'll find instructions for BitTorrents, Downloaders, and Torrent Downloader VPN.
Bonus tips on how to torrent safely
Now you know how to protect your IP address when torrenting and avoid copyright infringement notices from your ISP. But what about other threats?
A number of torrent websites bombard their users with numerous ads and links to what turn out to be dangerous websites. Many reputable advertisers just don't want to deal or be associated with torrent sites. The latter, willing to get revenue and cover their costs, have little choice other than to turn to shady advertisers.
Check out the below simple tips that will add up security to your anonymous torrent download. These are general cyber security precautions you've surely heard about before, but as they say, practice makes perfect;)
Don't click on ad banners, no matter how appealing the offer. And if you clicked on one, don't install any software or plugins it offers. An even better idea – install an ad-blocker and you won't see ads while visiting torrent sites at all.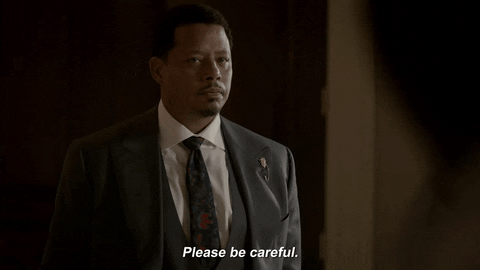 @ GIPHY
Disable flash in your browser
Some malicious ads contain auto-executable scripts that can exploit browser vulnerabilities even if you didn't click on them. The scripts of such ads can target flash vulnerabilities, especially older versions. To avoid being infected with malware this way, it's recommended to disable flash in your browser or set it to require manual approval for displaying flash content.

This one might be the cyber security tip you hear most often – but use a good antivirus software and make sure it's updated regularly. Just being careful doesn't keep you completely safe from viruses. Antivirus software is an indispensable line of defense against cyber threats.

Read comments on the torrent
Read the comments to the torrent files or torrented software you want to install. If they contain a virus, users who've already faced with it may warn others in the comments.
Bottom line on downloading torrents anonymously and safely
Follow these general security precautions so as not to fall into hackers' traps while torrenting. And do it incognito of course – you now know how. Using a reliable VPN is the best way to download torrents anonymously. So, make sure to enable KeepSolid VPN Unlimited and you're all set to start your risk-free torrenting!