How to Connect to Public WiFi on iPhone and iPad Securely

Updated on July 13, 2021: From now on, traffic filtering, malware protection, and suspicious DNS activity blocking are available as a part of the separate DNS Firewall app.
Imagine this scene: you cozily sit at a local coffee shop, sipping hot coffee and taking advantage of free WiFi to view pics on Instagram, read Facebook posts, or check emails on your iPhone. This picture is familiar to many of us. But however familiar and relaxing it sounds, this situation conceals a potential danger. If you haven't spotted it, here: free public WiFi.
When you connect your iPhone or iPad to a public wireless network, your iOS device becomes vulnerable to cyberattacks. And for hackers, stealing users' data on such hotspots is as easy as one-two-three.
If you are wondering if it's possible to use public WiFi safely on iOS device, the answer is Yes. VPN Unlimited team has summarized tips for you on WiFi hotspots security right in this piece. Read on, find out how to secure iPhone on public WiFi, and avoid threats to your data and privacy!
Risks of unsecured WiFi for your iPhone and iPad data
Unsecured WiFi hotspots don't require a password to use it. This lack of authentication, as well as unencrypted connections, makes WiFi hotspots appealing for malicious users who strive to steal data. If you connect to an unsecured network on iPhone without any protection, it's easy for hackers to steal your passwords, credit card details, and other information.
One of the dangerous scenarios is a fake

WiFi network,

aka

Evil Twin

. A malicious user sets up their own WiFi network, using just a laptop. They give the network a seemingly trustworthy name to lure unsuspecting users into connecting to it. Once you do this with your iOS device, the hacker can direct you to malicious resources, a fake version of banking websites, etc. and get your credentials and other sensitive information.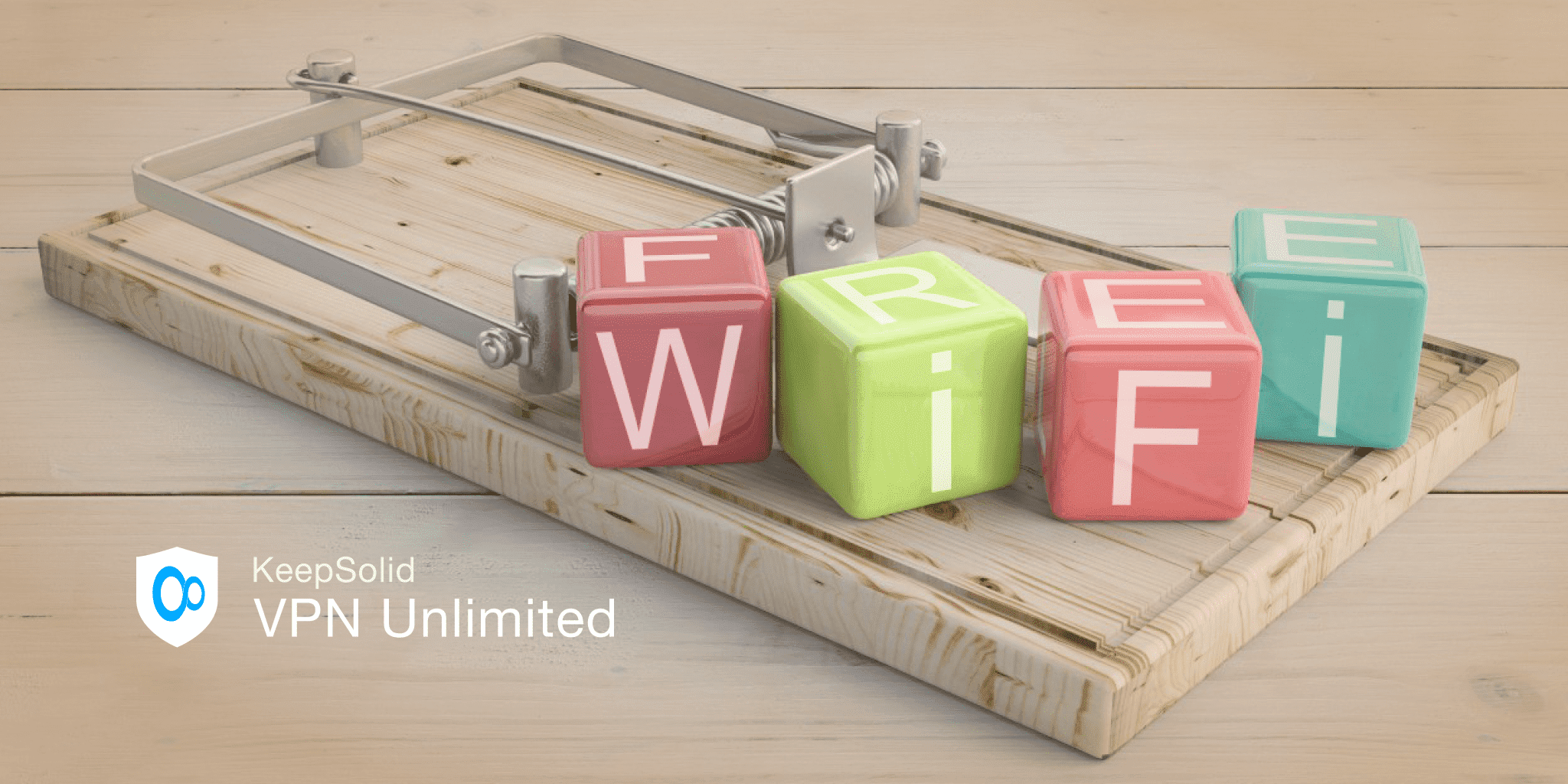 Another

open WiFi network security

risk i

s

Man-in-the-middle attack (MITM).

In this case, a hacker exploits security vulnerabilities of WiFi hotspots to sniff out information that is passed between the websites you visit and your iPhone or iPad. Same as in the first scenario, your account credentials and other sensitive information are put at risk, and all that – without you ever knowing about it.
Sounds creepy? No worries, we'll show you how to safely use public WiFi on iPhone and iPad.
How to secure iPhone on public WiFi
Using unsecured WiFi on iPhone stops being dangerous if you follow the tips below.
Keep your iOS operating system up-to-date
System updates are not all about delivering new features to your iPhone or iPad. They are released to fortify the OS, fix bugs, and eliminate vulnerabilities that can be exploited by hackers.
So it's vital to install iOS update on your iPhone or iPad as soon as it comes along. In case you're concerned about storage space limits, sync or back up data to the cloud to free space. This tip is universal and doesn't refer to WiFi networks only.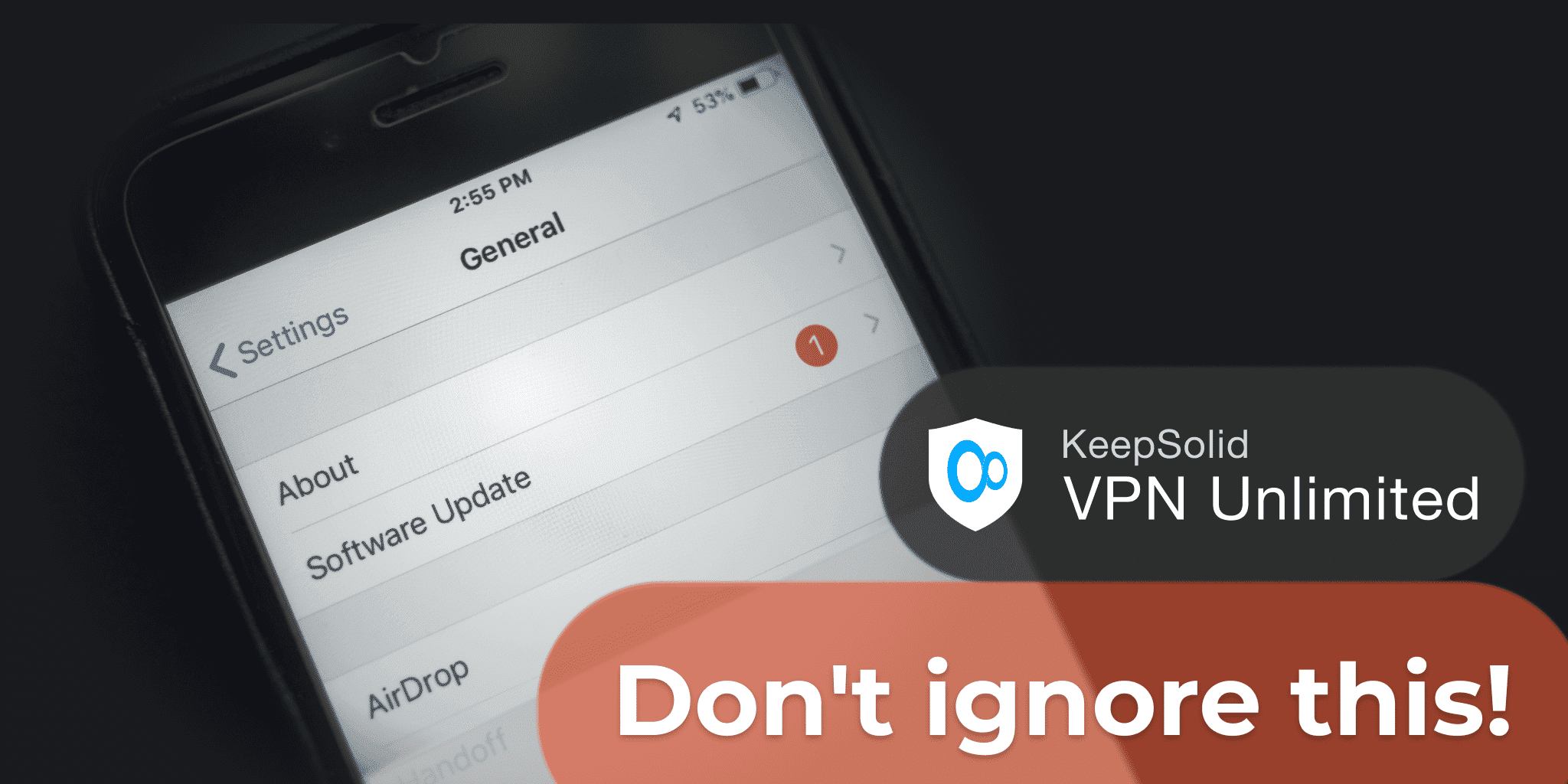 Use two-factor authentication
Once you've enabled two-factor authentication, or 2FA, besides your password you need to enter a special one time code for login. This code is sent to your device every time you access your account from an unknown location.
Even if hackers intercept your credentials and try to access your account, this won't be possible. They'll possess your password only, which is not enough without the code.
2FA is provided by many services and social media sites, and it will definitely boost your account's security. However, be aware that your online activities after the sign-in can still be easily monitored by the owner of the network. Thus, two-factor authentication should definitely be combined with other measures to ensure your iPhone WiFi security.
Check the legitimacy of the WiFi network
In case you frequently visit a cafe or other location, you most probably know the name of its WiFi network. And if you notice multiple similar names in the WiFi list on your iPhone where there used to be one, the additional networks are potentially malicious. Ask an employee if they created another hotspot. If they didn't, the network may be fake (so-called Evil Twin), and the owner of the location may want to take action in this regard.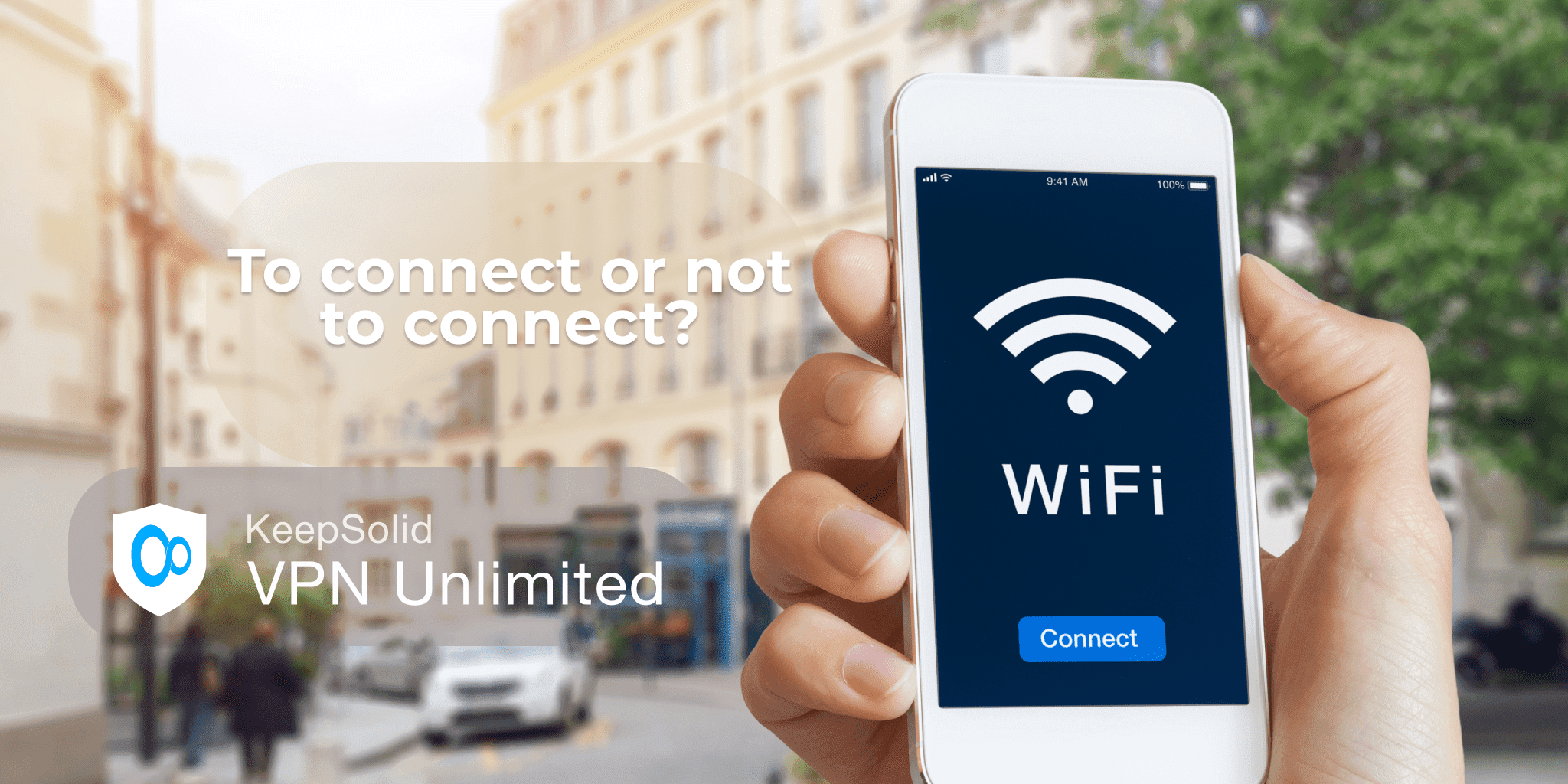 When in an unfamiliar location, don't hurry up connecting to unsecured WiFi with iPhone just because it's free. Check if the network is legitimate first. In some locations, like parks, this might be tricky. In this case, use other ways to ensure your iPhone security on public WiFi.
While this tip can help you avoid evil twins, other security threats, like MITM attacks, still remain. To combat it, make sure to follow our next advice.
Enable VPN before connecting iPhone to public WiFi
VPN, or Virtual Private Network, is an indispensable tool for securing your internet activities from any kind of watchful eyes, including man-in-the-middle attacks. Secure your iPhone or iPad on public networks by using a trustworthy VPN service like VPN Unlimited.
VPN Unlimited routes all your internet traffic via an encrypted tunnel. So whatever sensitive information you enter online, be it your passwords, credit card details, etc. is protected with military-grade AES-256 bit encryption.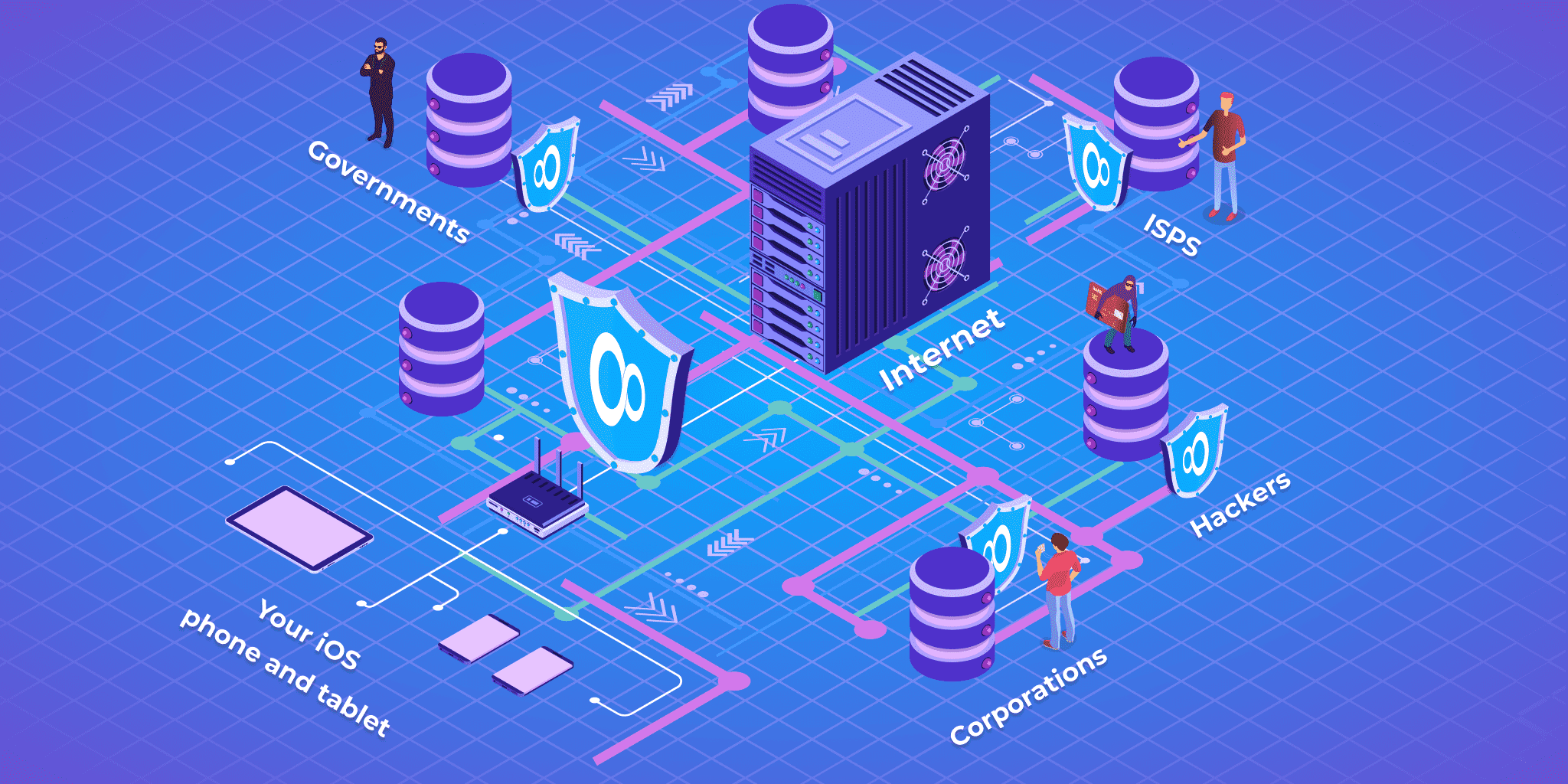 Encryption of traffic on your iOS device makes it impossible for cybercriminals to decipher your data or monitor your online activities. So you can do online shopping, conduct banking transactions, visit social media accounts on your iPhone or iPad without risks.
Besides, VPN provides privacy from your ISP and network admin, turning your online activities anonymous. This concerns any network you use, be it WiFi hotspot or your home or work network. Thus, with VPN Unlimited, you gain much more than just protection on public networks – what you get is total online privacy on your iOS device.
Disable automatic reconnection to WiFi on your iOS devices
For your convenience, iOS has a feature that, when WiFi is enabled, searches and automatically connects to either known or open public networks. It really saves time and is useful if you're at home or at work. But you wouldn't want your iPhone to randomly connect to unsecured networks when you pass by a cafe or stay at a hotel when traveling.
To avoid this security risk, disable WiFi whenever you aren't using it. In case your iPhone or iPad already connected to an open hotspot, tap the "i" icon and select Forget This Network.
Also, make sure to enable Ask to Join Networks option in the Settings of your iOS device:
On the home screen, tap Settings

Tap Wi-Fi

Scroll down to

Ask to Join Networks

feature and move the slider to the

On

position.
Enabling this option on your iPhone or iPad ensures that you don't automatically connect to any unknown and unsecured networks. Instead, your iOS device will prompt you to manually select an available wireless network.
Use VPN Unlimited to secure your iOS device on public WiFi
Bottom line: how to protect iPhone on public WiFi
Free wireless networks are quite tempting, providing us the possibility to always stay connected, for free, and almost anywhere. At the same time, they conceal major threats to your data and cause justified concerns about iPhone public WiFi security. However, this doesn't mean you have to deprive yourself of the pleasures of free WiFi.
Taking the necessary security measures and using the right tools like VPN, you can easily eliminate the risks and securely connect to any public WiFi on iPhone.
Follow these tips and don't forget to enable VPN Unlimited whenever you use a public wireless network.