How to Set Up VPN on Kodi Devices

Updated on July 13, 2021: From now on, traffic filtering, malware protection, and suspicious DNS activity blocking are available as a part of the separate DNS Firewall app.
Want to vastly expand what Kodi is capable of? Want to access geo-blocked content right from your TV? Or maybe you simply want no one to know what you watch. Then you need to install VPN on Kodi. In this piece you'll learn how to properly set up KeepSolid VPN Unlimited on Kodi devices.
What's Kodi?
Formerly known as Xbox Media Center (abbreviated as XBMC), Kodi open-source software application has become an award-winning entertainment hub that runs on Linux, macOS, Windows, iOS, and Android. It allows users to stream most media content, such as videos, music, movies, podcasts, and other digital content from the internet and local- and network-storages. It also works great with TVs, thanks to its 10-foot user interface and support of remote controls.
Why use Kodi VPN?
A Kodi VPN is an advanced tool that safeguards your privacy online, helps you dodge geo-restrictions, and stream blocked channels. Using Kodi VPN add-on comes with the following benefits:
Avoiding DMCA notices as VPN keeps your online activities private
Overcoming speed limitations by your ISP
Dodging geo-restrictions and unblocking such streaming services as BBC iPlayer, Hulu, Disney+, and much more wherever you are. KeepSolid VPN Unlimited has special servers for this, do check them out!
Possibility to install otherwise blocked add-ons.
How to install a VPN on Kodi?
A VPN for Kodi can open a whole new world of media content to you. By selecting servers in corresponding countries, you can choose what content you want to get. Thus, for instance, by connecting through a server in the US, you'll get a completely different streaming experience than you would if you were not located in the US. Using a VPN with Kodi mostly aims at two goals: accessing restricted content and protecting your privacy and freedom from ISPs and potential implications of copyright violation.
Step 1. Create VPN configurations for setting VPN on Kodi
First of all, to do the Kodi VPN Unlimited setup, you need to create configurations for the connection. To do that, log in the User Office using your KeepSolid ID and press Manage on the KeepSolid VPN Unlimited tile.
Note: in order to proceed, you need to either have a paid subscription or a running trial that is available for 7 days free.
Select a device
Choose the server location
Select the protocol used for the VPN connection. For IKEv2 you'll need to specify the platform the device is running on.
Press Generate. You'll be returned data configurations for the VPN connection in forms of text, QR-code, and as a configuration file.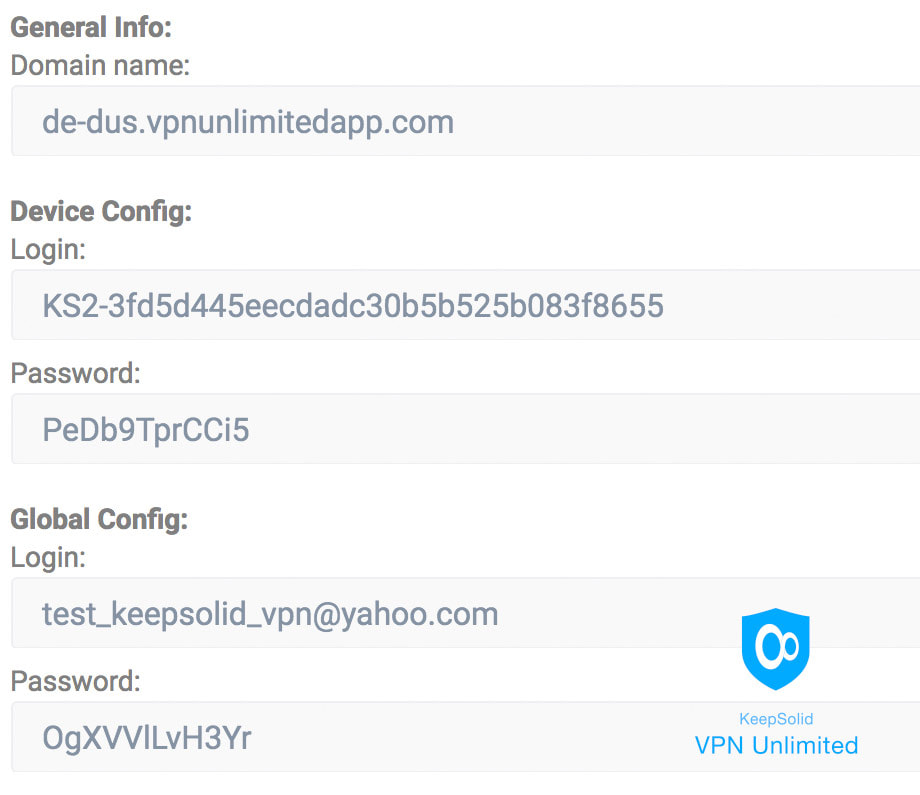 Step 2. Download Kodi VPN manager and FileZilla
Setting up VPN on Kodi includes installation of a VPN manager:
You need the file named service.vpn.manager-X.X.X.zip, where X.X.X is the current version number.
To be able to directly upload files to devices running Kodi, they must be connected using SFTP protocol.

Run FileZilla, click File > Server manager, and choose to set up a new connection
Type your Kodi device's IP address in the Server field. Note: to learn the device's IP address, press the gear button to open System settings of the Kodi device, go to System information > Summary > IP Address
Set SFTP for Protocol
Choose Normal connection type
Enter username/password. Unless previously changed, the username is root, and the password is openelec for OpenELEC, and libreelec for LibreELEC
Press Connect

Using FileZilla, create a folder on your Kodi device and copy the VPN manager installation zip-file and the configuration file into it.
Step 3. Configure Kodi VPN addon
Now that everything is ready for Kodi VPN setup, we are going to configure the connection.
Open Kodi interface
Go to Add-ons and select Install from zip file.
If you see the pop-up from the picture below, go to the Settings and toggle Unknown sources on. Then repeat the step 2.
Using the file manager, locate and select the VPN manager installation zip-file. Note: a pop-up will notify you when the installation is complete.
Open Add-ons and launch VPN Manager for OpenVPN®.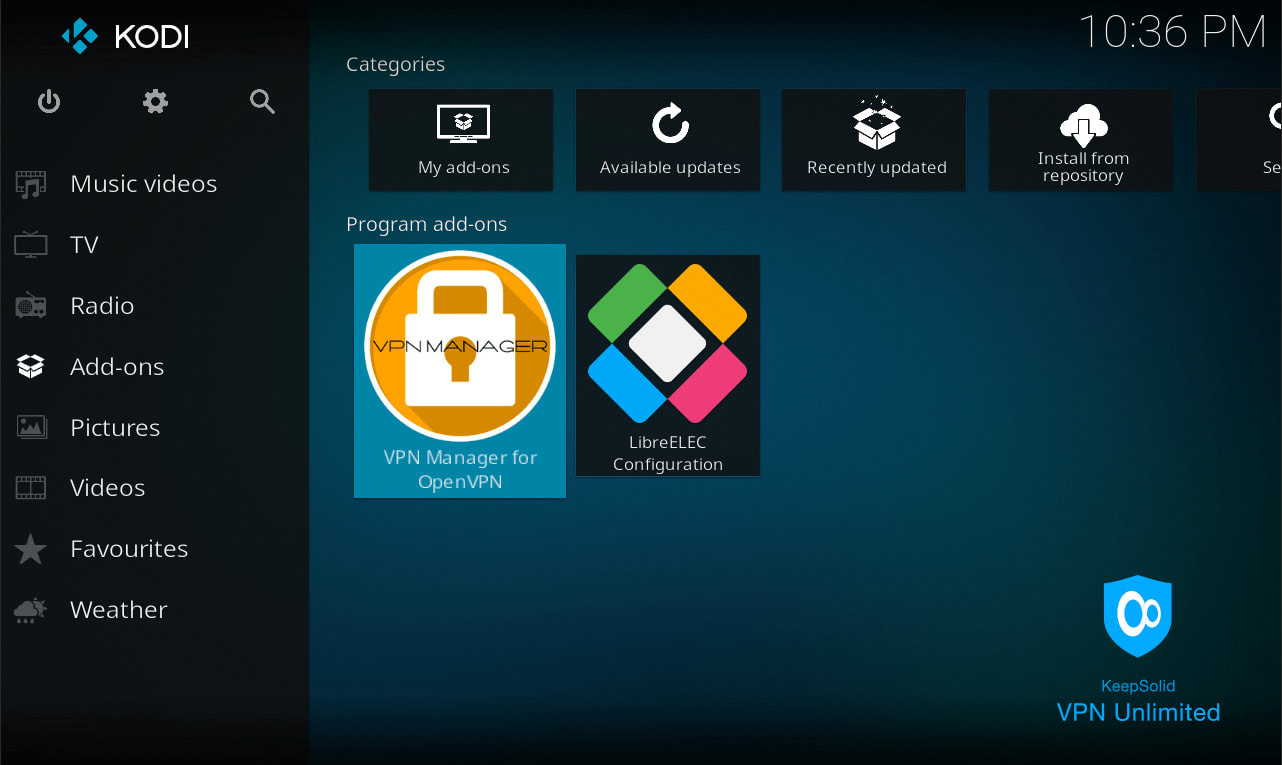 In the settings, choose User defined for VPN provider and scroll down.
Launch User Defined import wizard and press OK, then Yes.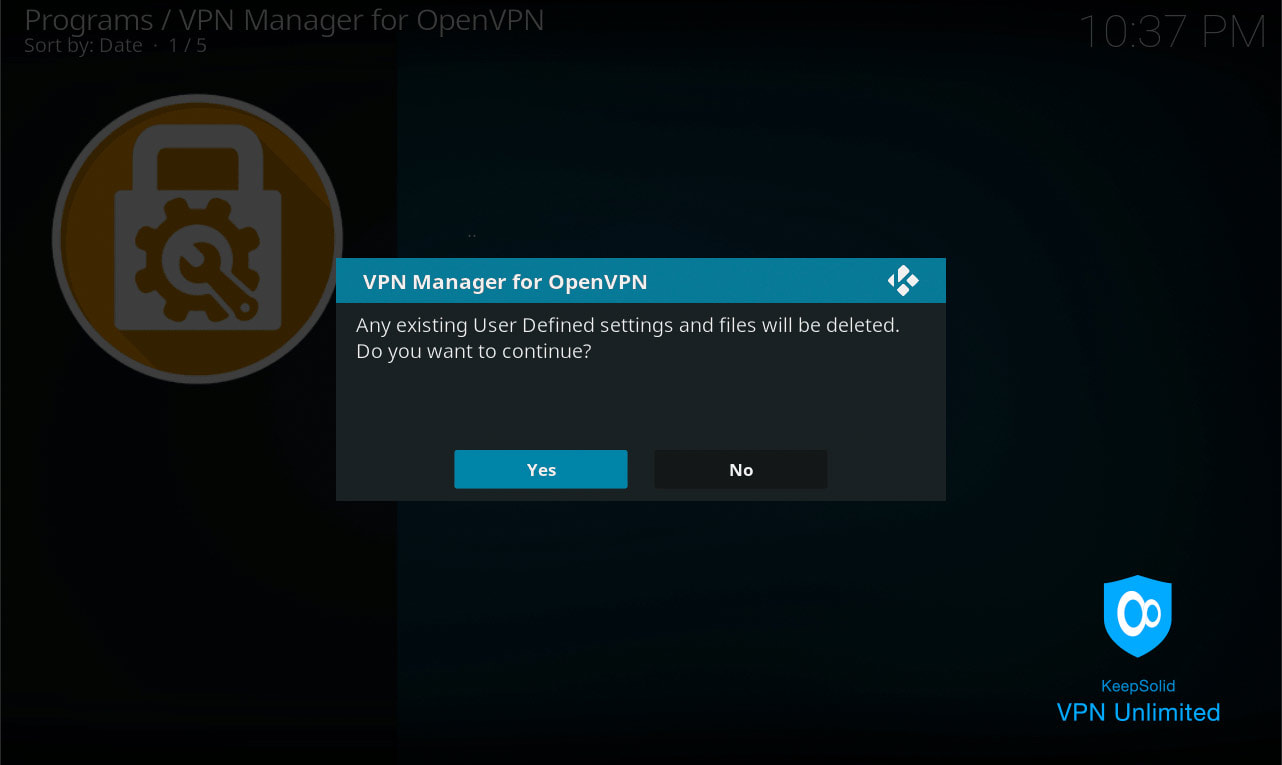 Press the Files button.
Using the file manager, locate and select the previously created configuration file. Its name should be written in green. Press OK, then Yes in the pop-up.
Upon the import completion, press OK in the pop-up.
The settings window should open. Go to the VPN Connections tab, select First VPN connection, and click OK.
Choose the imported configuration profile.
When the connection is established, you'll see a notification (see below) with information respective to your connection.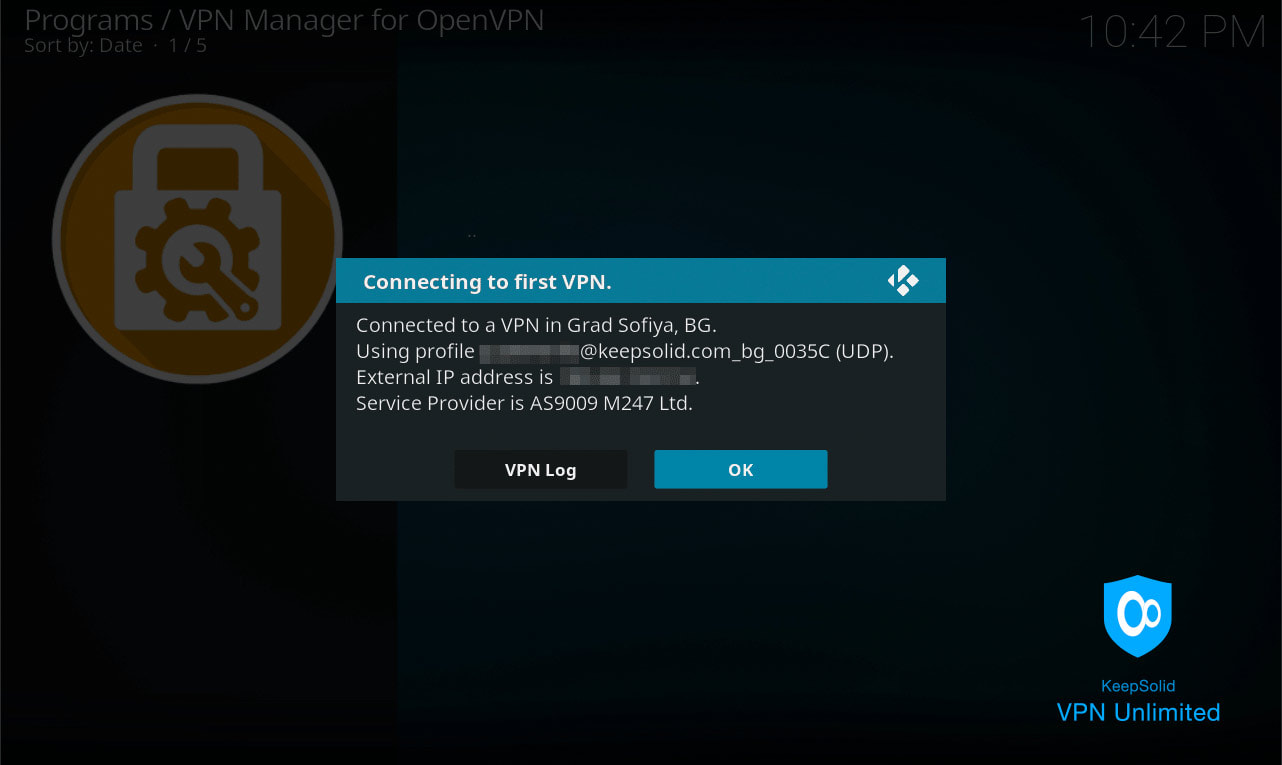 That's it! With VPN on, you can easily route your media streams through any country that KeepSolid VPN Unlimited has servers in. To change the country through which the VPN connection is established, you'll only need to create a new configuration file in the User Office.
Bottom line on Kodi VPN setup
The question How do I install a VPN on Kodi is now answered in full. Set up KeepSolid VPN Unlimited on your Kodi device and stream all your favorite content wherever you are, with absolutely no restrictions!
"OpenVPN" is a registered trademark of OpenVPN Inc.