iPhone Apps Secretly Record Your Screen: How to Secure iPhone in Present-Day Reality?

Updated on July 13, 2021: From now on, traffic filtering, malware protection, and suspicious DNS activity blocking are available as a part of the separate DNS Firewall app.
According to the Maslow's hierarchy pyramid, safety is one of our basic needs. Whereas at the time by safety Maslow meant health and living conditions, today it also includes your online security. That's why, when using our iPhones all day long, we want to feel safe and know that all our online activities remain secure and private behind the phone's screen.
However, recent news has put the world of cyber security on fire. As the Alphr team puts it in one of their article about iPhone privacy, thousands of iPhone apps are recording our phones' screens without permission. How is this possible? What are the apps that record your screen? How to secure our iPhones? KeepSolid VPN Unlimited team has studied the issue of how iPhone apps can record your screen and why they do so. As a bonus, we've also prepared top 4 extra security tips for your iPhone. Let's check it out!
How can iPhone apps record user sessions?
According to Alphr, the danger comes from travel apps (such as hoteliers or airlines) and some banking services. The thing is that these apps work with the same customer experience analytics company and use its services in their work. A commendable goal, but why should it come at the cost of constantly collecting our phone screens' pictures?
In a nutshell, this company allows developers to implement screen recording technology into their software. As a result, they can record all your activity in their apps without your permission. None of the taps and swipes you make on your iPhone go unnoticed.
The recording technology easily makes screenshots of your actions and sends them back to the developers so they could analyze user's interaction with their applications. Such technology helps software developers to learn their mistakes and fix them for a better user experience. However, it doesn't excuse the fact that this technology attacks our online privacy. From now on, iPhone users just can't feel safe while using their smartphones.

© GIPHY
Top 4 iPhone Security Tips: How to make your iPhone more secure?
After hearing such news, you may feel the urge to make your iPhone secure (rightly so!). And this is how you can do so:
iPhone security tip #1: Block suspicious connections in your apps (advanced technique)
The only certain way to protect your iPhone from secret screen recording is an in-depth analysis of your apps connections. Open your DNS settings within your home router, analyze the connections in your app, and turn off the ones that connect to any customer experience analytics firms.
iPhone security tip #2
:
Use a well-trusted VPN app
Nowadays, additional protection is a must for any iPhone user. Highly secure VPN app, like KeepSolid VPN Unlimited, encrypts your online activity and protects your smartphone from any cyber criminals. The application creates a private tunnel to its secure servers and transports your encrypted data only through this tunnel. As a result, no third party can decode your sensitive info.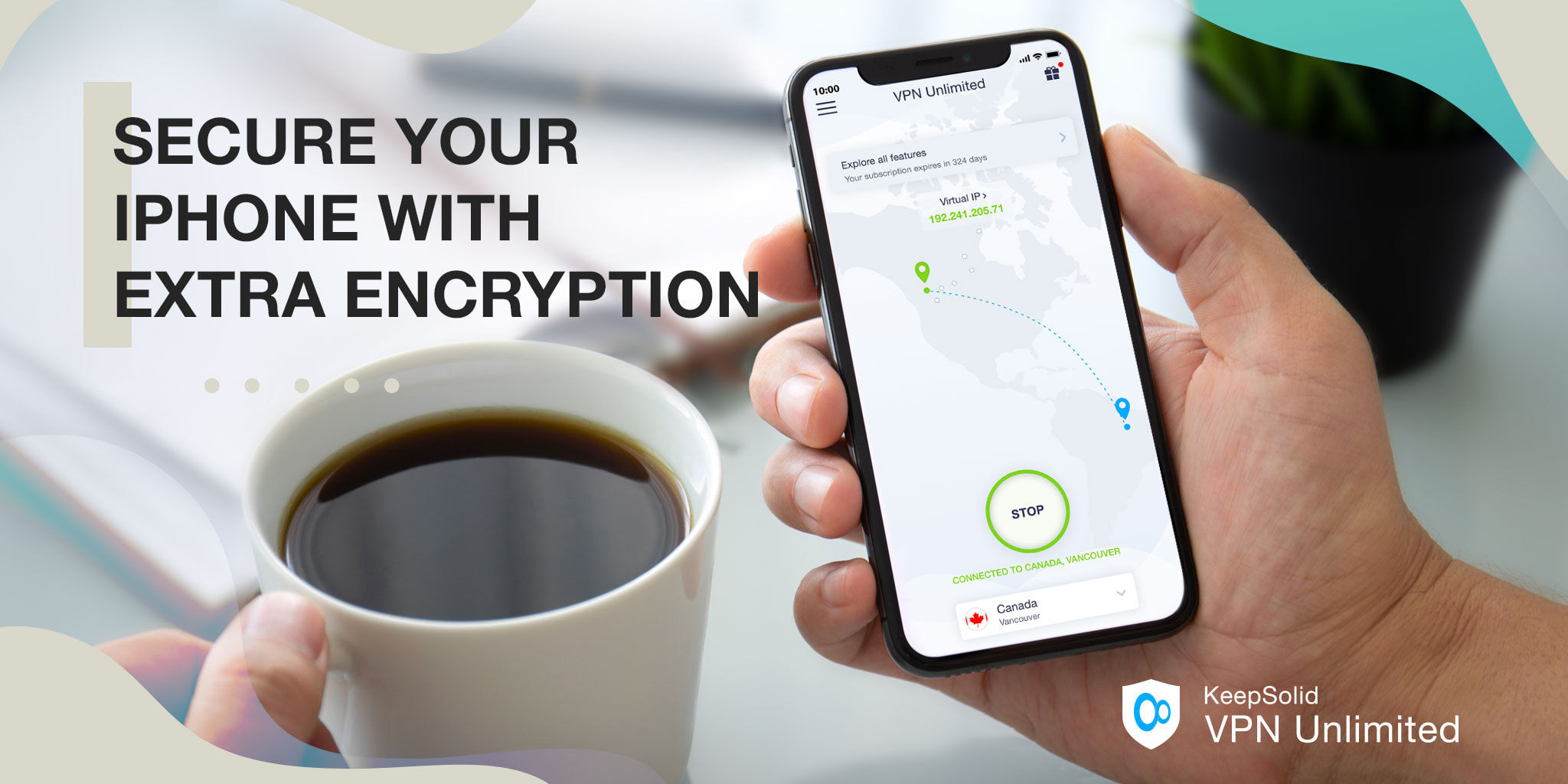 iPhone security tip #3: Analyze the privacy settings
Downloading a new app, you should carefully check its privacy settings. Keep track of the permissions that you give to every application. You can easily do this by going to Settings and then tapping Privacy. There you will find the whole list of the permissions that you've granted to your applications.
iPhone security tip #4: Regularly update your iPhone
At least once per month you should check the iOS updates and install them. Hackers usually look for flaws in the outdated versions of your OS. To make sure you use the most recent iOS, go to Settings -> General -> Software Update. Your iPhone will check for a new update and install it. Voila 🙂
How to secure iPhone with KeepSolid
VPN Unlimited

?

As we've already said, our software is your perfect extra security for iPhone. But how to use it? Here's a step-by-step guide:
Create your KeepSolid ID if you are our new user.

Start your 7-day free trial.

Secure your iPhone via tapping on a big blue button and connecting to one of our super-fast VPN servers.
That's it! Enjoy your unlimited online security for iPhone 🤗