How to Browse the Web Privately on the New Microsoft Edge

Updated on July 13, 2021: From now on, traffic filtering, malware protection, and suspicious DNS activity blocking are available as a part of the separate DNS Firewall app.
Out with the old Microsoft Edge, in with the new! On January 15, Microsoft rolled out to the general public the revamped Edge browser. KeepSolid didn't fall behind. We've released VPN Unlimited extension designed specially for the new Microsoft Edge to keep you secure, private, and unrestricted when you surf the web.
How is the new Edge different from its predecessor? What privacy features does it offer? Why use VPN for Microsoft Edge? How to install and use Microsoft Edge VPN extension? KeepSolid VPN Unlimited has prepared all the answers below. Let's dive in right now!
What changed in Microsoft Edge
What strikes the eye when you install the browser is a new redesigned logo, that resembles a wave rather than the familiar "e" icon. Besides the new logo, Microsoft also gave the browser a new brain. The company adopted its own browser engine and rebuilt Microsoft Edge on the Chromium open source project. Overhauled with the industry standard engine, the new Edge should work better with websites and not deal with compatibility issues typical for browsers with a small market share.
There's also another major step forward. While the legacy Microsoft Edge browser was available for Windows only, the new Microsoft Edge provides a truly cross-platform experience. It is compatible with all supported versions of Windows and macOS, and is also available for Android and iOS. So you can use Microsoft Edge to surf the web almost on all your devices.
What privacy features does the new Microsoft Edge offer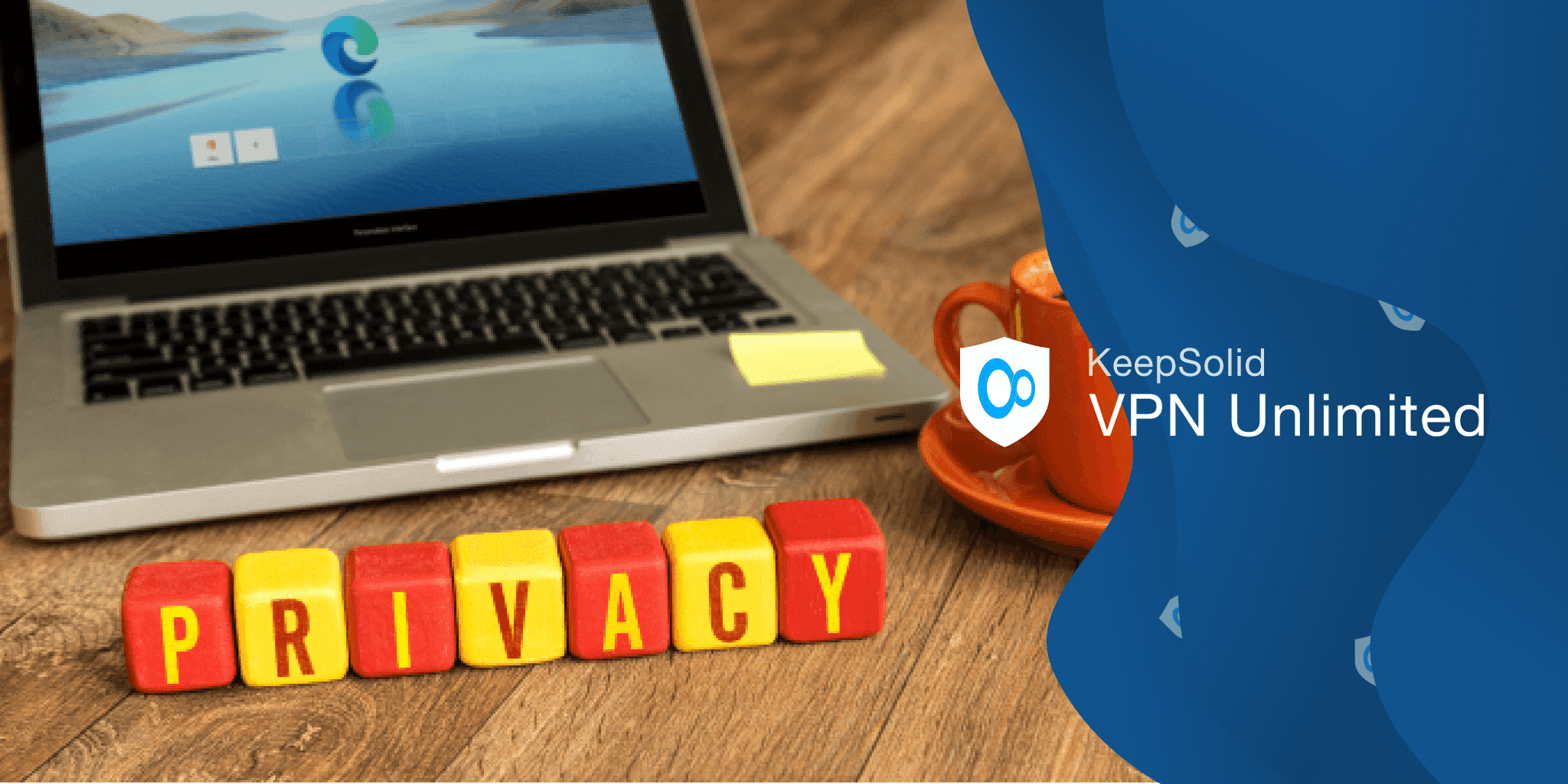 Tracking prevention
Lack of privacy is among the most common concerns netizens have about browsing the web. And the new Microsoft Edge has taken a significant step to address the issue. It provides a feature called tracking prevention which should block a majority of ads and third-party tracking code.
Not letting ad providers track you from website to website, the feature should make it more difficult for companies like Facebook, Google, etc. to craft a profile of your interests and activities.
There are 3 levels of protection: Basic, Balanced, and Strict. The new Microsoft Edge enables tracking prevention by default and sets it to Balanced. So your a bit more private experience begins as soon as you start using the browser.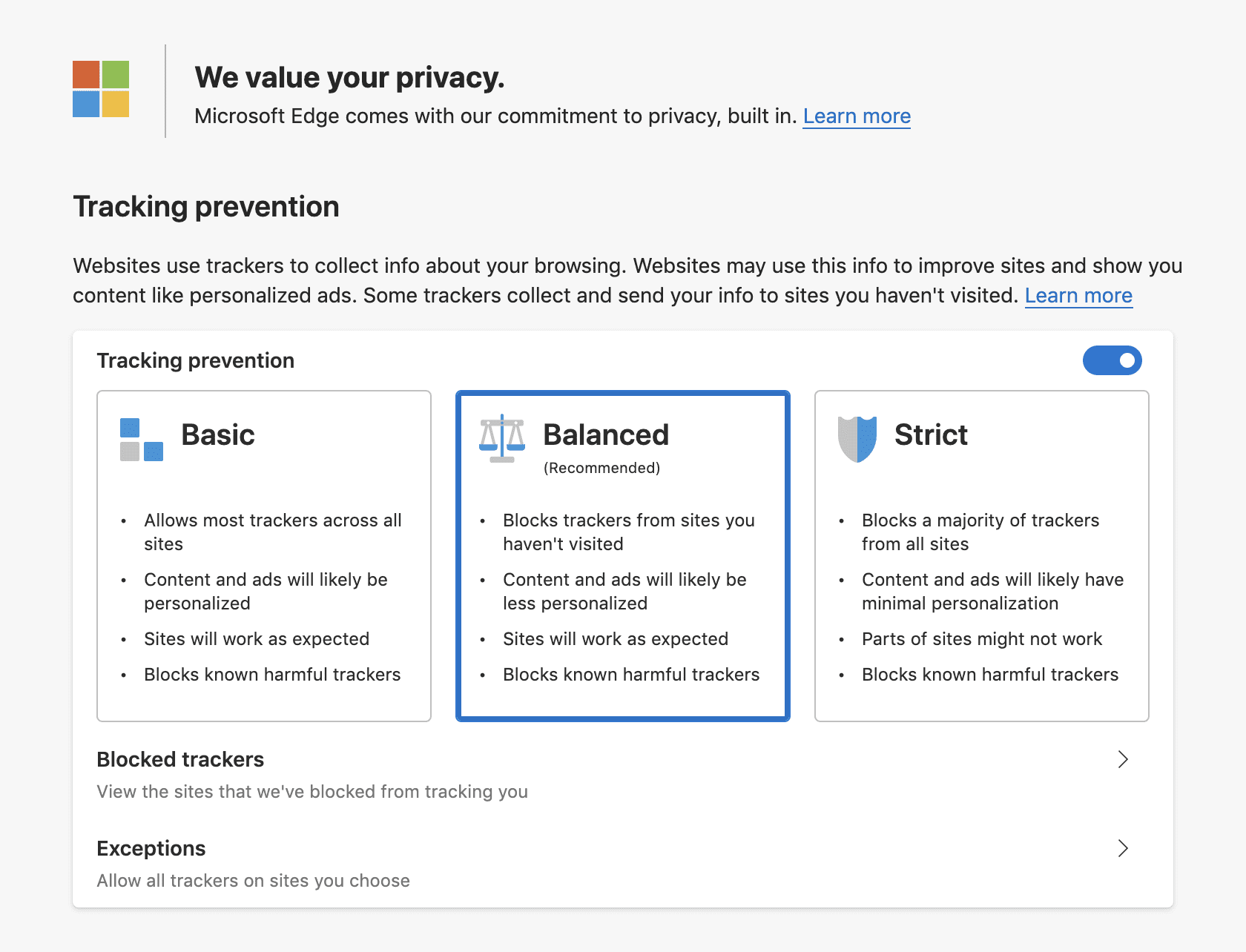 As indicated in the settings, Balanced tracking prevention blocks known harmful trackers and trackers from the websites you haven't visited. As a result, the content and the ads shown to you may be less personalized. But a little more privacy is worth it, right?
InPrivate browsing
Microsoft Edge's InPrivate Browsing allows you to surf the internet without your search history, temporary files, cookies, usernames, and passwords being retained by the browser. All this data is automatically deleted as soon as you close the InPrivate window.
The feature is similar to Incognito browsing of Google Chrome and Safari's Private browsing. InPrivate browsing especially comes in handy if you use a public computer or share your device with somebody else, as they won't have access to your search history or accounts you've signed in.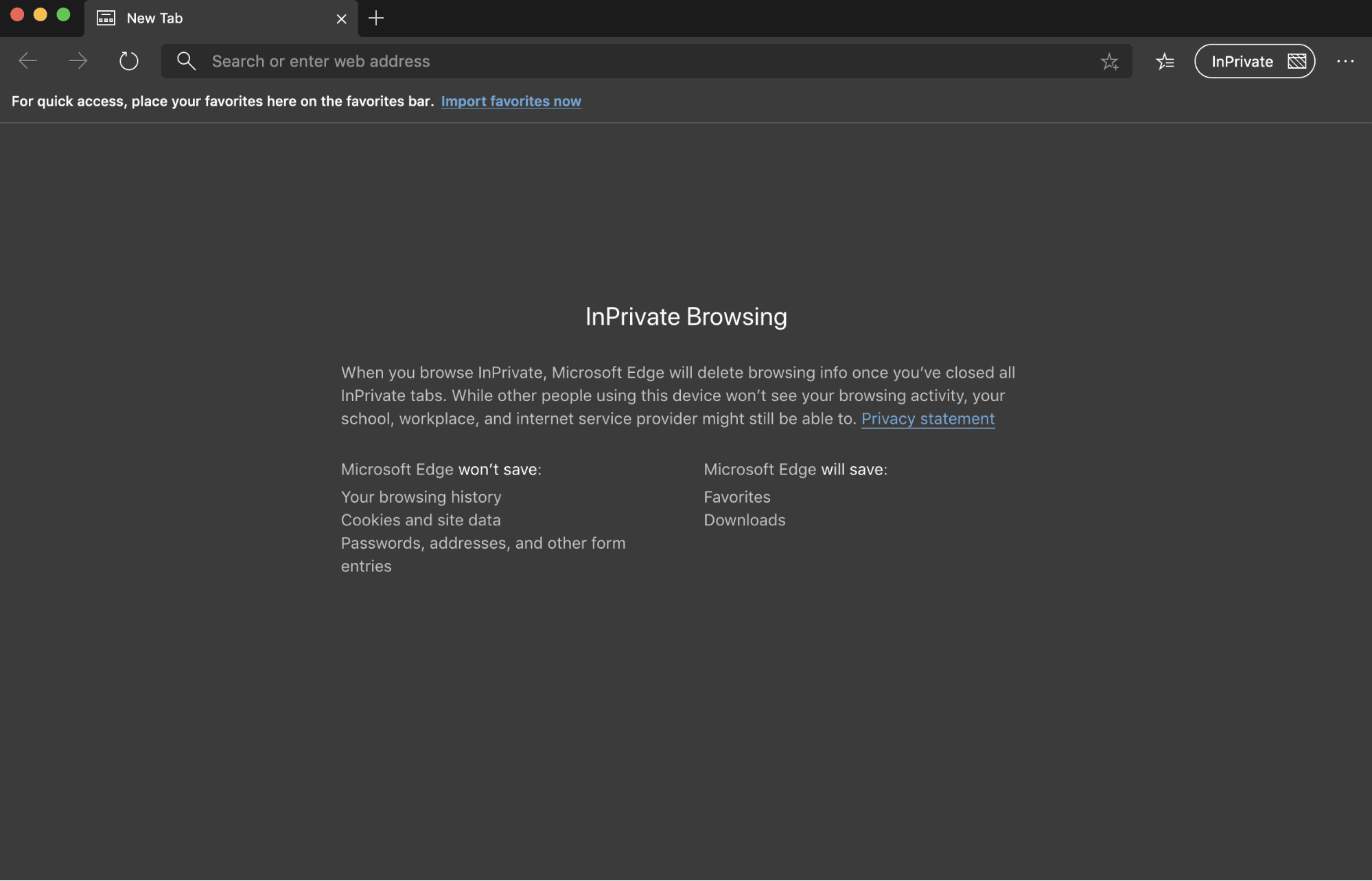 However, don't be misguided by the name and remember that InPrivate browsing does not provide truly private browsing in the full sense of the word.
Your real IP still remains visible to the websites you visit, your ISP and network admins can see your search history, and if you surf the web on unsecured networks, your internet traffic with all your sensitive data can easily be intercepted by hackers. This is where a reliable VPN like KeepSolid VPN Unlimited comes in to save the day.
Why use VPN extension for Microsoft Edge
VPN Unlimited extension conceals your real IP address and performs bullet-proof encryption of your browser's traffic. As a result, you can enjoy a number of benefits:
Your browsing gets really anonymous both to ISP and any third parties.
All your sensitive data stays reliably protected on unsecured WiFi networks.
You get access to geo-blocked content when surfing the web on Microsoft Edge.
So whether you want to browse safely in a cafe, unblock websites, watch US Hulu or other streaming services abroad, or just go anonymous online, a VPN extension for Edge is your best bet!
VPN Unlimited for Microsoft Edge: how to get started
KeepSolid VPN Unlimited is already available in Microsoft Store. To get it from the store, just click this link and follow the standard procedure of adding an extension to Microsoft Edge.
If you can't install VPN Unlimited from Microsoft Store for some reason, no worries! Check out our guide on how to add VPN Unlimited extension to Microsoft Edge from Chrome Web Store or our website. Edge lets you enjoy the entire catalog of Chrome extensions, all due to the fact that it's based on the same engine that powers Google Chrome. Getting KeepSolid VPN Unlimited from Chrome Store involves some extra steps, we've covered them all in our guide.
Suppose you've added VPN Unlimited to Microsoft Edge, here's what to do next:
Click on KeepSolid VPN Unlimited icon.
Sign in or click Create KeepSolid ID to sign up.
Press the round Start button in the middle:

Wait till the connection is established and enjoy truly private and secure browsing on your Microsoft Edge!
Bottom line
Microsoft strategy of embracing open source and giving up its proprietary browser engine produced a completely new revamped Microsoft Edge browser. Want to opt for the new browsing experience? Make sure your web surfing is absolutely private, secure, and unrestricted with KeepSolid VPN Unlimited extension for Edge!