P2P file sharing service – a helping hand or an obstacle race?
Updated on July 13, 2021: From now on, traffic filtering, malware protection, and suspicious DNS activity blocking are available as a part of the separate DNS Firewall app.
Peer-to-peer (P2P) file sharing is an integral part of everyday web activity for millions of people today. This is a technology that allows to share and access required files easier and faster. However, it does not hold for the copyright videos and audios. In this regard, many governments impose strong restrictions on using such files. Hence, even legal content, including entertaining and educational, is falling within the scope of these principles. Moreover, P2P networks are simply banned in a number of countries.
Virtual Private Network is the most secure method to bypass unwanted restrictions and unblock P2P file sharing networks without disclosing identities. Let's look closer on what P2P network is, and what you may face when using this service without being anonymous.
Is P2P network secure?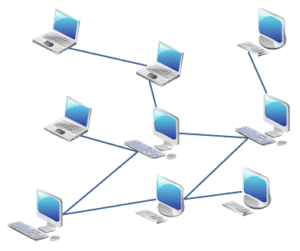 P2P file sharing network is a distribution and sharing source of digital media such as music, movies, television series, games, and books. In this process each participant is a client and a supplier at the same time. Thus, you may act as a server that, in turn, means that you become more vulnerable to cyber attacks. As there is no privacy in data shared over peer-to-peer networks, this may be an access point for adversaries to simply break into your device and reach your non-shared valuable information.
When using P2P networks, your device can be infected with different types of malware that can lead to your private data change or loss, as well as your personal files can be used against you.
Restrictions, limits and penalties
Without a dispute, P2P file sharing network is one of the best sources to get or share required files. But, there's the rub. In order to prevent court proceedings and penalties, you need to have a close look at laws and restrictions on using copyright-protected works in each country you are going to experience a file sharing service.
For example, in Germany copyright infringement will cost you $200, however, in Canada this penalty is estimated at $5,000. In some countries, this question can become even a subject of court cases. If you use copyright files without permission in the UK, you can be imprisoned up to 10 years with an unlimited fine.
VPN Unlimited is an end-all answer
From the above we can summarize that there are two main issues regarding P2P networks. The first one is that there are lots of restrictions to download legal files around the globe. The other is of no less importance issue – file sharing may carry a threat to your private data or even your identity.
We offer one of the best VPN solutions on the market – VPN Unlimited – that will protect you from hacking attacks, and will help you to bypass barriers to the files you need, however only those that is not protected by the copyright law.
VPN Unlimited offers solid servers in France and Romania for P2P file sharing. Our service provides you with high speed and unlimited bandwidth. It uses a military-level 256-bit encryption, therefore, be assured that all of your sensitive information will be safe and hidden from the prying eyes.
This all together allows you to easily and securely perform any Internet activity you wish to keep private, like downloading, sharing, browsing, etc. Get a taste of freedom, free from the web restrictions, malwares, and digital surveillance with our VPN Unlimited app.