What Would Happen if You Were Selling VPN in China?

Updated on July 13, 2021: From now on, traffic filtering, malware protection, and suspicious DNS activity blocking are available as a part of the separate DNS Firewall app.
In December 2017, Chinese news put the world on fire: Wu Xiangyang is sentenced to 5.5 years in prison for selling unlicensed VPN services. This is the strictest VPN-related punishment ever imposed. The news caused panic in China, and today we'd like to reach a deeper understanding of this story: timeline, background, and how this will affect those who live in or travel to China.
Long story short

It all began when Wu Xiangyang created his own VPN service, called TeeVPN. At first, he used it only for his own needs, but after a while, the man decided to monetize his hobby. The public launch of the app took place in 2013. Unfortunately for Wu, he hasn't licensed TeeVPN, which, according to the Great Chinese Firewall rules, is absolutely illegal.
Moreover, he didn't keep mum. Wu offered his application on his own website, on a popular shopping site Taobao, and via social media. In 2014, on his Twitter account Mr Xiangyang even announced the number of TeeVPN users, including at least 8,000 foreigners and 5,000 Chinese small businesses.
Throughout the time TeeVPN worked, Wu's profit reached about ¥500,000 (more than $75,000), according to the state-run publication. But his actions didn't go unnoticed by the government, and in June, 2017, police apprehended him and launched the investigation. 6 months pass and China's Supreme Court holds that Wu Xiangyang is sentenced to 5.5 years in prison and a fine of $75,000, the amount he'd earned during his illegal enterprise.
Great Firewall of China
We cursorily discussed this topic in our article about world VPN blockades. However, to truly understand this story we should answer two fundamental questions: what is the Great Firewall? and how did Wu manage to not be detained for 4 years? First things first, the Great Firewall is a Chinese combination of legislative actions and technologies. It is basically a filtering system for international internet traffic.
The result of the Great Firewall's introduction is disagreeable – Chinese users can't access a lot of foreign websites which Chinese government considers inappropriate or harmful for their political regime. The filtration is done by a keywords blocklist and generally targets websites that criticize Chinese authorities, advocate liberty of speech, or contain porn. For instance, in China you won't access such popular websites as The New York Times, Facebook, YouTube, Twitter, and lots of Google web services. That is, without a VPN app.
So why was TeeVPN able to work for 4 years? The reason is that an official ban of unlicensed VPN applications came into force only in January, 2017. Although Wu was given 5 months to license his server, he refused to cooperate and, as a result, he paid with his freedom. This is how China cyber sovereignty works today.
Trips to China
Fortunately for travelers, such strict punishments are mostly directed against VPN service providers that monetize this business. If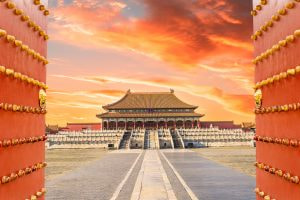 you don't want to lose access to your favorite social networks and business accounts while travelling to China, you still can use a virtual private network. There are only two points to consider:
You should take care of everything and download the app before you enter the airport. In China you just won't be able to do it.
Since the main purpose of a VPN is to conceal your IP and protect your data, only paid applications can afford it by using high-end protocols and encryptions. So when choosing your VPN application, you should only turn attention to paid ones. Otherwise you risk to stumble upon a free VPN that doesn't do what it is supposed to, or sells your data to third parties.
Considering the aforementioned, VPN Unlimited is going to be a great choice. It offers a robust set of functions to you for a moderate price. For instance, Kill Switch technology ensures that if your VPN connection is interrupted for any reason, your internet connection will be automatically disabled, too, till you can connect to VPN servers again. This protects your real IP address from getting revealed because as a result of a lag or VPN servers going down.
What's more, our app provides you with KeepSolid Wise technology, which masks your VPN traffic and makes it look like an innocent common one. As a result, your VPN connection will be too difficult to detect and throttle and the government will most likely just not take over this case. That's why VPN Unlimited can guarantee you a reliable connection and uncompromised anonymity which won't let you down.
Download VPN Unlimited and enjoy the best online experience even behind the Great Firewall.