Top security tips for this holiday season
Updated on July 13, 2021: From now on, traffic filtering, malware protection, and suspicious DNS activity blocking are available as a part of the separate DNS Firewall app.
2015 shares its final days with us, though the best ones. It is the time for family dinners and gifts, for making wishes and their magic fulfilment, and of course for travelling.
In a pre-holiday fuss, there is no time to worry about cyber criminals with their malicious attacks. However, this rash and indeliberate attitude to this issue may cause negative consequences – your online activity, including network traffic, personal data, IP address, etc., might become an easy target for adversaries.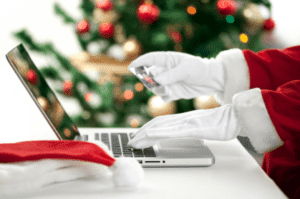 In the run-up to this long-awaited Christmas time, our team would like to sum up the most relevant tips, advising how to protect your devices and data over the holidays.
It's shopping time!
The holiday shopping season is in full swing now. This is a time of numerous eye-catching deals and special sales across the web. However, this season is also attractive for hackers, as now they have even more entry points to access your personal information.
To make sure you won't end up as a victim of identity theft, you can give up shopping online. It is hard to imagine in today's world, isn't it? Therefore, a better way to be happy with your online purchases and to keep your data safe is to have a prepaid credit or debit card that you use only for this purpose. Do not forget to check your accounts regularly as well.
It is also important to note that your password is the first line of defense against an unauthorized access to your personal information, hence, use strong and unique passwords for each online store you buy from. Include capitals, numbers and symbols to make a password even stronger.
Keep your devices up to date, including updates of the operating system and browsers. It is a significant step to strengthen your online security.
Greetings from 'acquaintances'
The holiday season is also a time when we send e-cards with greetings and wishes to our partners, customers, friends, and loved ones, using email or social networks. This is one more trap-door for cyber criminals, as, normally, we trust the content of these messages, and in 80% of cases we will follow links they contain. It is a quite imprudent step.
Attackers use this chance to get access to your system. They send a message with a link as if it was from a person you know. It looks safe, but, in fact, it is malicious. If you follow the link, that's it, they reached their goal, i. e. now they are able to record your screen, watch what you type, insert false records, and steal your personal information.
To protect your data from this type of fraud, do not follow the link before you check the received information with a sender through a different channel.
'Cozy' public Wi-Fi hotspots
If you are going to travel through the holidays, you'd better avoid connecting to open and public Wi-Fi hotspots, as most of such access points operate on insecure networks. Using such connections for web surfing, there is a risk to become a victim of 'evil twin' hackers or identity thieves.
Your personal data is now vulnerable to the attacks. Passwords, social network communications, email correspondence, credit card details are on the open access for adversaries. They can read all your traffic, and use it to commit a fraud.
If you don't have other alternative for open or public Wi-Fi networks, and there is a strong need to go on the Internet, you should follow some precautions. First, clean up your Wi-Fi history, by removing all saved access points. Also, limit some online activities, e. g. avoid using your financial information and checking email. But still, if you are connected to an insecure access point, there is no guaranty that your device and personal data will be completely protected from malicious attacks.
Backup before you lose a MG
If adversaries manage to get the access to your system, besides inserting false records, they can damage existing documents or files. As a result, you can lose data of high importance for you, like personal photos, financial records, works for business or education, etc.
Backup is a good idea to protect your personal information from being lost, especially when you are away on holidays. This option allows you to restore valuable information, in case your device is stolen or infected with a malware. Using cloud services, like iCloud, Dropbox, or Google Drive, you are able to set automatic backup on your devices on a daily basis.
Security experts recommend having more than one backup to be safe. As an option, you can use USB, an external hard drive, or a Time Machine for this purpose.
Nearly a panacea
Whether you are a frequent traveler, a freelancer, a businessman, or just a person, who wants to secure his valuable data, be sure that it is under strong protection with VPN Unlimited. Our service creates a tunnel between your device and one of the servers it has, therefore all the online activity travels through it. VPN Unlimited encrypts your network data before it leaves your smartphone, tablet, or computer. It hides all sensitive information, including your real IP address, from eavesdroppers and snoopers.
Connect to any Wi-Fi hotspot, surf the web safely, conduct online banking transactions, and shop online under protection of our VPN service.
To learn more about how to secure your devices and personal data while web surfing, click here.