Royal Flush, or How to Play the VPN-Nuts while Gambling Online

Updated on July 13, 2021: From now on, traffic filtering, malware protection, and suspicious DNS activity blocking are available as a part of the separate DNS Firewall app.
Casino, poker, sports betting – which associations do these words trigger within you head? Las Vegas is probably one of them. However, nowadays you don't have to go to Vegas in order to gamble, you only need an access to a computer and the internet. Since the opening of the first online casino in August of 1996, online gambling has become a rather big entertainment business. Unfortunately, the risk of losing your parlay is not the worst pitfall that you are likely to face while gambling online. Take a deep breath – it's showdown time.
Complete Hand
According to the Statista, the size of online gambling market is increasing by averagely $2 billion each year. By 2018 this business is expected to have reached $47,11 billion. As the American Gaming Association puts it, the reasons people give for gambling online are as follows (multiple answers were allowed):
48% – convenience

24% – fun

24% – comfort

9% – money

6% – anonymity
These statistics show us that dealers and hackers have a complete hand here. That's why feeling safe while gambling online is actually a wishful thinking. Just sitting at home in front of your laptop doesn't make you just a winner or a player, it also makes you an attractive target. Better keep your eyes peeled!
Dead hand
For players, the aforementioned stats mean that their accounts are in cyber criminals' crosshair. This may result in you getting a dead hand and losing your shirt. So, what crimes can be committed against you in the online gambling world?
On the one hand, fake websites are packed here like rabbits in a warren, waiting for you to share your private data. On the other, even if you choose well-trusted online gambling sources, they usually have a high level of identity verification. It seems to be innocent, but it isn't. Even certified online casinos can't guarantee the security of your data. That's why some form of an add-on protection for your data is a must-have. For if your account gets hacked, cyber criminals will steal all the sensitive data you entered there: bank account credentials, passwords, passport data, etc.
Fold
Lately, at the Poker Black Friday in the US, the government banned 4 of the most popular online-poker websites (PokerStars, FullTilt Poker, Absolute Poker, and UniBet Poker). This gave us all the reasons to be concerned about worldwide access to these and similar sources. As seen on the diagram below, the United States is the worst choice for online gamblers. The situation is not much better in such countries as Iran, France, Israel, etc. In contrast, Online Gambling Availability Score in Chili is 86,6%. As a consequence, lots of users who travel around the world can often find themselves without access to their favorite online gambling resource.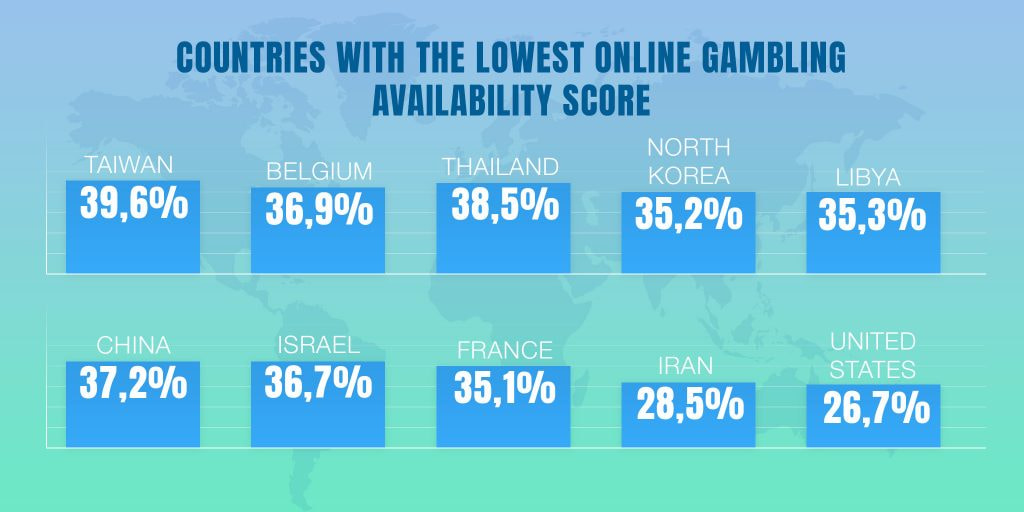 Let's say you are a Bulgarian Slotozilla player. During your vacation you travel to Portugal. Even if this service is not blocked there, you can't use your Bulgarian account outside of Bulgaria. The reason is that Slotozilla forbid players from entering the servers of countries different from your account's server. That's why staying in Portugal you'd have to enter through a Portuguese account. In order to have a Portuguese account, you have to be Portuguese and own relevant ID's. Starting to spot a hassle here? It goes without saying that completing all stages of the process is next to impossible. As a result, there's little options left for you other than folding till the end of the vacation. Unless you hold…
Royal Flush
How to avoid these drawbacks? Let's puzzle out. First of all, consider a geographical bluff for the fold case. All you have to do is pretend to still be in your native country, at least according to your IP address. How? You should use a well-trusted VPN service, such as VPN Unlimited. Our app has plenty of high-speed servers across 70+ locations all over the world, meaning no geoblocking can stop you.
Secondly, VPN Unlimited offers you a variety of VPN protocols, each with its unique advantages. For instance, IKEv2 is completely secure and was created to conceal your data from hackers. Additionally, we offer you KeepSolid Wise technology which masks and protects your VPN traffic from being detected and throttled. As a result, you will be perfectly protected from all cyber criminals, since they will not be able to decode your data. Holding this Royal Flush combination, you are ready to play the nuts.
Place your bet on VPN Unlimited and win the security of your data and a reliable access to your favorite online gambling resources from around the world.