VPN Unlimited Just Got Better: Release of Version 3.0
Updated on July 13, 2021: From now on, traffic filtering, malware protection, and suspicious DNS activity blocking are available as a part of the separate DNS Firewall app.
Today Simplex Solutions Inc. has great gift for our over-a-million users' global audience. Willing to contribute to your online security in the beginning of the year 2015, and make it as much safe as possible, our team announces a release of VPN Unlimited version 3.0. The new 3.0 version has a differentiated user-friendly design, special easy-to-access UI features and added new options. Now, surfing the Internet and keeping your online privacy is easier than ever. Be among the first to purchase a 3-year subscription, and receive the ultimate Infinity Deal for a lifetime security. Hurry up, its only for 2 days!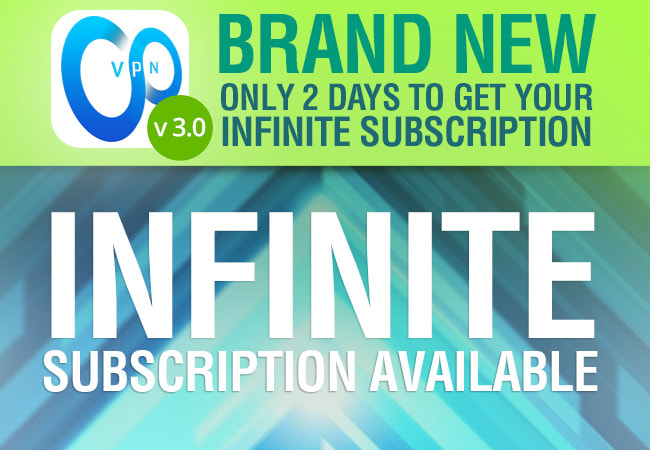 Why Choose VPN Unlimited?
Our VPN service, the most profound way of Internet security, uses several encryption methods simultaneously for the best online protection, especially Wi-Fi. In just one year, VPN Unlimited became widely known and used service worldwide. As the client audience continues to grow, soon enough we will reach 1.5 million customers. The success of our secure service is in offering high quality online safety for all Internet users anywhere in the world. Sustaining your online privacy is not a matter of personal choice, but a safety priority. The latest VPN app 3.0 version has a number of most needed online safety features and options, including the downloadable server list. Also, it supports the newest iOS 8 and Android 5.0, as well as other leading OS, such as Mac OS X, MS Windows and Linux.
Review VPN app 3.0 Features:
Featuring innovative brand new UI Design
Built for faster performance
Single VPN account can be used on up to 5 devices (desktop, laptop, tablet or smartphone)
Powered up by stronger encryption methods.
Compatible with the newest iOS 8 and Android 5.0 (Lollypop)
Increased protection through a wide range of global servers
Instant switch between server locations
Enhanced app stability with minor bug fixes
Cost-efficient pricing for unlimited VPN bandwidth
Accessible statistics per device
Advanced app stability for clients from China and Iran
A wide variety of VPN app localizations
And also, we are happy to announce the release of Portugal VPN app localization available today. Also, clients are more than welcome to use secure payment system – HyperCard, along with other popular online payment systems such as PayPal and Amazon. Other app localizations include German, Japanese, Chinese, Korean, Russian and Turkish.
If you wish us to add a new localization on your native language to use, please, write to our friendly Customer Support service and we promise to deliver the app to serve on the language of your choice.
VPN Unlimited 3.0 Fresh UI Design
From the first seconds you know where to tap. The new design, which is extremely appealing, is built to generate user's actions through intuitive interface, meaning you know what to do the moment you see it. Moving away from the complexity, we put the emphasis on the client-app interactivity and simplicity. The UI of VPN Unlimited has a required depth with easy access to necessary features. Taking into consideration the fact that the app works instantly, the renewed options contribute to easy-going and, most importantly, secure Internet connection with no restrictions on the bandwidth whatsoever.
With VPN Unlimited 3.0 You Can:
Get secure Internet access, especially Wi-Fi
Protect your privacy online and stay anonymous

Keep your surfing profile unreachable for target advertising

Process securely all the online payments
Exclude any chance of online surveillance
Multiple use of one VPN account on up to 5 devices
Get access to unlimited connection speed and bandwidth
Experience enhanced browsing search options
Prevent sites from writing info on your electronic device
Access territory-restricted content while traveling

Have a peace of mind
To download the newest VPN Unlimited 3.0 version, please go the App Store, Google Play or the official website, and get the best prices, including the one-in-a-lifetime Infinity Deal.