How to Avoid Tantrum-Inducing Situations while Watching Your Favorite Sports Channels

Updated on July 13, 2021: From now on, traffic filtering, malware protection, and suspicious DNS activity blocking are available as a part of the separate DNS Firewall app.
Hey, sport fans! What's up? You seem to be waiting for a special sports event, don't you? Every season holds lots of exciting and intriguing competitions in such popular kinds of sports as American football, baseball, basketball, tennis, soccer, wrestling, motor racing, and many others. Oh, what a wonderful time millions of sport fans spend every weekend, sitting in front of their device's screen and watching plays of their favorite teams with a glass of beer. It looks like nothing can stop them from enjoying this time. Or can something?
Watching sports events, buffs can get rather emotional and quick-tempered. Which is understandable, no one will keep quiet when his cult-figures absurdly mess up or a referee is too nice to opponents. However, today we will learn how to avoid another kind of red cards, one that depends not on players but on us. By this we mean the most frustrating situations which are likely to happen to you. Let's figure out how to prevent them together!
The most annoying things
We analyzed the most common irritating things which you may face while enjoying sports and found useful solutions on how to avoid them. As a tidbit we added to it some extraordinary stories about sports and their fans.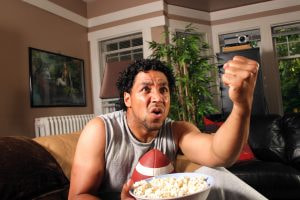 Geo-restriction. In 1986, 52-year-old Pedro Gatica, a big fan of the Argentina national soccer team, wanted to go from Argentina to Mexico for the World Cup. Even though the man didn't have enough money to buy train tickets, he had a monumental desire to visitthe event. That's why Pedro decided to take such a desperate measure as to cycle there, imagine that. As the final flourish, when he arrived in Mexico and was trying to find a ticket for the game, somebody stole his bike. What could Pedro do if this situation happened nowadays? Keep reading and you'll find out.
Let's go back to present day. Imagine the horrible moment when a long-awaited event is about to begin and you realize that your favorite channel doesn't broadcast it. You are nervously looking for any other services, but to no avail. The only thing you see is Error Code: INVALID_GEO_IP or something like that. Enraged and sad, you know that you won't watch the match today. Not the case if you have KeepSolid VPN Unlimited, which helps you unblock ESPN+ and other sporting channels.
Awful quality video. Do you know the story about the loudest crowd roar? Kansas City Chiefs fans reached a 142.2 dB sound level in December 24, 2014. This record-breaking roar could be heard for 8 seconds remaining in the first quarter when the Chiefs were beating the New England Patriots 41-14. Obviously, with such a sound support Kansas City won the competition! And Guinness World Records registered this historical sound level, too.
Here goes the second of the sport fans' biggest nightmares. Even if you find some unofficial streaming website to avoid geo-blocking, there's a good chance you'll be watching the competition in a bad quality. Just imagine, video playback is lagging, and you hear the words of a shoutcaster before you see the picture, thus knowing the results in advance. The video image is so poor that you can't understand if there was a foul or not. It can even be in a foreign language which you don't know. Yecch! All these issues undoubtedly spoil the pleasure of the match. If you watched that Kansas City game in such a quality, you wouldn't understand anything and you would actually miss that historical moment.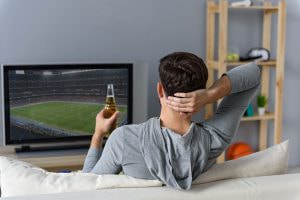 Solutions. For both of the aforementioned issues, the best answer would be using official sport streaming channels, listed in the previous article, coupled with a virtual private network, such as VPN Unlimited. Only disguising your real IP as a permitted one can save your day and grant you access to any and all geo-restricted games. Nowadays pedros don't have to cycle to Mexico, they only need to get a VPN Unlimited subscription. Especially seeing its price – much less than a ticket to the game.
Also, official streaming channels provide the best quality video but depend on your bandwidth. A personal server option is a solution here. By using a non-shared server but your personal one, you are guaranteed to get the most possible connection speed. Now you won't share the traffic with anybody and, as a result, you will get the optimal performance with the best official channels. You won't miss any historical moments now.
To sum up, we hope that with all this knowledge, nothing will be able to kill the viewing of the favorite events for you. The true sports fans should be able to watch any matches they want and they deserve the best video quality. Download VPN Unlimited and forget about distractions while watching your favorite sports channels.