YouTube TV or Cable TV or Other TV Streaming Services?

Updated on July 13, 2021: From now on, traffic filtering, malware protection, and suspicious DNS activity blocking are available as a part of the separate DNS Firewall app.
Cord cutters of the US have received some serious reinforcements over the past few years. Now, YouTube decided to try their hand in TV streaming as well with their brand new service YouTube TV. They have launched it some 4 months ago and the service proved to be quite interesting. Unfortunately, it was only available in a few regions at the start.
On August 17, YouTube announced a major increase in coverage. YouTube TV is expected to soon be available in as much as 30 new regions in the US. On this occasion, we decided to tell you more about this service and help you determine whether you should be excited about it or not.
What is YouTube TV?
In short, it's a service with TV channels to watch instead of specific movies and shows. It provides over 50 popular channels to choose from: NBC, ABC, ESPN, CSN, CBS, FOX, FX, Disney, E!, USA, National Geographic, CNBC, and promises to add more. You pay a monthly fee and take your favorite channels with you wherever you go.
Well, kind of wherever, because even after the announced update goes live, YouTube TV will only be available in some 50 percent of the US. On the other hand, let's not forget YouTube has over a billion users in 80+ countries. We'll be surprised if they don't plan on massively expanding abroad in the near future.
It also provides quite a neat user experience. You can choose from a list of channels or shows and start watching on your phone. Or you can stream them to your TV, in this case the phone becomes a controller. If you add a show to favorites, it automatically records to cloud DVR, so that you can watch it later or rewind it to a particular moment. YouTube TV also pays attention to sports lovers. It's possible to select favorite leagues and teams and the app will monitor for their recent matches and will save them on your DVR.
Some figures
Now, let's match YouTube TV and its major competitors and see how it bears the comparison.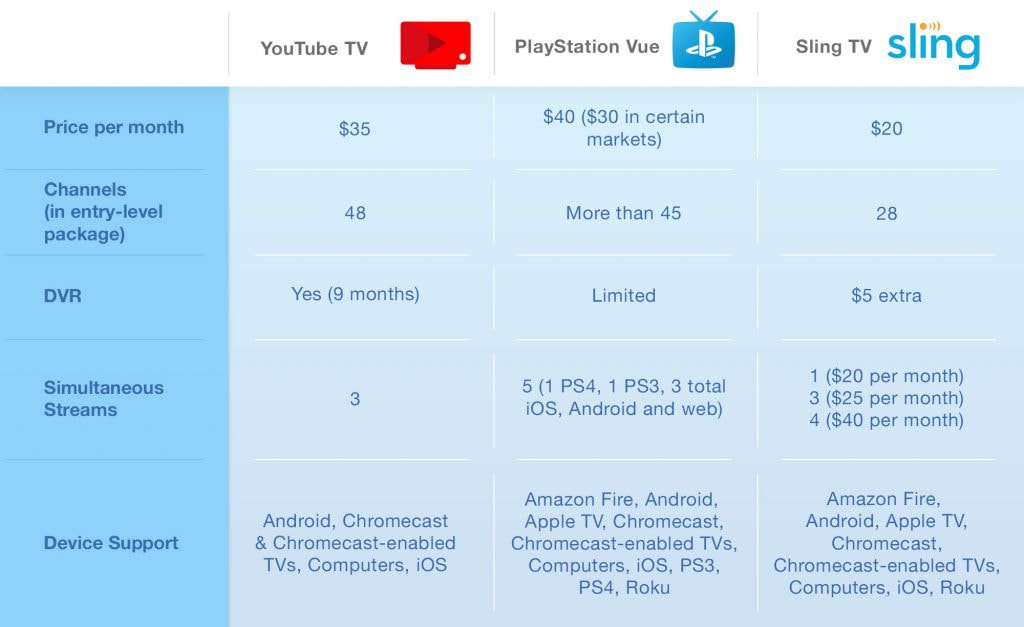 As you can see, YouTube TV is about in the upper side of the price range. It offers more channels, and its DVR saves information for 9 months, which is significantly longer than the competitors' 1-month offers. However, it is somewhat restricted by its range of supported devices and aforementioned geo-availability.
Summing up
So, should you choose YouTube TV over its competitors and over cable? Well, at this point it's difficult to say. On one hand, it certainly has great potential and a big name supporting it. On the other hand, there are certain drawbacks (temporary, hopefully) like extremely limited availability, uncertainty about the final choice of channels, and possible performance issues.
In our opinion, if you live in the regions where YouTube TV is available and were planning to cut the cord, this new service is worth a shot. Especially seeing how there is no cancellation fee or anything else to stop you from quitting, and it offers a free trial. However, if you live elsewhere or are fine with the cable or some other service you use, so far there is not much reason to be excited about YouTube TV. Especially inasmuch as there is another service by the same company available, YouTube Red, with somewhat overlapping features.
Luckily, numerous cable channels (like ABC) are present on usual YouTube, and broadcast some of their shows there. So, if you want to have access to a specific channel or a show, it would be a smart idea to first search for them on usual YouTube before heading to YouTube TV. And there is a great benefit to this approach – while YouTube videos can still be restricted by location, this block is easy to bypass using VPN Unlimited. If that's your case, you should definitely give it a try, there's a 7 day free trial for this service.
So, do you prefer cable or TV streaming services? Are you interested about YouTube TV or have already tried it out? Let us know in the comments below!