OpenVPN® configuration guide for all major platforms
OpenVPN® is one of the most popular protocols to establish a VPN connection thanks to its connection speed, performance, and security qualities.
More information about OpenVPN® features you can find in the article What is OpenVPN® protocol?
This guide will walk you through the OpenVPN® setup on Mac and will answer such questions as How to configure OpenVPN® on Mac? Where to generate .ovpn files? What is TunnelBlick and why do you need it? So let's start!
How to Configure OpenVPN® on Mac
I. Generate OpenVPN® configuration files
First of all, you need to create the OpenVPN® configuration files, also known as .ovpn files:
Go to your User Office and log in with your KeepSolid ID.
Find the VPN Unlimited service and press Manage.
In the Manual Configurations section, select a device from the list or create another one.
Pick the desired location of a VPN server. VPN Unlimited provides more than 80 server locations, so you'll definitely find the one you need for your Mac.
In the Protocol field, choose the OpenVPN® option.
Click Generate and the relevant .ovpn file will be downloaded on your device.
For more detailed instructions on how to generate OpenVPN configuration files and other VPN protocol configurations, check out this guide.
Secure and anonymize your online life on Mac
Follow this guide to configure OpenVPN® and enjoy a private and protected online experience on your Mac.
II. Use .ovpn files to configure OpenVPN® on Mac
To set up OpenVPN® on Mac, you need TunnelBlick. TunnelBlick is a free, ready-to-use graphical user interface (GUI) for OpenVPN® on Mac. It allows you to easily control your OpenVPN connections.
1. So first of all, download the TunnelBlick app from the official website.
2. Run TunnelBlick and simply drag & drop the appropriate configuration files in the app.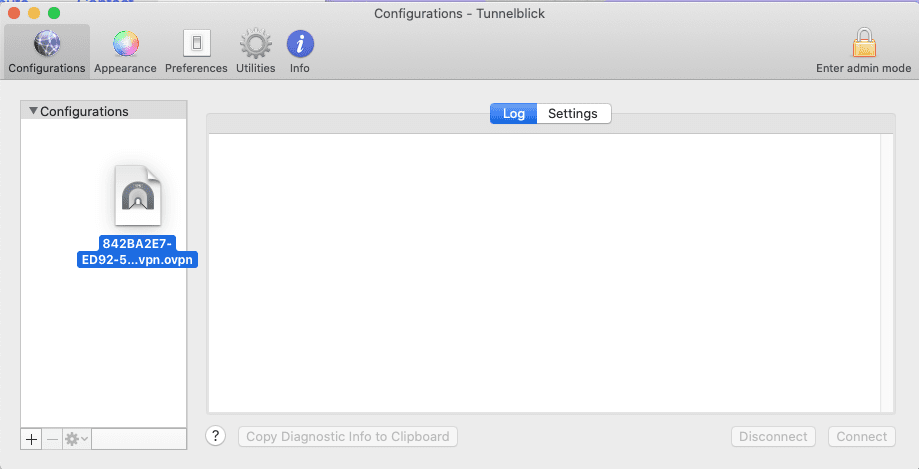 You can import as many files as you wish to be able to switch between VPN servers.
3. Select the appropriate server and click Connect.
That's it! Now you are connected to the VPN server via the OpenVPN® protocol.
Important: Please note that you will need to configure your device using the generated settings by yourself at your own risk.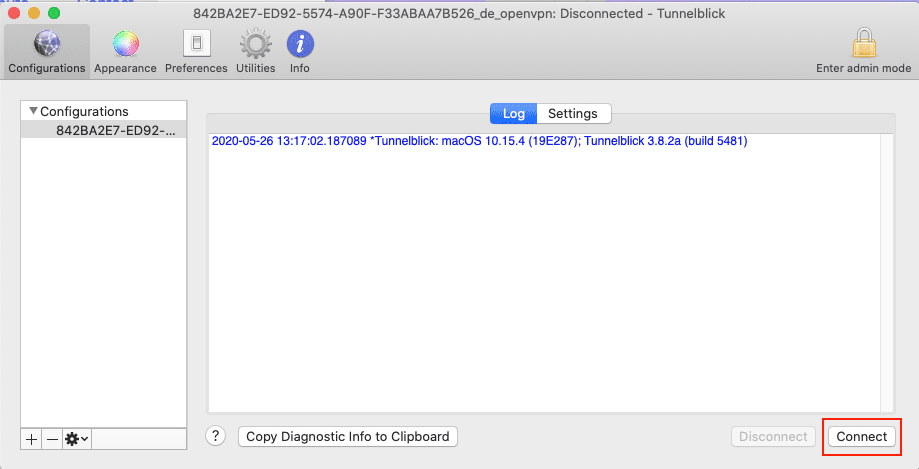 That's it! Now you are connected to the VPN server via the OpenVPN® protocol.
Important! Please note that you will need to configure your device using the generated settings by yourself at your own risk.
"OpenVPN" is a registered trademark of OpenVPN Inc.
Benefits of VPN Unlimited for macOS

Complete privacy
KeepSolid's Virtual Private Network solution for Mac eliminates the possibility of unauthorized parties reading your data, including sensitive and private information. As a result, you can transfer any type of data over the internet without fear.

VPN servers all around the globe
VPN Unlimited offers 3000+ servers in over 80 different locations across the world. This means you can always select the virtual server that best meets your requirements – whether you want just to go anonymous or unblock YouTube on your Mac. Don't know which virtual server you need? Use the Optimal server option. When it's on, our VPN will automatically select the optimal server for you.
Access to the most popular streaming services
VPN Unlimited for Mac allows you to access Disney+, BBC iPlayer, Hulu, Sony Crackle, and other popular streaming services from anywhere in the world. Not to mention unblocking other geo-restricted and prohibited websites and services. Configure OpenVPN on Mac and enjoy absolute online freedom!

5/10 devices per 1 account
You may protect up to 5/10 different devices (depending on your VPN plan) with a single subscription, including macOS, iOS, Android, Windows, Linux, as well as use VPN Unlimited browser extension. You can also extend this number to as many devices as you wish.
Why Choose VPN Unlimited for macOS
Protect your personal information with the bullet-proof AES-256 encryption algorithm.

Secure your internet connection and data when using unprotected public WiFi networks.

Circumvent online restrictions and internet censorship, unblock websites, and avoid VPN blocks.

Enjoy absolute internet freedom on your Mac.

Unique Lifetime VPN Subscription.

Get the quickest possible connection speed when streaming videos.

Easily configure OpenVPN or other VPN protocols on Mac.

Torrent safely and anonymously without jeopardizing your privacy.

Level up your anonymous and secure online experience on Mac with extra features like Personal IP and Personal VPN Server.
FAQ about OpenVPN® on Mac
Does OpenVPN work on Mac?
Where can I find OpenVPN® configuration files for Mac?
Why do I need TunnelBlick to set up OpenVPN® on macOS?
Start using our secure VPN app right now
Risk-free 7-day trial + 30-day guaranteed refund = 37 days to check everything out!