How to Use VPN Unlimited on Android Devices
If you wonder What is Android VPN application, our team has an answer for you. VPN for Android, like VPN Unlimited, is a security solution that encrypts all the data on your device and doesn't let any unauthorized party track your online activity. Such an app helps you to bypass any geo-restrictions, safely download torrents, and access the most popular video streaming sites.
Our team has prepared for you a detailed manual to answer all your whats and whys. This Android VPN tutorial introduces you a step-by-step guide on how to use VPN Unlimited on your device.
Note: DNS Firewall which was previously a built-in security feature of VPN Unlimited, is now available as a separate product. It blocks malware as you surf the web and makes you even more protected online. Learn more on this site.
1. Main Screen of VPN Unlimited for Android
Our tutorial on how to use our VPN for Android shall start off with the main screen. Tapping on the Start button below the map you can establish connection to a VPN server.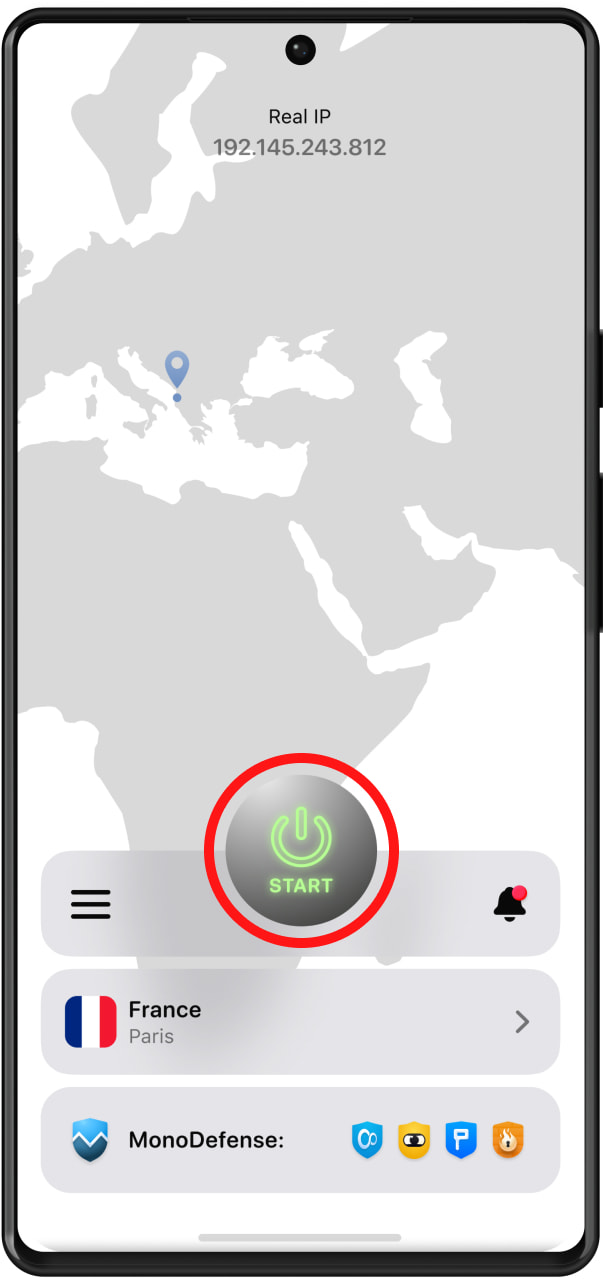 You can also connect to a server just by selecting it on the map and tapping on the power button.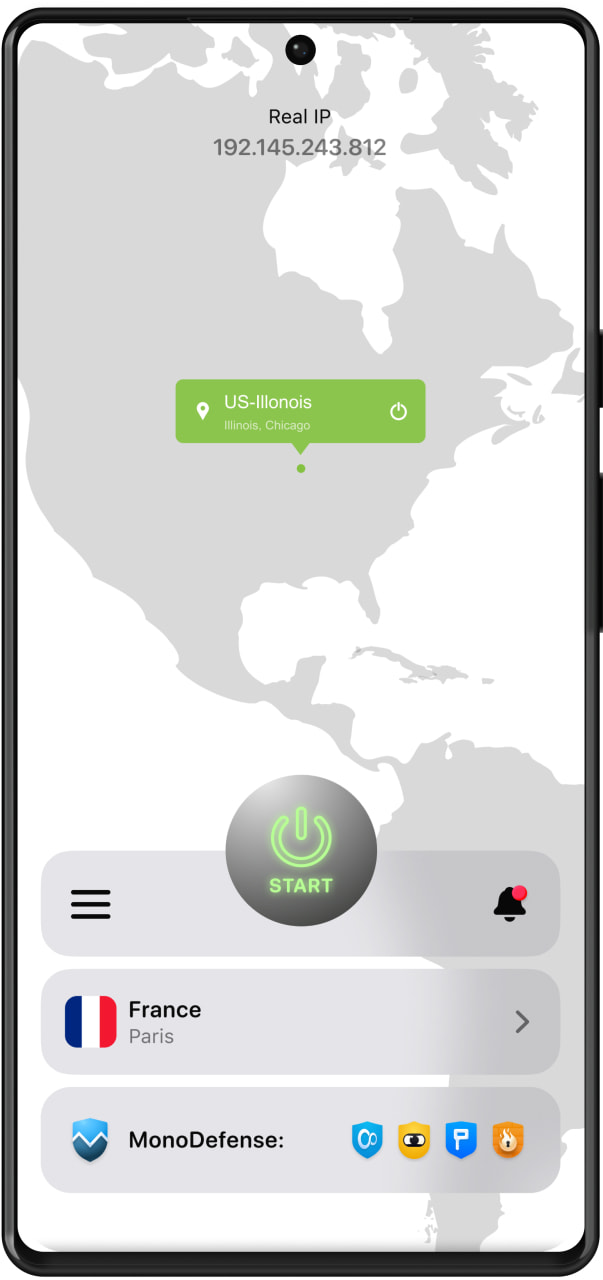 On the main screen can view your real IP, or if you're already connected to a VPN server, your virtual IP address. The blue and green dots on the map show your real and virtual IP locations correspondingly. To view the detailed information including your internet connection type, actual IP address, country, and city tap either on the dots or the Real IP / Virtual IP address button.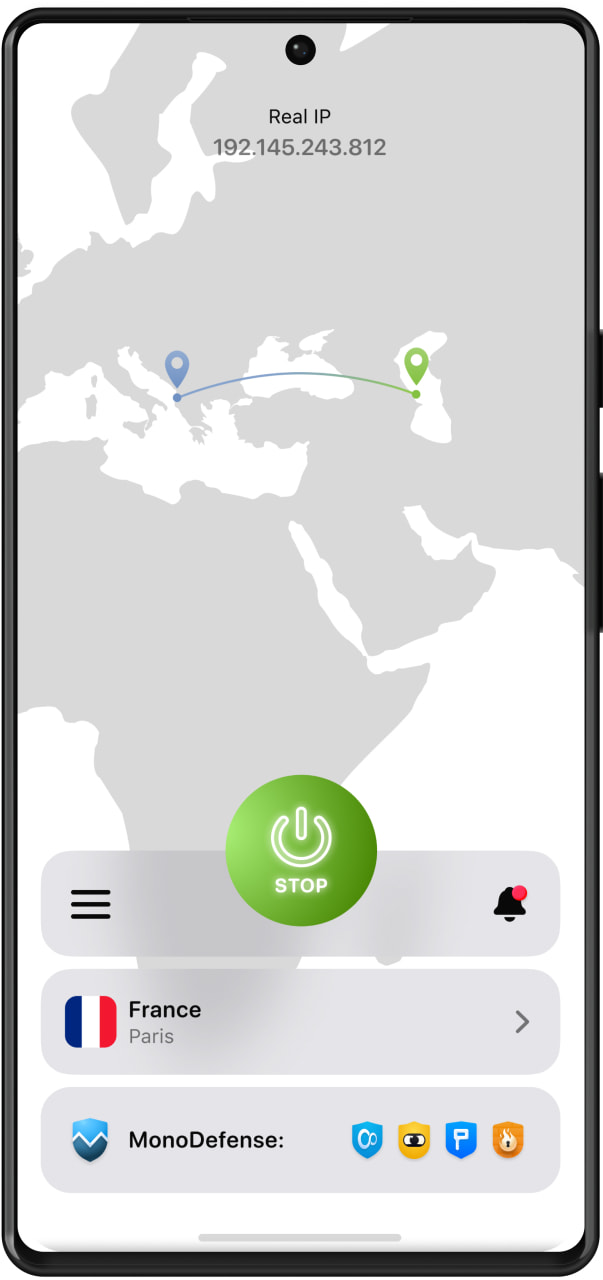 At the bottom of the main screen you can view the server you are connected to. You can tap on it and choose another one on the Locations screen of our VPN for Android.
The

icon of the main screen leads to the Notifications tab. Here you can check our latest deals and discounts. That's it! Now you know how to use our VPN for Android via the Main screen.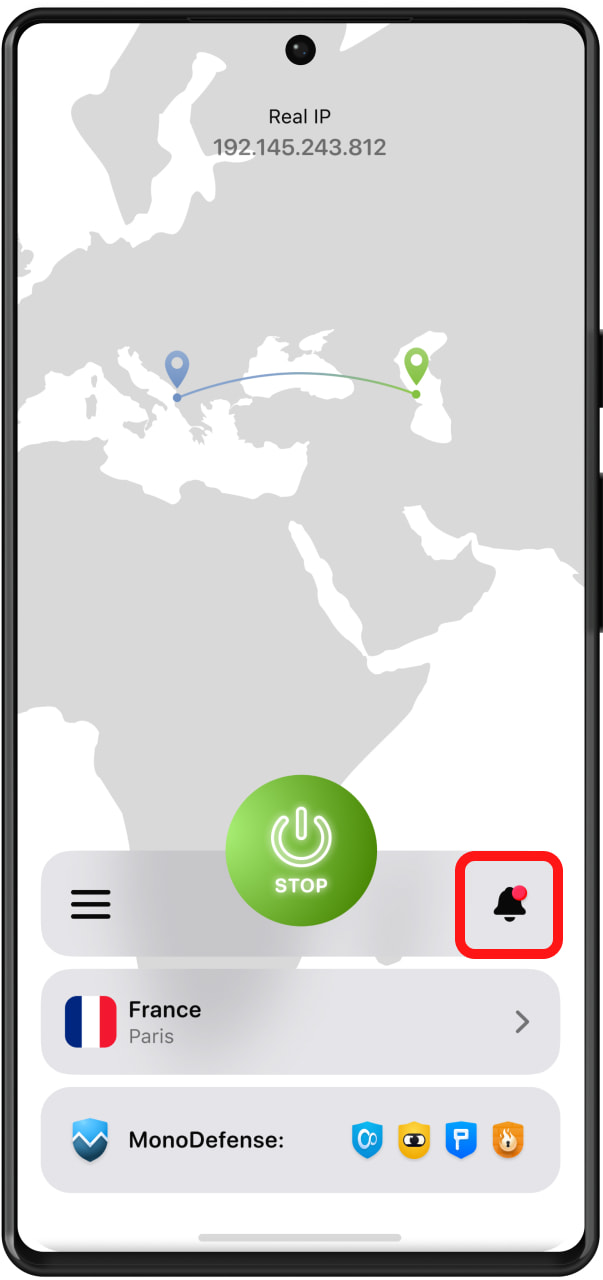 2. Locations Screen of VPN Unlimited for Android
The second part of our tutorial on how to use VPN for Android is as follows. At the Locations screen you can navigate to the following tabs:
1) Favorites: This is the list of your preferred VPN servers. Just click on the star icon next to the desired location to add a server to your Favorites. On top of the Favorites list you can see the Optimal server option. Enable it and it'll automatically select a VPN server that should provide you the best performance.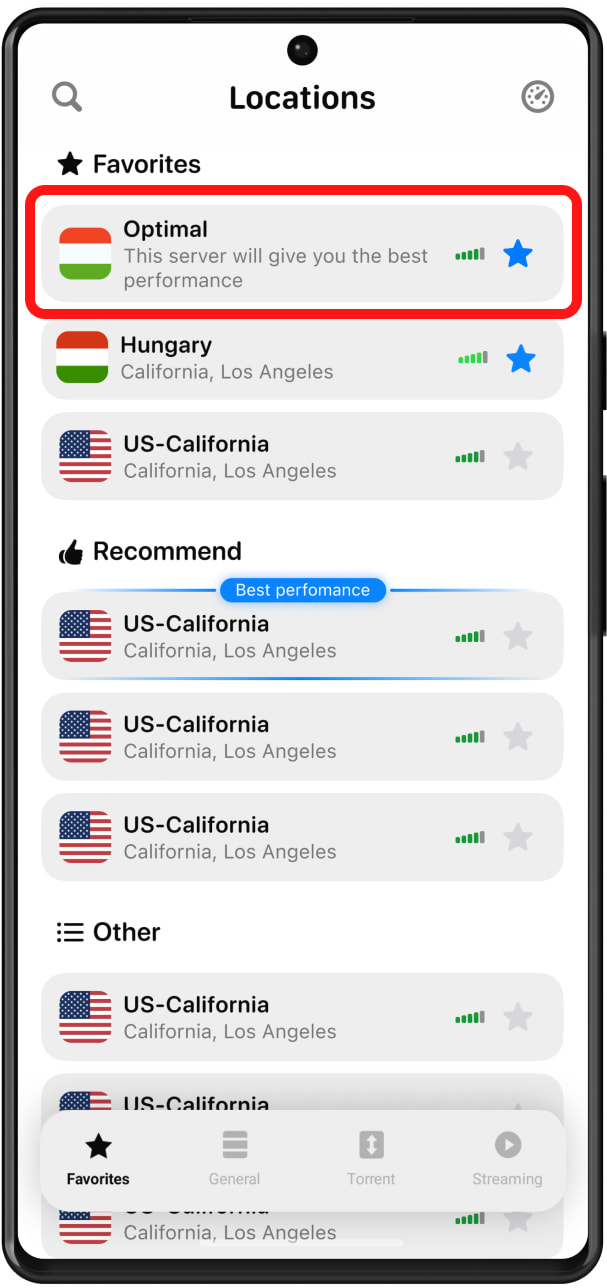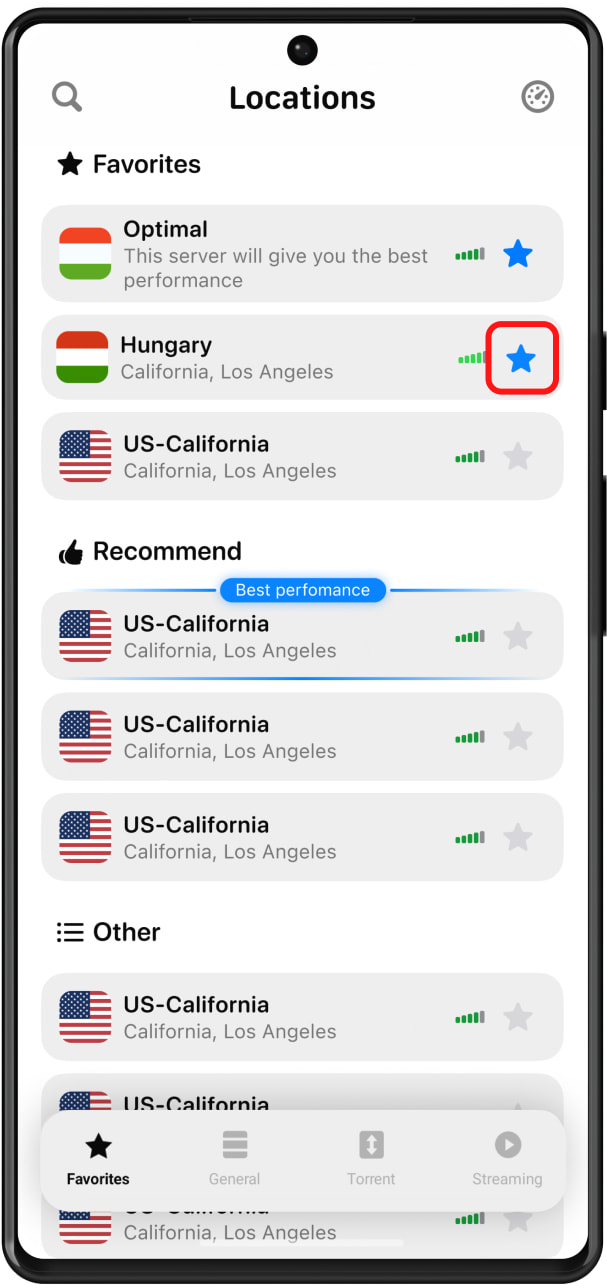 2) General: Here you have two options – view All or Recommended VPN server locations. The Recommended list includes the servers that will let you enjoy better performance. If you choose All, you'll be able to view the full list of VPN server locations, except streamings. Below each server you can see its current workload.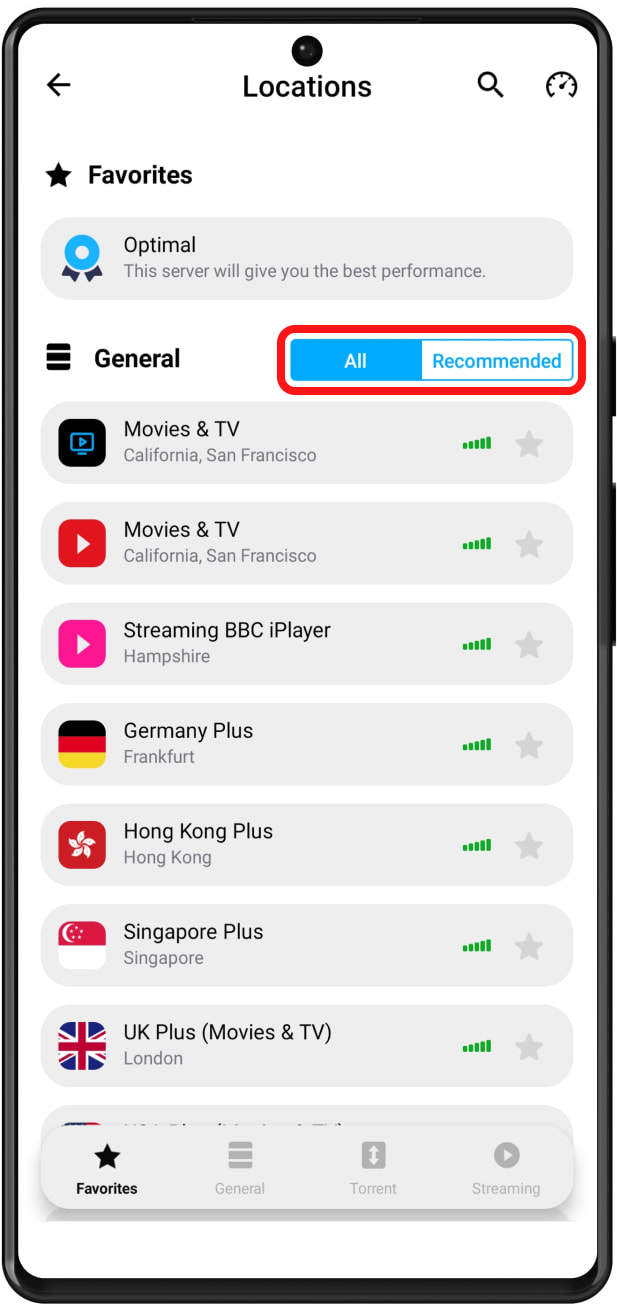 3) Torrent: All VPN servers that support P2P download are presented in this list. Connect to any of them and download torrents safely and completely anonymously. Find more info about how to download torrents on Android here.
4) Streaming: The VPN servers specially designed for streaming are here for you to enjoy your favorite videos. Get access to BBC iPlayer, Hulu, Disney Plus, ESPN+, and more wherever you are! The

icon in front of the streaming servers opens the website of the relevant service in your browser.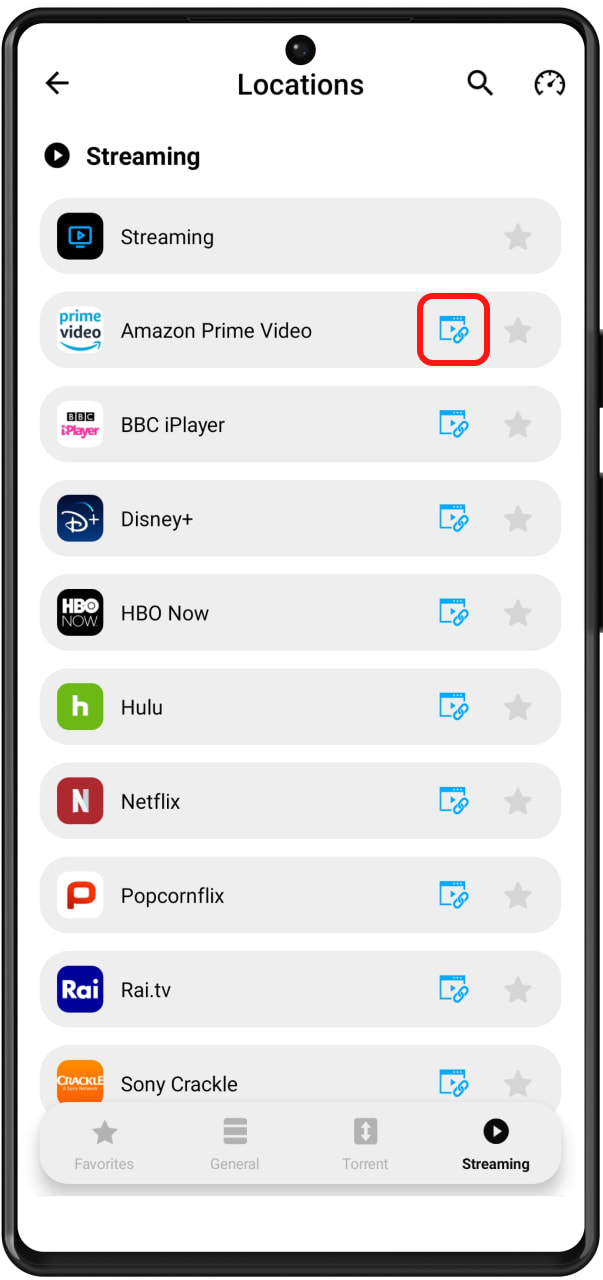 To find the desired server, type the required location in the Search field or scroll down the servers list.
Tapping on the

button in the top right corner you can run a Ping Test. The test estimates how long it takes for your device to transmit information to our VPN servers. With the ping test results, you can make a more informed choice of a VPN server. The lower ping value, the better your connection speed will be. Using our VPN Unlimited for Android you get only the best security features.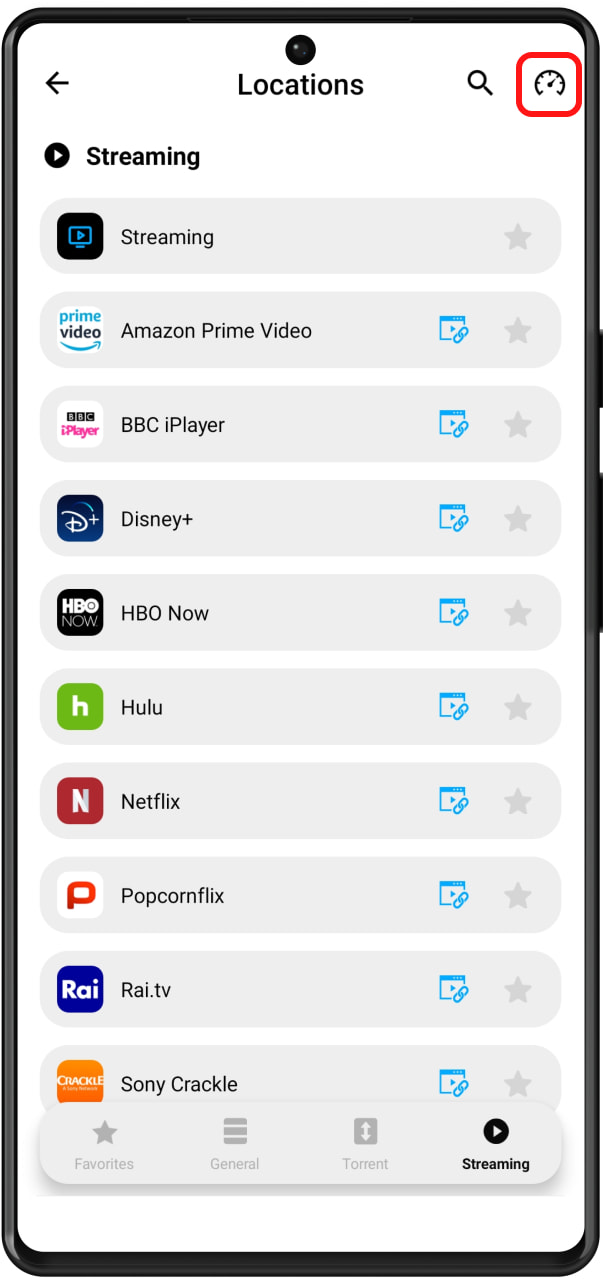 3. Menu Screen of VPN Unlimited for Android
The third part of our tutorial on how to use VPN for Android is about the Menu screen. The button

opens the app menu. It consists of 4 tabs: My account, Settings, Information, and Support.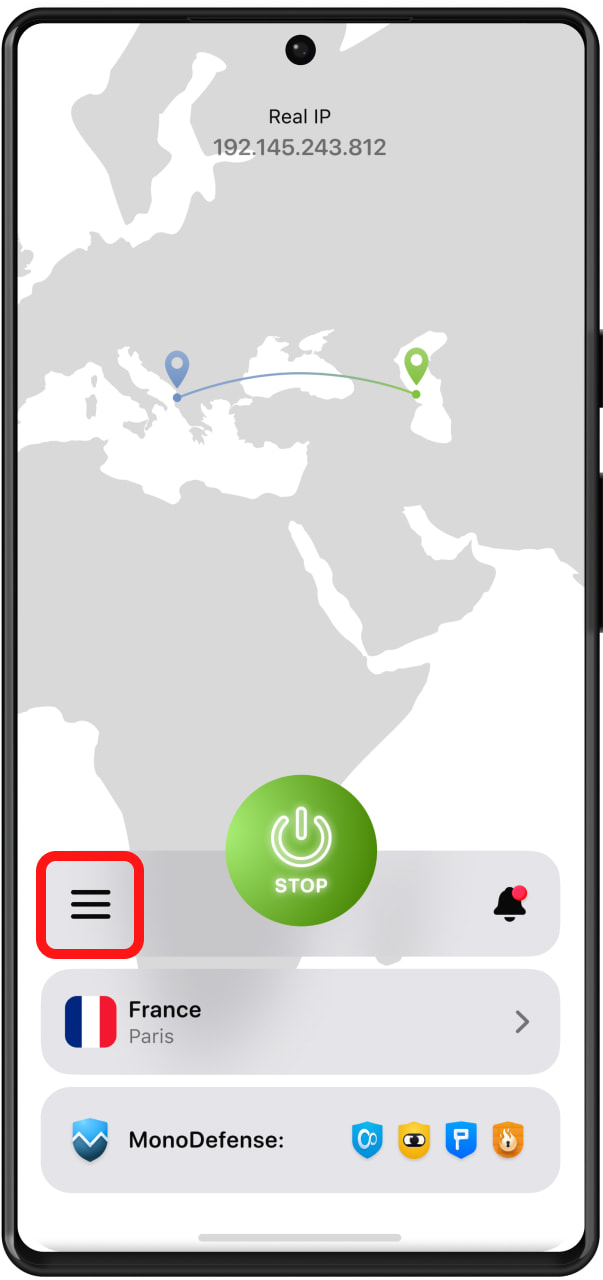 On My account tab you can find the following options:
1) Your KeepSolid ID information: the email address of your account and the remaining period of your subscription.
You can find more information about KeepSolid ID here.
To log out of your account, tap on the

button.
2) Purchases: Here you can view all available purchase options. They include VPN subscription plans, as well as Extras:
Personal VPN server
Personal IP
Additional slots for your devices
Extra services is an opportunity to bring your online experience to a totally new level. Check out our additional offers for advanced VPN protection here.
3) Redeem a code: Enter your code to activate the relevant subscription of our VPN for Android device.
4) Change Account Password: Just enter your current password, then type a new password, confirm it and tap Apply.
5) Password Protection: Get an additional layer of security using a password to launch the KeepSolid VPN Unlimited app.
6) We recommend: Tap on this button and see the list of top security and productivity solutions by KeepSolid. Be sure to check them out and use the opportunity to boost your efficiency and online protection.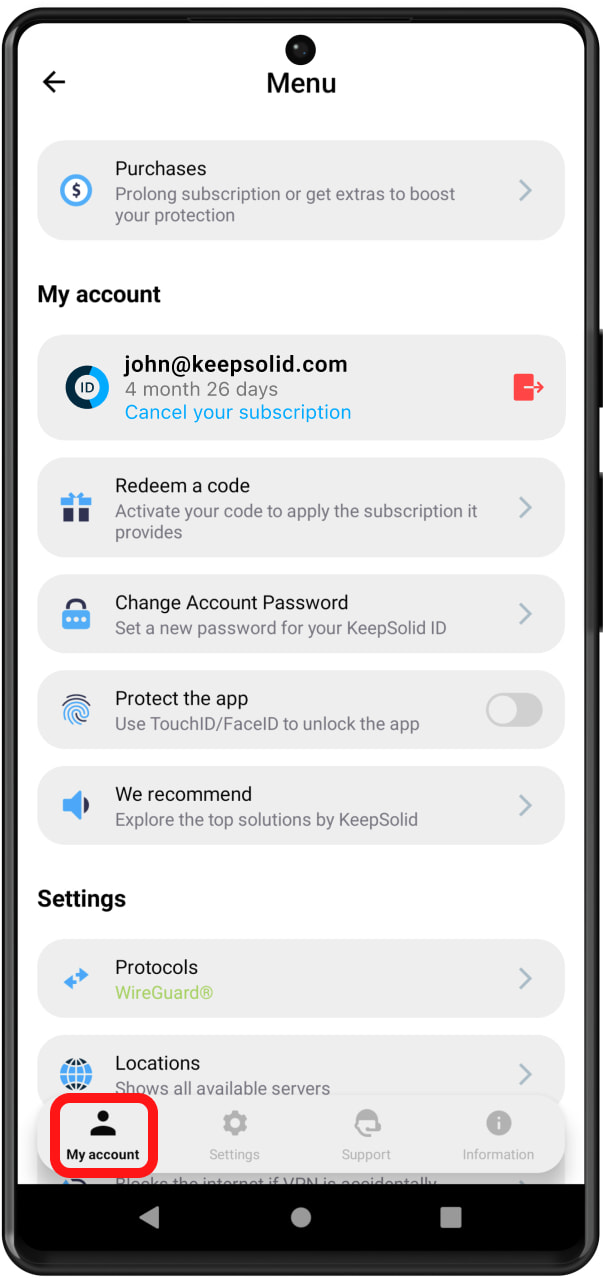 My account is followed by Settings tab, where you are provided the following options:
1) Protocols: Choose a protocol to connect to our VPN servers for Android, or enable the Optimal feature to let the system use the most suitable protocol for your current connection conditions.
2) Kill Switch: The feature blocks internet access in case of a sudden drop of VPN connection. Kill Switch is available for Android 8 Oreo and higher.
3) Autoconnect in WiFi: Enable it and VPN connection will be automatically reestablished in WiFi networks.
4) Trusted Networks: The feature allows you to add WiFi networks that you consider completely secure to trusted. In trusted networks VPN connection will be disabled automatically. You can find more information about how to use the Trusted Networks feature by following the link.
5) DNS Firewall: This solution performs web filtering and protects you from malware. To activate this solution, enable the toggle button and download the DNS Firewall application on Google Play by clicking Get. If you already have this app, click Open to configure DNS settings.
6) App Exceptions: If you don't want the traffic of specific apps to be routed via the encrypted VPN tunnel, this feature is just for you. Turn App Exceptions on, tick the applications you need, and KeepSolid VPN Unlimited for Android will protect all connected apps except the selected ones.
7) VPN debug information: Enable it and the VPN debug information will be automatically forwarded to our team with your support ticket. We recommend to keep this option on, as it greatly helps our support team to solve your issue faster.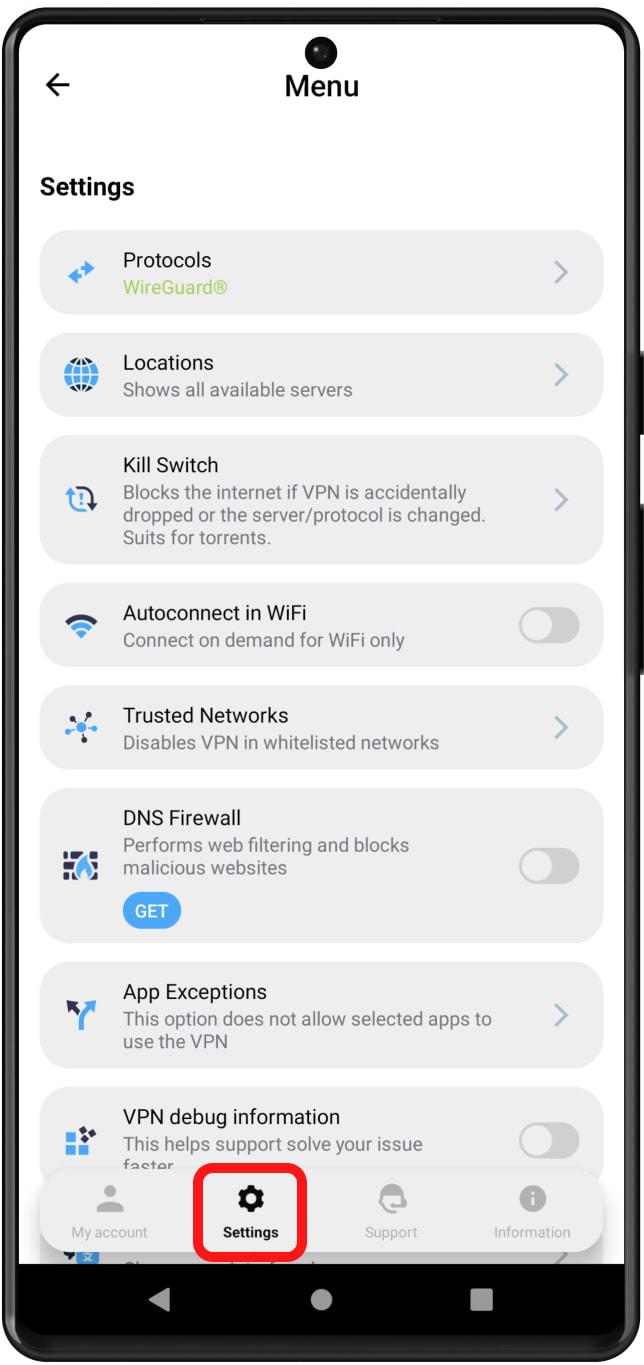 The next, Information tab, provides you the following options:
1) Rate us: You can tap Love it! and then write a review on the Google Play Store. If you tap Have an issue, you will be immediately suggested to write a message to our support team.
2) Leave a feedback: Tell us what you think about the app. We greatly appreciate your comments and suggestions!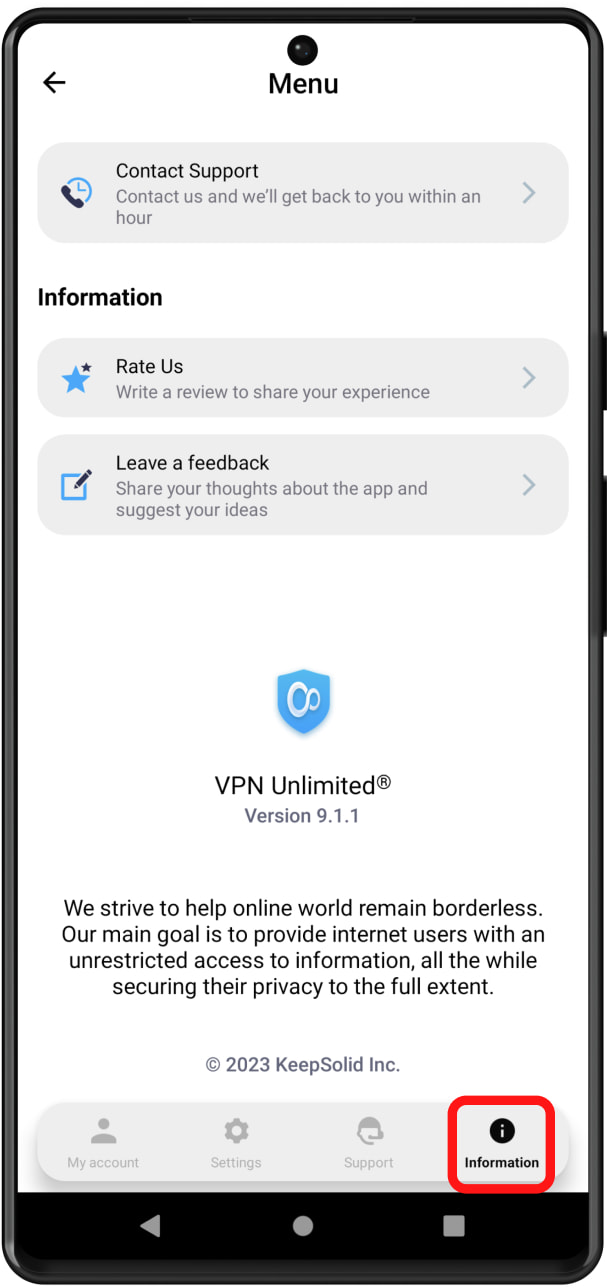 If you need any help with the app, check out the last, Support tab:
1) FAQ: Tap on it to view the answers to the most frequently asked questions on the relevant section of our website.
2) Customer Support: Complete a support ticket and we'll get back to you as soon as possible.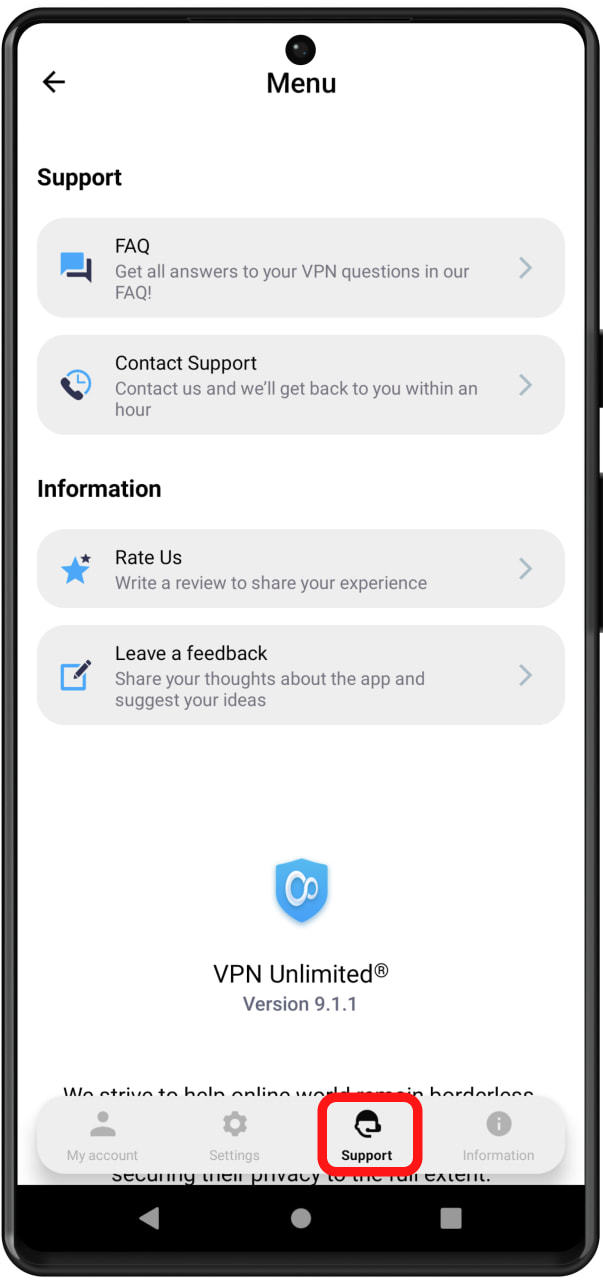 Bottom line on how to use VPN Unlimited for Android
Our team has strived to create our VPN for Android the most easy-to-use application ever. And so we hope that our tutorial about how to use VPN for Android is detailed enough.
Have any questions, comments, or suggestions about how to use our service? Please contact our customer support team via [email protected].
It's high time to download VPN Unlimited
Get KeepSolid VPN Unlimited on your Android device and check out all its premium features!