WireGuard® configuration guide for all major platforms
WireGuard® is the latest VPN protocol with state-of-the-art security and greatly optimized performance. This protocol was originally released for the Linux kernel, but now it is cross-platform and can be deployed on any platform. More information about WireGuard® features you can find in the article What is WireGuard® protocol?
Want to use WireGuard® on Mac and enjoy its ultimate security and performance? This tutorial provides step-by-step instructions on how to configure the WireGuard® VPN connection on your macOS device.
There are two methods to configure WireGuard® connection. Choose any of them and explore secure and anonymous web browsing:
Method 1. Configure WireGuard® on macOS manually
Method 2. Configure WireGuard® connection using VPN Unlimited
Method 1.Configure WireGuard® on macOS manually
I. Generate WireGuard® configurations for your Mac
First of all, you need to create the WireGuard® configuration files in your User Office:
Log in to your User Office using your KeepSolid ID.
Navigate to the KeepSolid VPN Unlimited service and click the Manage button.
You'll see the Manual Configurations section. There, choose a device from the list or create a new one. Generating manual configurations occupies 1 device slot.
In the Server field, select the preferred VPN server location. With VPN Unlimited, you can choose among 3000+ high-speed servers in over 80 locations around the globe. So you'll definitely find the one you need for setting up WireGuard® VPN on Mac.
Choose the WireGuard® option in the Protocol field.
Click Generate. At this stage, the necessary WireGuard® info will appear below and the relevant configuration file will be automatically downloaded.
Check out this guide for further information on how to create WireGuard® macOS configurations or other VPN protocols.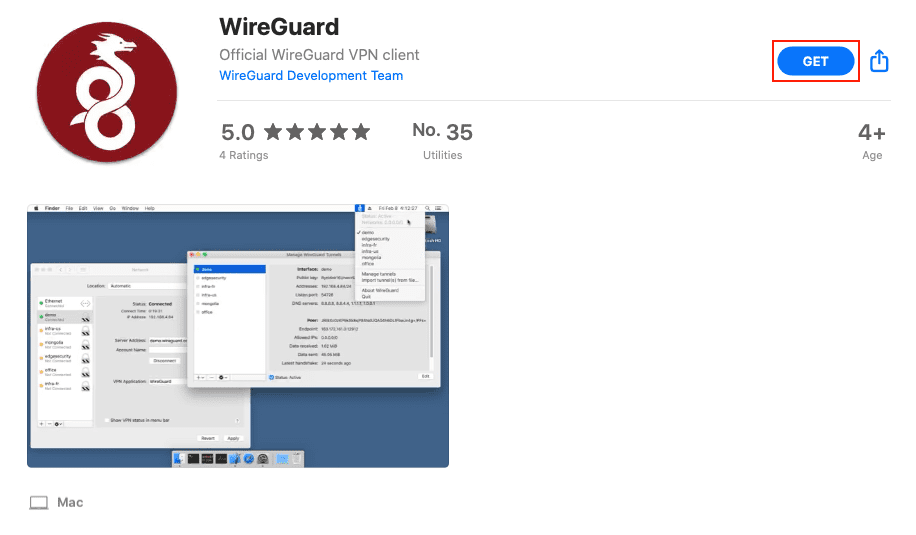 2. After you install the WireGuard® application on your Mac, open it, press Import tunnel(s) from file, and select the configuration file that was automatically downloaded from your User Office.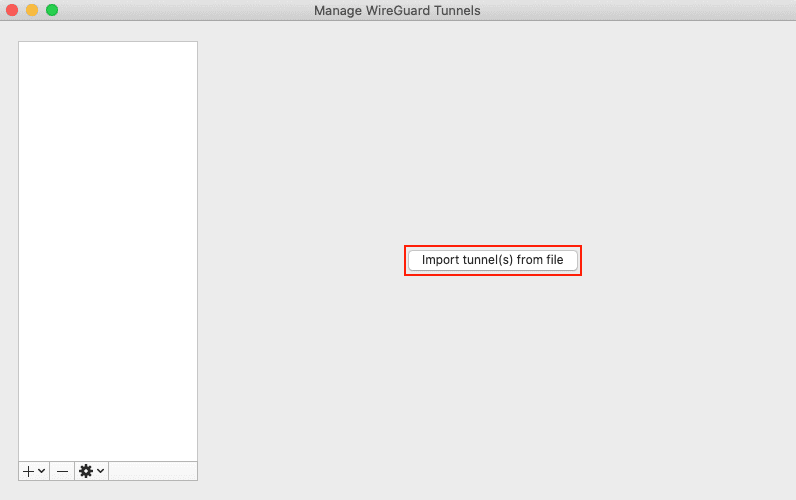 3. Press the Activate button and ensure your privacy on the web.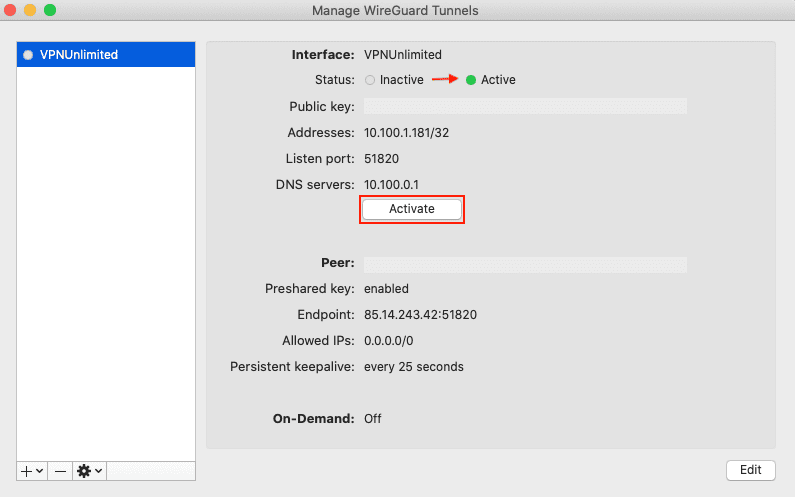 That's it! You've completed WireGuard® macOS client setup, protected your data, and anonymized online activities on your Mac.
Method 2. Configure WireGuard® connection using VPN Unlimited
Another way to use WireGuard® on Mac is by downloading VPN Unlimited and establishing a WireGuard® VPN connection via the app.
Note: VPN Unlimited is compatible with devices running macOS 10.11 and higher.
2. Launch the VPN Unlimited application.
3. Press

button in the top left corner of the main screen.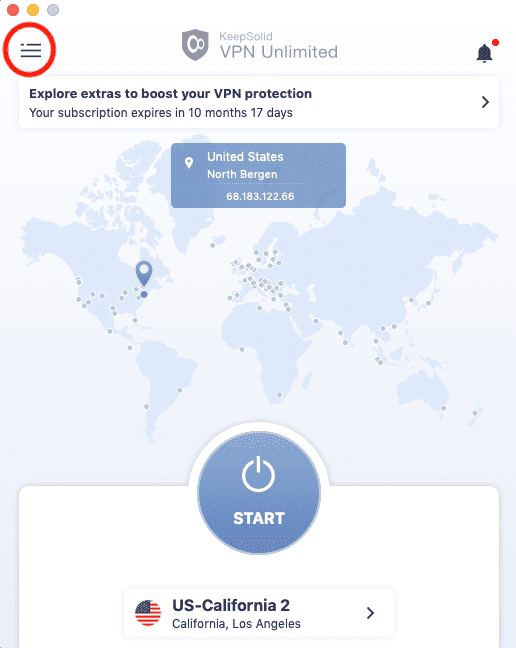 4. Go to the Settings tab and choose Protocols.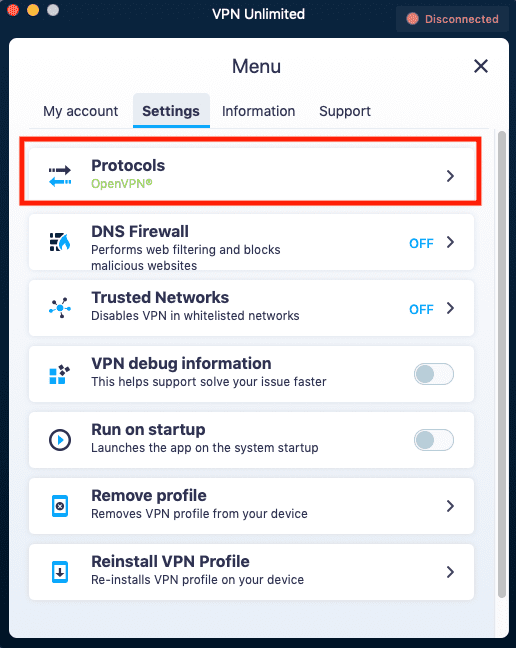 5. Select the WireGuard® VPN protocol and move back to the main screen. To do this, press the
button.
Note: If your VPN connection is active it will be automatically re-connected using the chosen VPN protocol.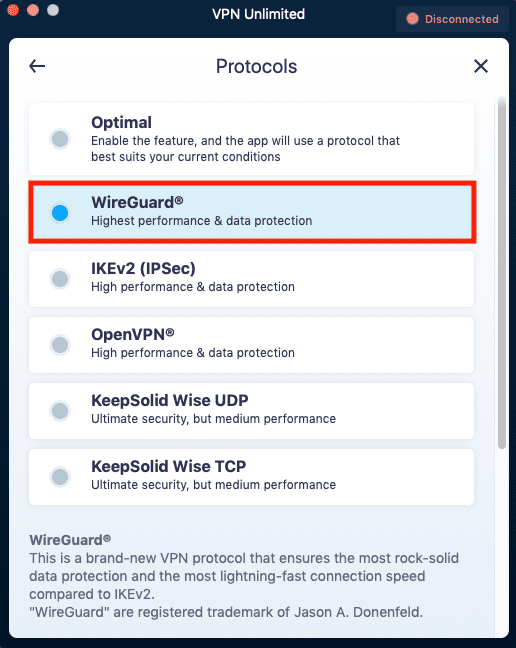 6. Enable your WireGuard® VPN connection on your Mac and enjoy top-notch privacy on the web.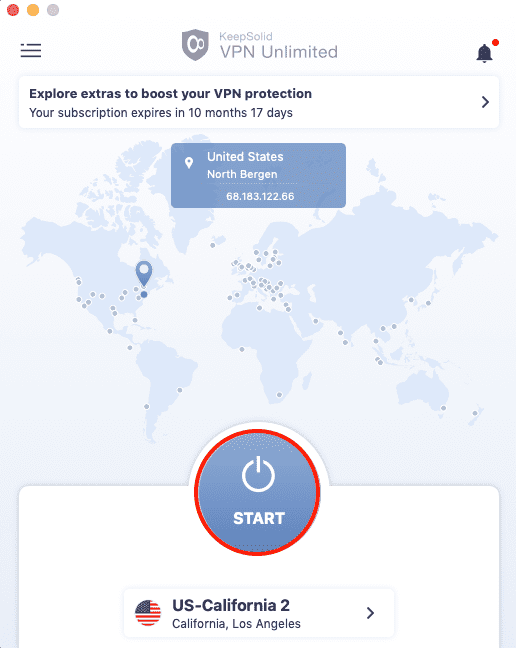 Well, you have successfully configured a VPN connection running through the WireGuard® VPN protocol.
In case you need to set up VPN on other devices, check out our Manuals page or contact our customer support via [email protected].
"WireGuard" is a registered trademark of Jason A. Donenfeld.
Enable WireGuard® VPN in a few clicks
Download VPN Unlimited, activate WireGuard in Settings, and enjoy the best security and performance on your Mac and other devices.
What Makes VPN Unlimited the Best VPN for Mac
Bulletproof AES-256 encryption keeps all your sensitive information safe.

Our VPN for Mac reliably protects your internet connection and data on unsecured public WiFi networks.

Unblock websites, avoid VPN blocking, and circumvent online restrictions and censorship.

Win back complete internet freedom on Mac.

Obtain the fastest connection speed possible.

Boost your secure and private online even further with such extras as Personal IP, Personal Server, and Additional devices.
Top Benefits of VPN Unlimited for Mac

Absolute anonymity
Our VPN for Mac protects your data, including sensitive and private information, from unauthorized access and any prying eyes. As a result, you can confidently transfer any data over the internet and not worry about such threats as identity theft, etc.

Global VPN server coverage
With VPN Unlimited, you get a great choice of VPN servers on your Mac in over 80 locations around the world. So whatever country's IP you need, you'll definitely find it in our VPN app for macOS. If you're unsure which virtual server to select, just enable the Optimal server option, and the app will choose the best one for you automatically.

A variety of VPN protocols
Besides WireGuard®, VPN Unlimited for macOS offers a variety of other VPN protocols. They include OpenVPN®, IKEv2, as well as specially designed KeepSolid Wise protocol, that lets you overcome the strictest internet blocks. In case you don't know which protocol to use on your Mac, opt for the Optimal feature – it will select the best option for you automatically.
Access to the best streaming services
Like watching movies and TV shows? VPN Unlimited for Mac lets you access Hulu, Disney+, BBC iPlayer, Sony Crackle, and other popular streaming services from any location in the world. Our VPN for Mac also unlocks many other geo-restricted and forbidden websites and services. Set up WireGuard® macOS client, and enjoy complete online freedom!

Extra services
The most demanding users can enjoy such extras services as a Personal Server & Personal IP, Lifetime VPN, additional device slots, and even the possibility to configure a VPN on your WiFi Router. So choose any of these if you want to level up VPN experience on your Mac.

Unlimited devices
With a single subscription, you can protect up to 5 different devices (If you wish, you can increase the number of devices an unlimited number of times). VPN Unlimited supports all major platforms including Windows, macOS, iOS, Android, Linux, and comes as a browser extension for Opera, Firefox, Microsoft Edge, and Chrome. Thus, you can protect all gadgets you have.
Want to try our top-notch VPN client?
Download KeepSolid VPN Unlimited on your Mac and other devices and make your browsing experience more secure!