L2TP configuration guide for TP-Link Archer router
1. Get VPN Unlimited manual VPN configurations
Before starting the VPN on TP-Link router setup, you need to generate manual configuration settings in your KeepSolid User Office. There you will get a VPN server domain name, as well as login and password for the L2TP connection.
Follow a few simple steps outlined in the tutorial How to manually create VPN configurations and you'll easily find all the required information.
2. Configure TP-Link Archer C7 VPN client
Once you've generated the necessary L2TP settings, follow the steps below to configure VPN on TP-Link Archer router.
NOTE: In case of Static IP connection type, we recommend you to write down your default internet settings (TP-Link IP Address, Subnet Mask, Default Gateway, Primary DNS, Secondary DNS). You will need them during the VPN setup, as well as to easily revert to these default settings when VPN is not required.
Log in to your TP-Link router control panel. If you don't know how to access your router control panel, check out our instruction on how to find your router IP.
On the sidebar of your TP-Link router menu, go to Network > WAN.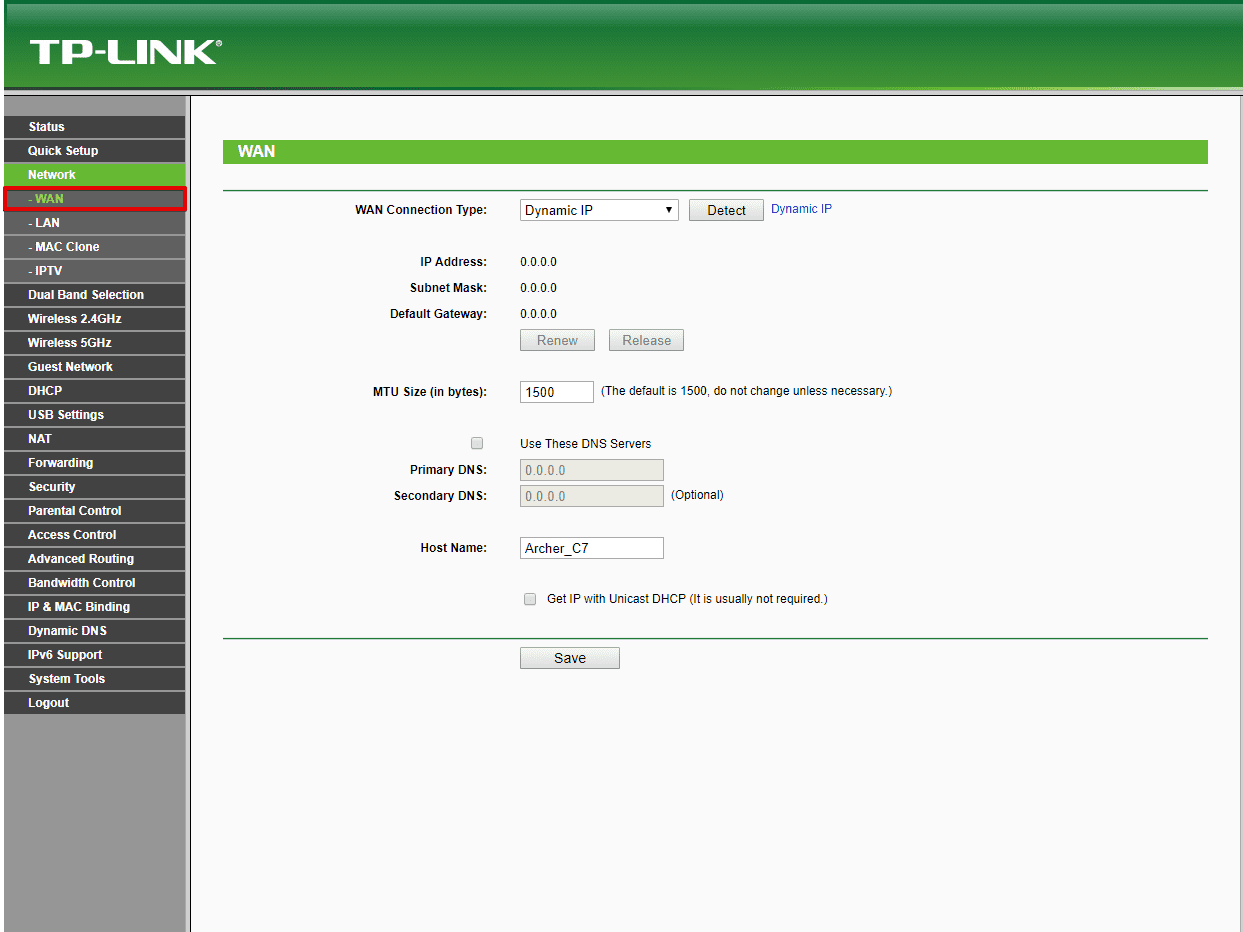 In the WAN Connection Type, select L2TP/Russia L2TP.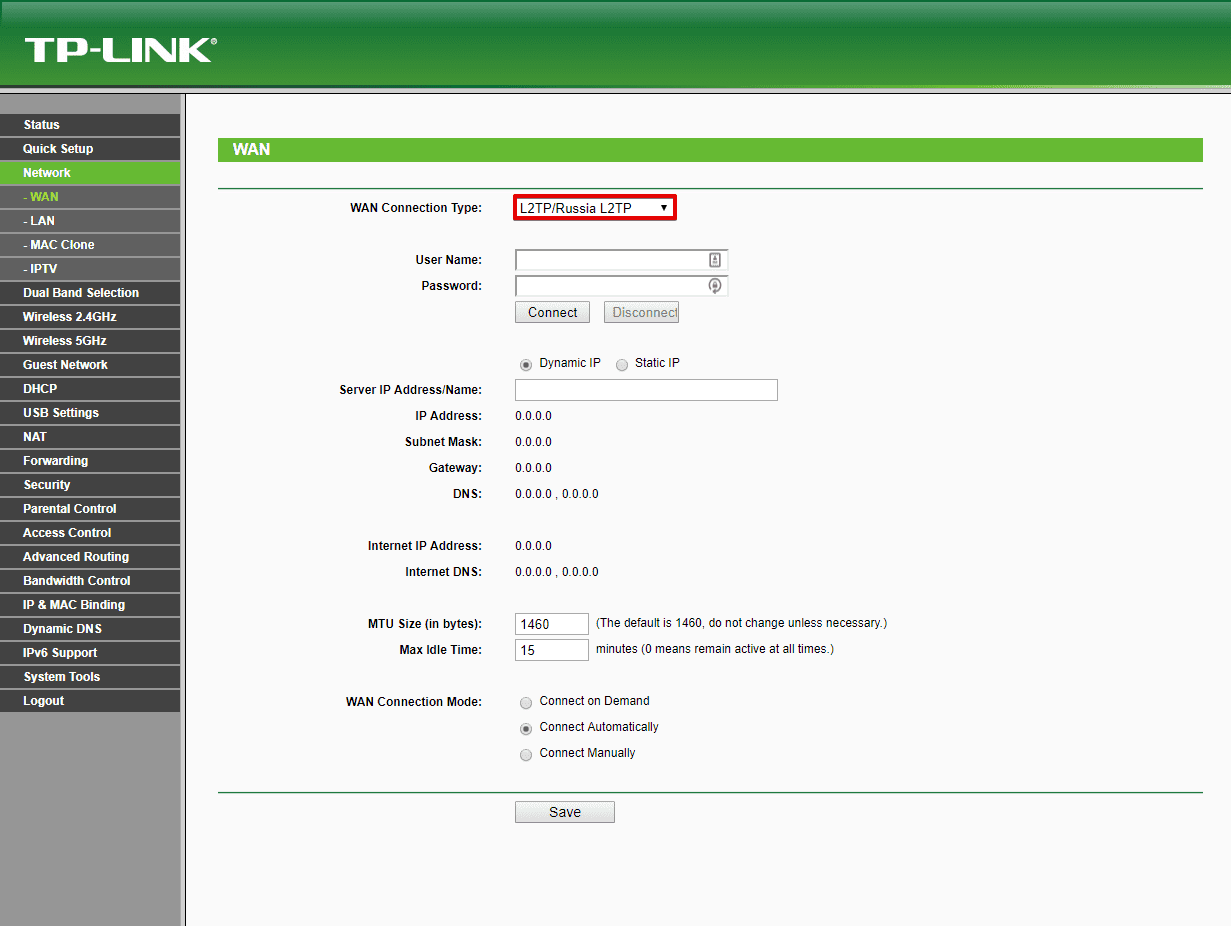 Fill out the fields in the following way:



User Name: Paste the data from the Login field of your manual configuration settings you've generated before.
Password: Paste your password from the configuration settings.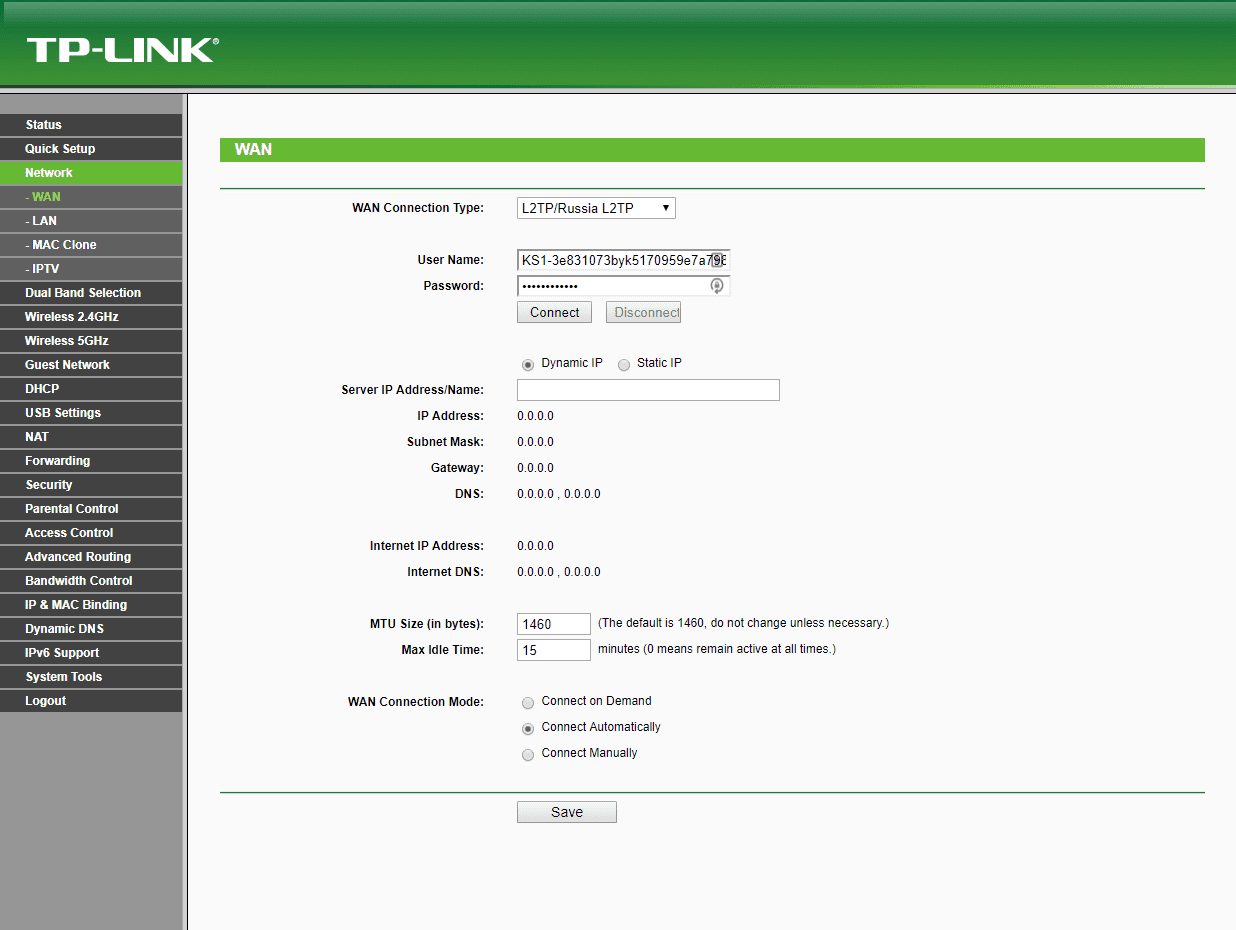 Depending on your default internet settings, select either the Dynamic IP or Static IP option.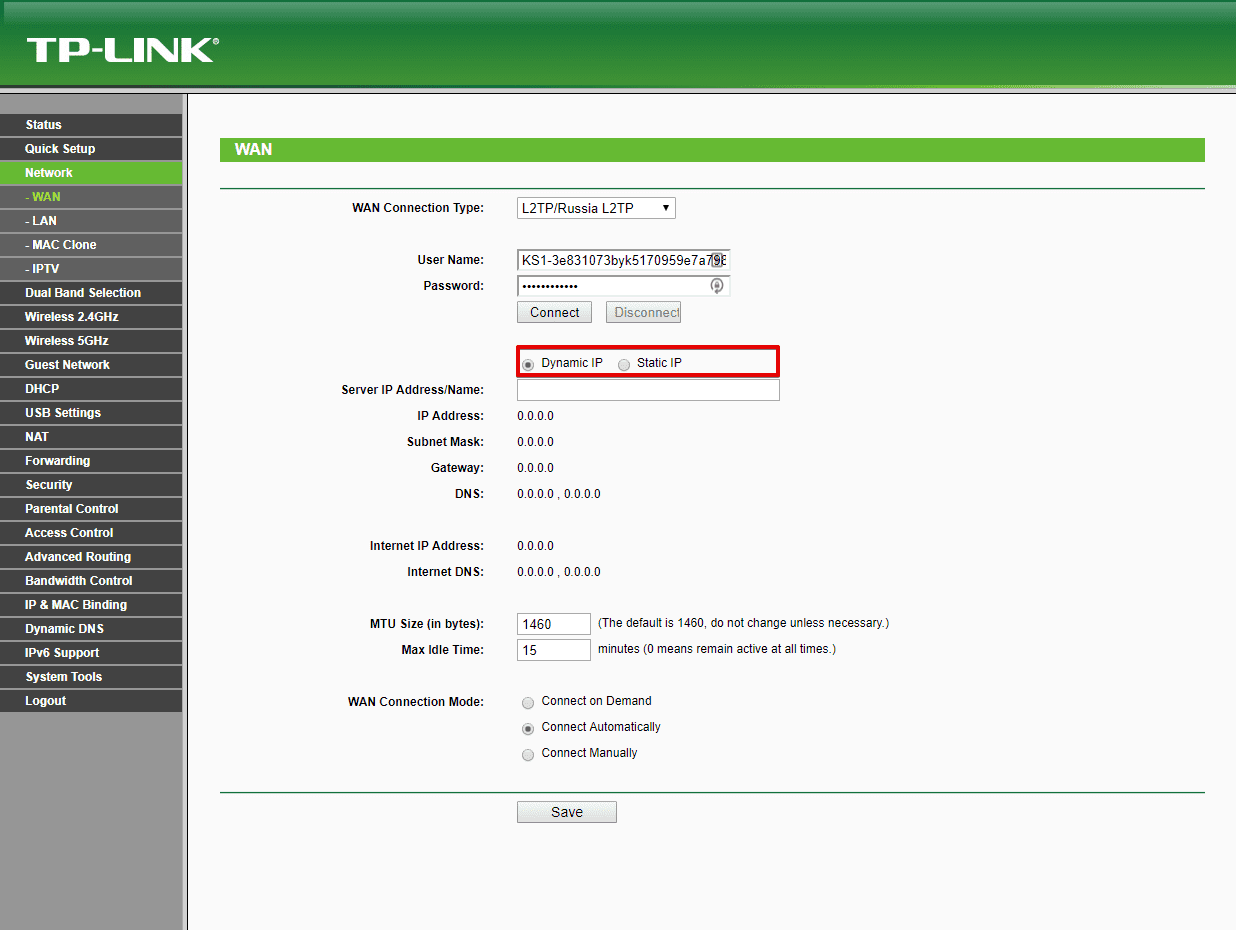 In the VPN Server IP Address/Name field, enter the chosen VPN server domain name.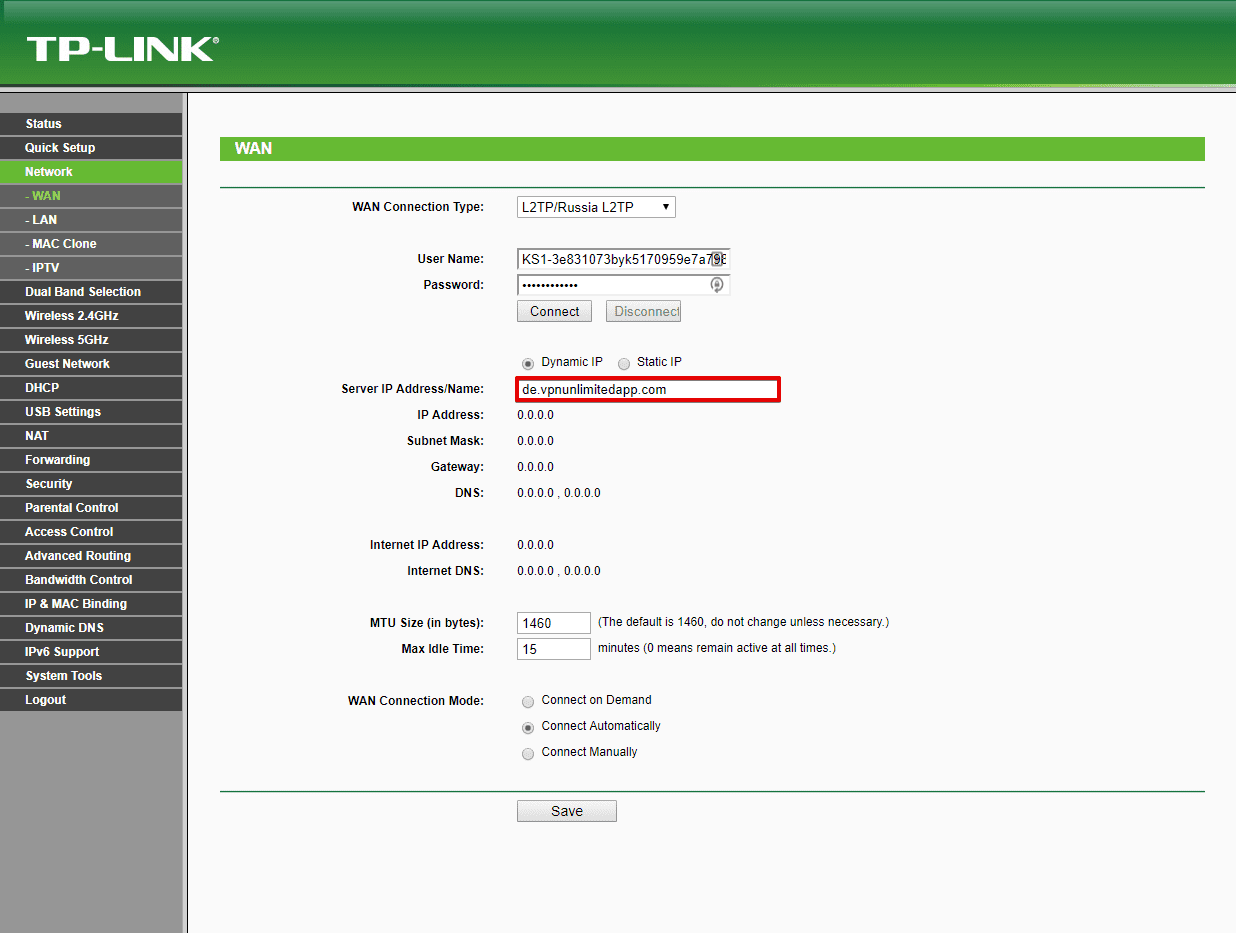 In case you have Static IP, enter your default internet settings in the below fields:



IP Address
Subnet Mask
Gateway
DNS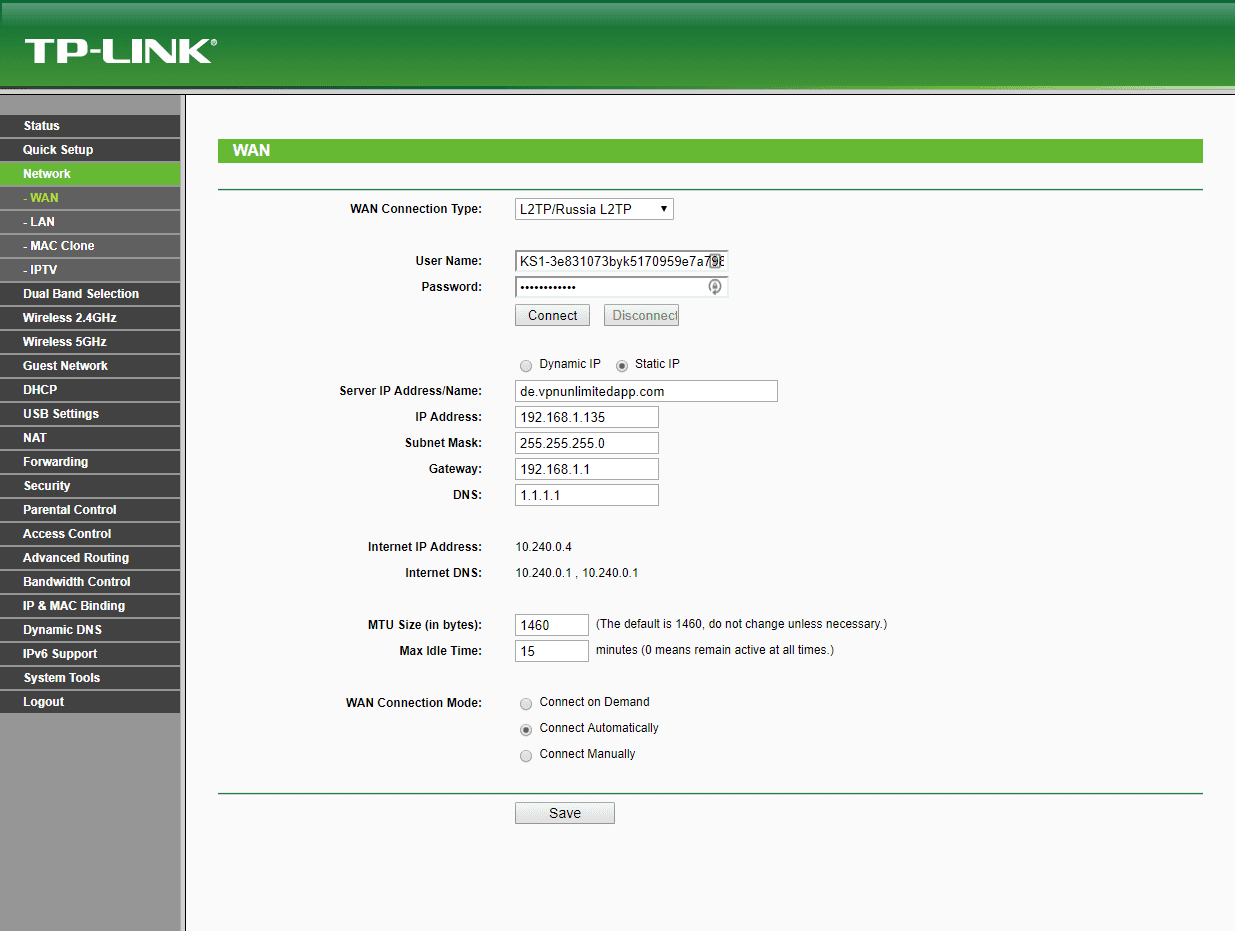 If you have Dynamic IP, just skip this step.


Leave the MTU Size at the default 1460 and Max Idle Time at 0 minutes.

Set the WAN Connection Mode to Connect Automatically.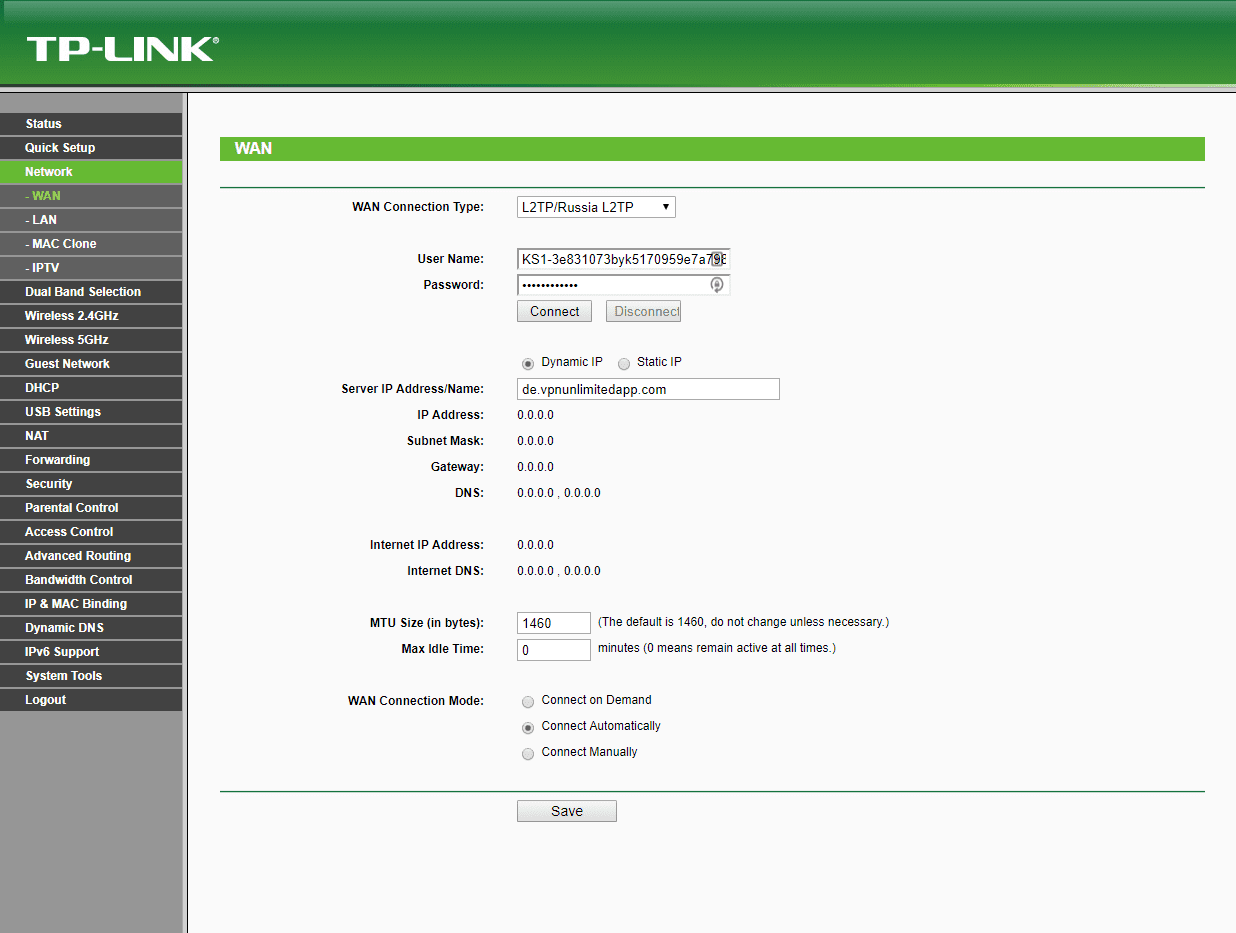 Save the settings of the TP-Link Archer C7 VPN client by clicking the relevant Save button.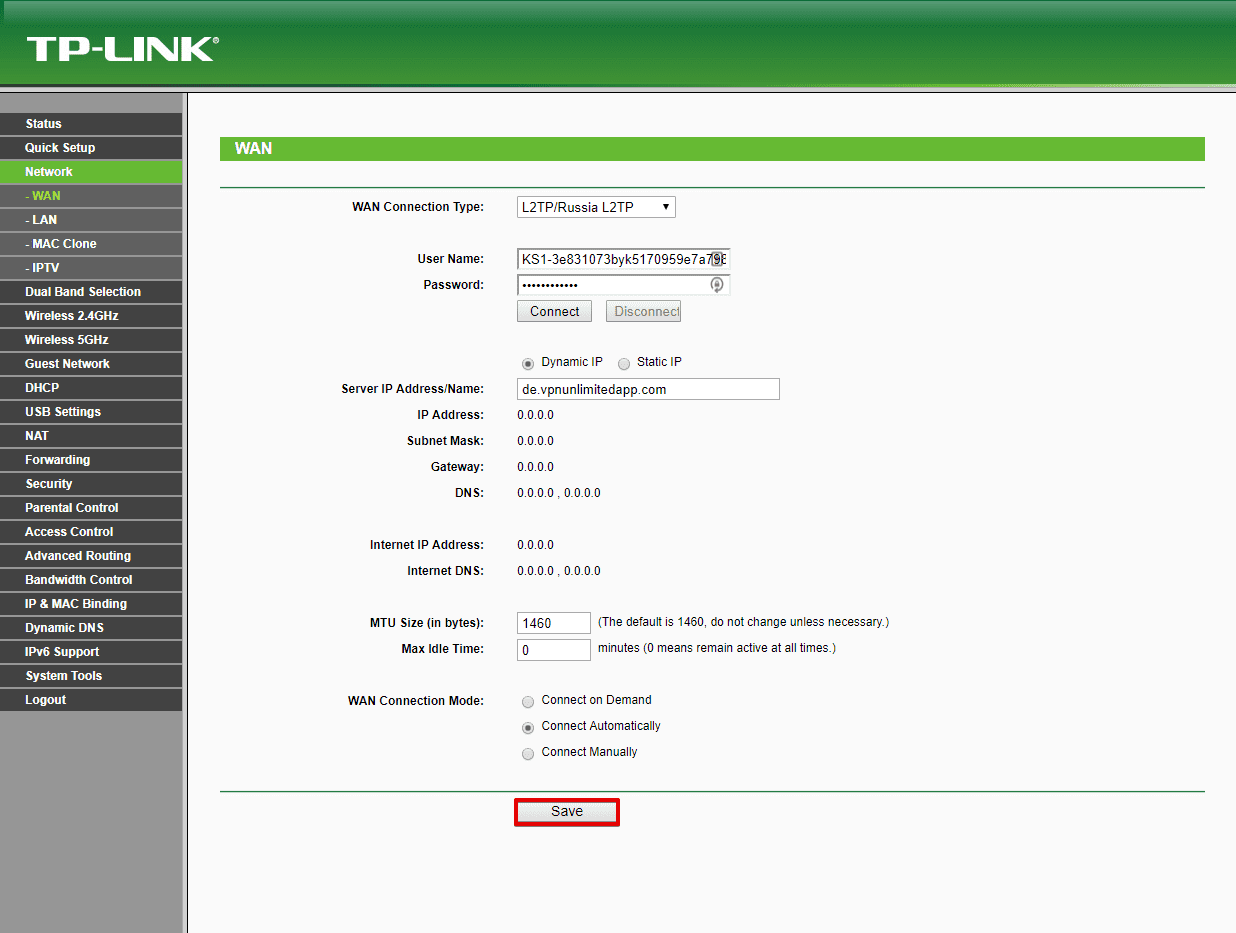 Click Connect under the Password field of your TP-Link router. Once the VPN connection was successfully established, you'll see the relevant status Connected!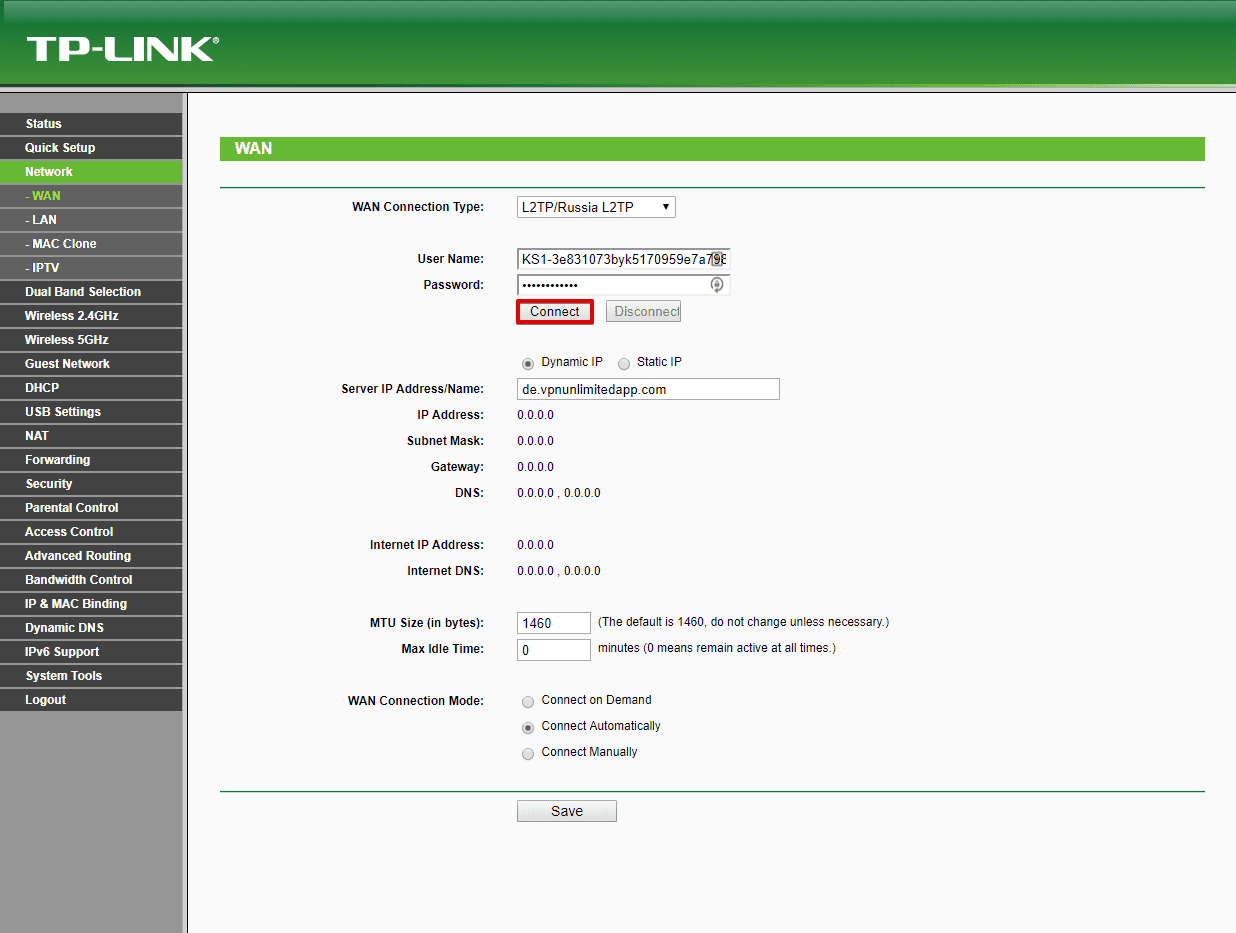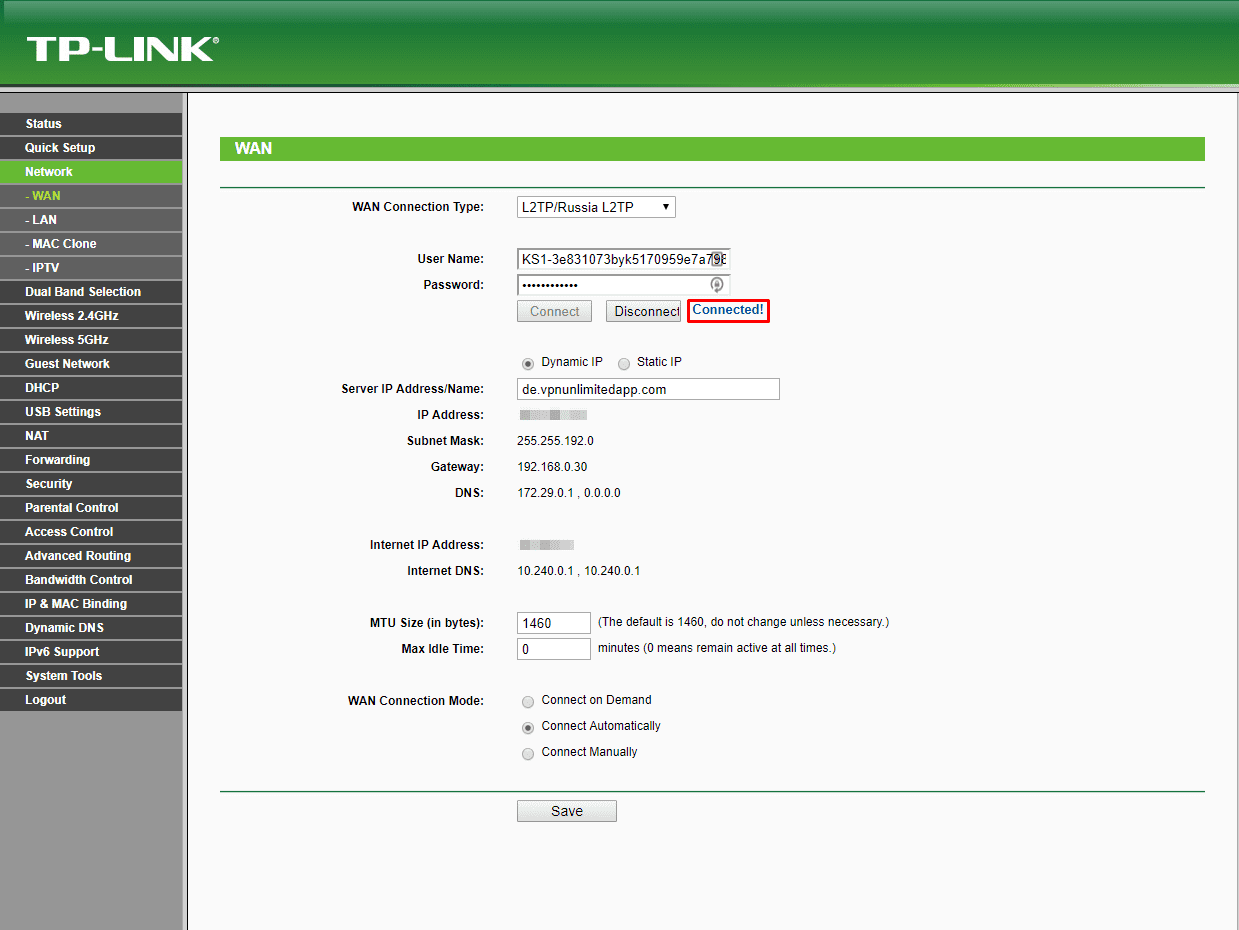 That's it! You now have the running VPN connection that protects all devices connected to your TP-Link Archer VPN router.
3. Disconnect from a VPN server on TP-Link Archer router
To disconnect from a VPN server, navigate to Network > WAN and click Disconnect under the Password field.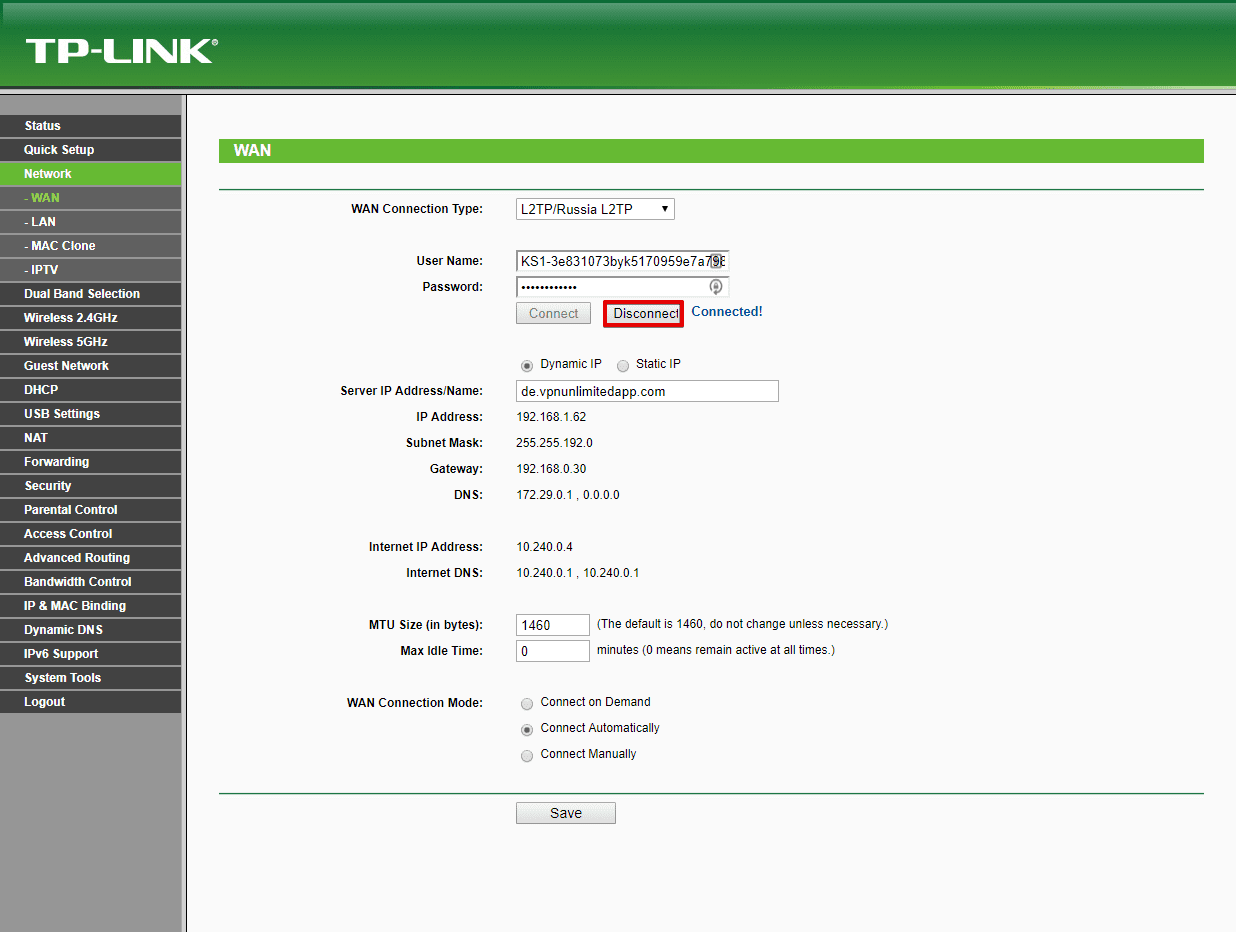 Get VPN Unlimited right now!
Set up VPN Unlimited on your TP-Link router and secure all connected devices.