OpenVPN® is one of the youngest (released in 2001) and widely used types of open-source encryption technology. It uses a custom security protocol that utilizes SSL/TLS for key exchange, creating secure point-to-point or site-to-site connections. OpenVPN® can run over User Datagram Protocol (UDP) or Transmission Control Protocol (TCP) tunnel transports. This makes your web traffic indistinguishable from the traffic using standard HTTPS over SSL, and it is therefore extremely difficult to detect and block.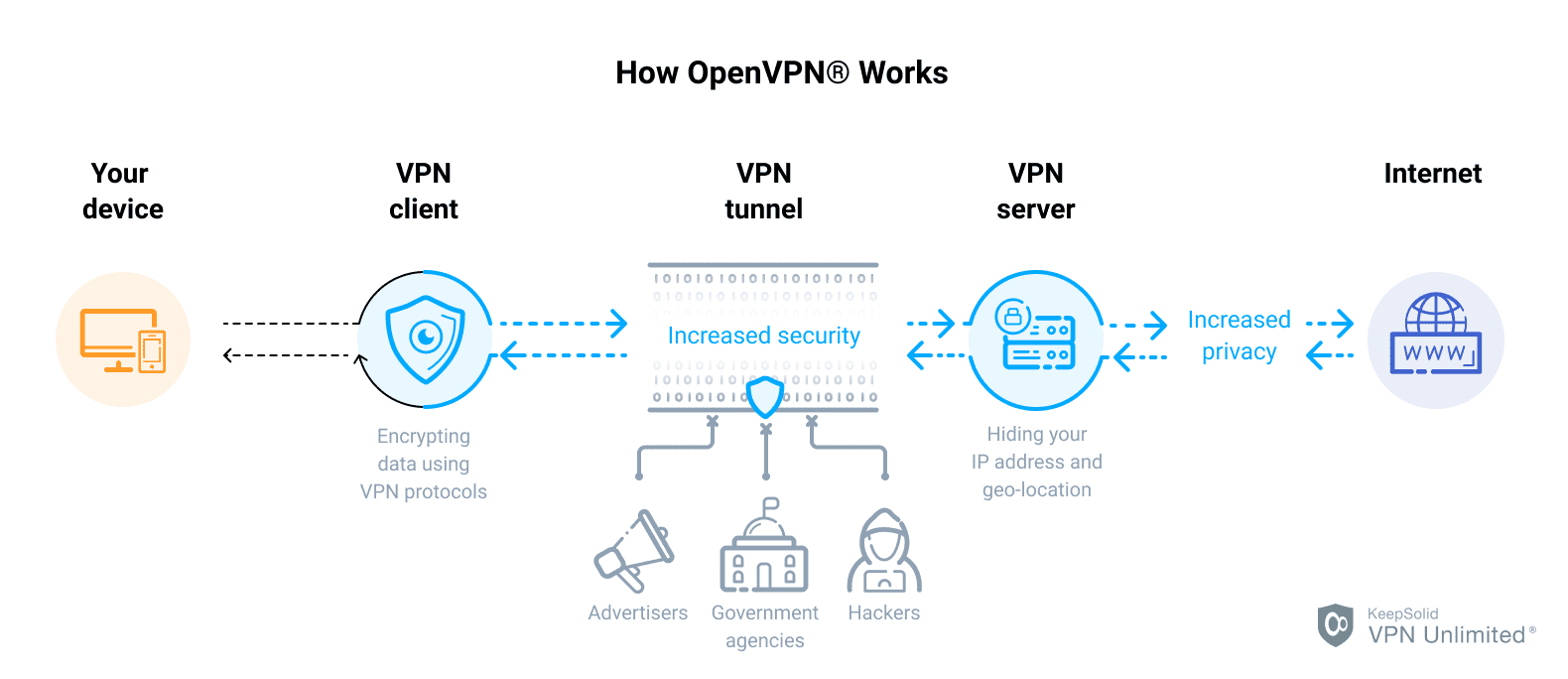 Features and technical details
Due to its strong features, ease of use, and extensive support, OpenVPN® became one of the most popular VPN software solutions. Here are more characteristics of the protocol:
High level of security and configurability
Uses 256-bit encryption
Support for dynamic IP addresses and DHCP
Scalability to hundreds or thousands of users
Portability to most major OS platforms through third party software
VPNs tend to support the OpenVPN® protocol, since it's quite streamlined, offers compelling benefits to both users and providers, and thus has become increasingly mainstream. To many paid VPN providers, it is the default protocol.
OpenVPN® security and speed
One of the reasons for OpenVPN®'s popularity is its security. It uses a custom OpenSSL-based security protocol, providing encryption similar to that on HTTPS sites. OpenVPN® can be configured to use any port, which makes it indistinguishable from normal internet traffic, allowing it to bypass VPN blocks. OpenVPN® also supports a number of encryption algorithms, from Blowfish to AES.
VPN Unlimited® supports OpenVPN® both via the TCP and UDP ports. To increase security on your iOS devices, we recommend you enable our special technology, KeepSolid Wise, that operates via the UDP and TCP ports as well.
The downside is that all this encryption and security negatively affects users' connection speed. This makes OpenVPN® a sub-optimal option for speed-sensitive services, e.g. video streaming.