L2TP or Layer 2 Tunneling Protocol is an extension to the PPP protocol that merges the best features of two other tunneling protocols PPTP and L2F, and is used to support virtual private networks (VPNs). As L2TP does not provide confidentiality or strong authentication by itself, it is often implemented along with the IPSec protocol to secure the connection. The combination of these two protocols is generally known as L2TP/IPsec.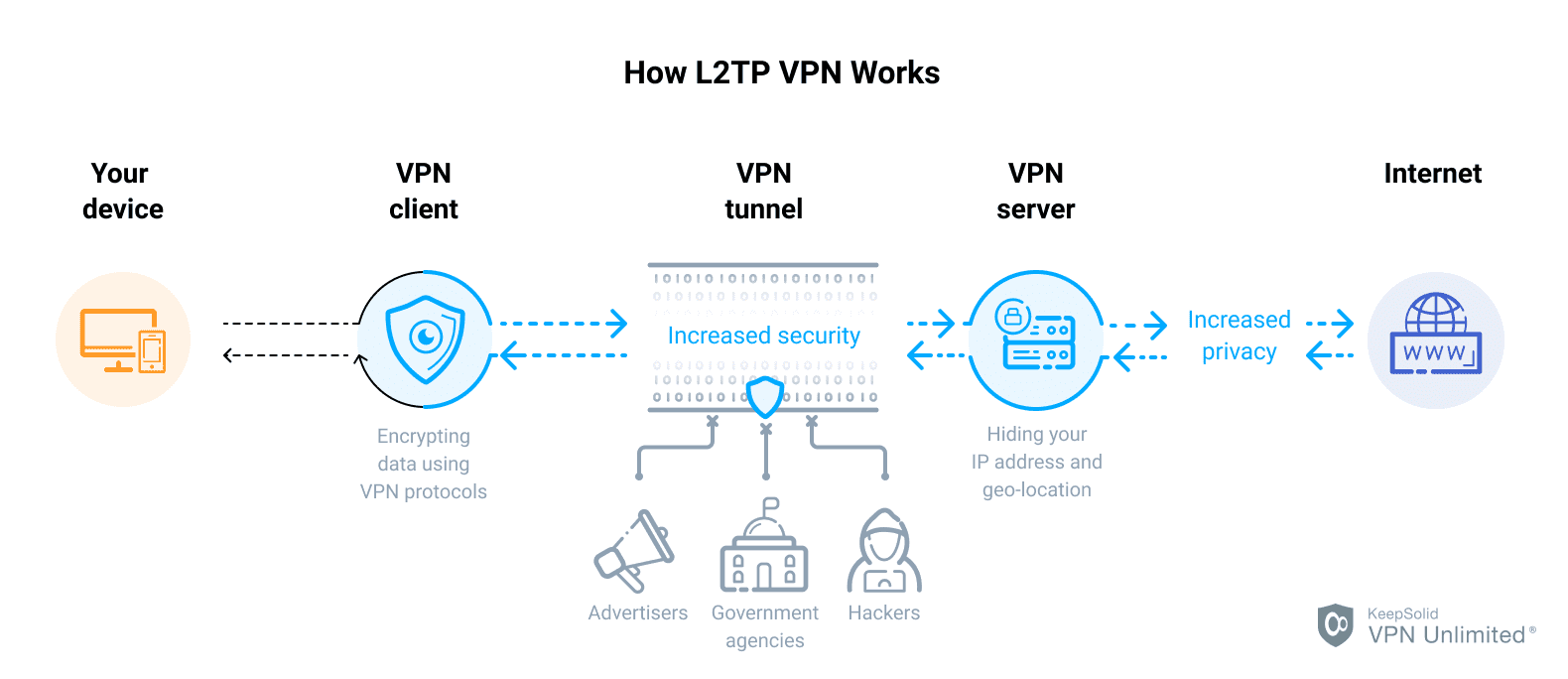 Features and technical details
L2TP/IPsec encapsulates data twice, which can slow down the connection. However, the protocol makes this up by providing the encryption/decryption process in the kernel, and allowing multi-threading that is not possible in the OpenVPN® protocol. This fact, theoretically, makes L2TP together with IPsec faster than OpenVPN®.
L2TP/IPsec is just as easy and quick to set up as PPTP, but is much more secure at the cost of slightly reduced speed. Yet, because the L2TP protocol uses UDP port 500, there are chances that the VPN connection will be detected and blocked by some firewalls.
L2TP security and speed
Why L2TP/IPsec is popular:
Secure connection - works with AES and 3DES encryption algorithms (256-bit key)
Reliable link establishment - uses UDP Port 1701, Port 500, and Port 4500
Safe protocol - employs top-tier encryption and encapsulation
L2TP employs IPSec for extra security, which offers better data protection than PPTP. Also, data transferred via L2TP cannot be altered along the way while travelling from the sender to the receiver. This protocol encrypts even the authentication process itself, making it more difficult for third parties to force their way in and see your transmission.
With UDP encapsulating data, L2TP is also easier and faster to set up with most firewalls. L2TP is a good option for you if security is more important to your VPN than speed.
L2TP Protocol pros and cons
Pros
Uses AES-256 bit encryption, thus considered secure and safe
Supports a wide range of desktop and mobile operating systems
Very easy to configure
Cons
Uses UDP port 500 that can cause blocks from some firewalls
Slightly slower than IPSec IKEv2 because of its double encapsulation
VPN Unlimited® and L2TP
L2TP protocol is available in VPN Unlimited® for:
"OpenVPN" is a registered trademark of OpenVPN Inc.